"[It's] the first time I been pain free in 15 years, and [I'm] back with my soul mate," says Colorado cowboy Charles "Doc" Dison, who reunited with his beloved Texas Longhorn, Blizzard, after battling bone cancer.
Dison, 66, was diagnosed with osteosarcoma bone cancer after experiencing severe pain in his right leg. Doctors concluded that it was bone cancer, and Dison initially went through aggressive chemotherapy at the  Institute for Limb Preservation at Presbyterian/St. Luke's Medical Center (P/SL) in Denver, Colorado. However, Dison eventually decided to amputate his right leg from the knee joint down. Following the surgery, Dison received a high-tech prosthesis to replace his right leg, and now he's spending his time celebrating successful cancer treatment alongside his 14-year old pet Texas Longhorn, Blizzard.
Read More
Related: 'Nothing Makes Me Happier Than My 4-legged Kids!' — How Pet Therapy Brings Comfort to Cancer Patients
Now recovered, Dison is back on the saddle and riding the 2,300 pound steer as if nothing has changed. "No more of a wonderful feeling than to have an animal like that love ya," Doc says about Bizzard.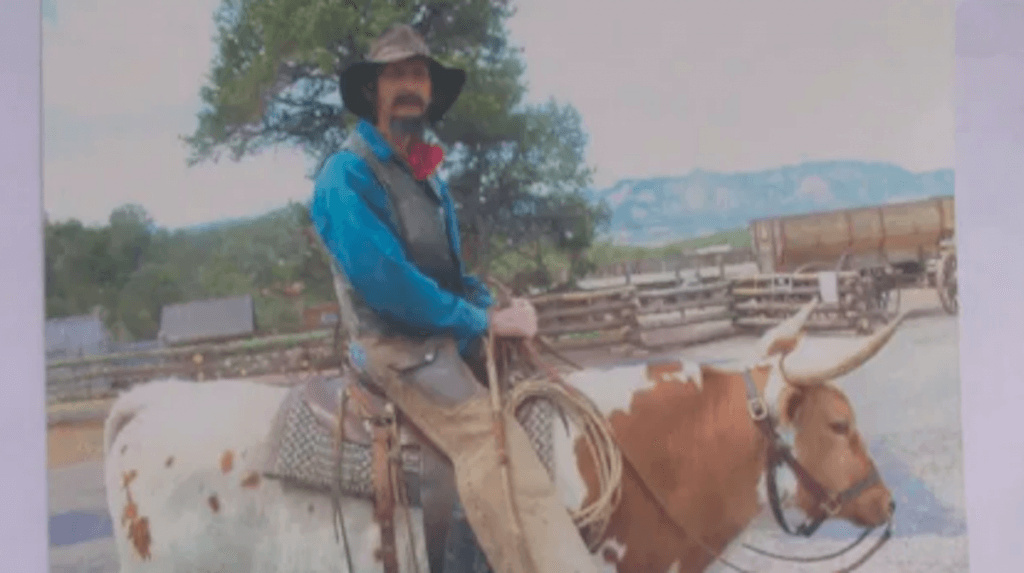 Pet Therapy During Cancer Treatment
While a hefty Texas Longhorn may not be the most conventional pet, it's been proven that pet therapy can be a very successful coping mechanism for patients after a cancer diagnosis.
Richard Marks was diagnosed with bone marrow cancer, forcing him to attend chemotherapy five days a month and spend several hours at Mount Sinai each visit. While this was an exhausting experience for Marks, he was able to stay positive thanks to The Good Dog Foundation, an organization that provides therapy dogs to cancer patients.
Related: Pet Therapy Can Really Help During Cancer Treatment: "It Takes Me Out of My World"
"When I'm doing the chemotherapy and I'm waiting and time's going by and maybe I'm worrying about my numbers or how my treatment is going, and all of a sudden a cute little dog goes by, hey, I'm not thinking about those things," Marks says. "I'm only thinking about that dog and how that dog is going to feel it in my lap. So that's one of the greatest things. It takes me out of my world. I'm not concerned about me at that moment."
Bone marrow cancer survivor Richard Marks says pet therapy helped him cope with chemotherapy treatments
Living Life To The Fullest During And After Cancer
SurvivorNet has talked to dozens of cancer survivors who have resumed daily activities and lifelong passions following cancer treatment.
Ovarian cancer survivor Rhonda Gold learned how to appreciate life once finding out about her cancer diagnosis. Rhonda was diagnosed at stage 3c. Even though her life changed drastically after the diagnosis, dealing with cancer did bring out another positive in Rhonda's life. She would often participate in showing dogs and was heavily involved in the dog showing universe. Cancer treatment put that on hold for Rhonda for awhile, but she didn't have to stop participating altogether — mostly due to some pretty amazing friends.
Related: 'It's Best To Just Live In The Present Moment' — Ovarian Cancer Survivor Stephanie Johnson's Story
"Don't take things for granted," says Gold. "Make sure you do are the things now that you love, and take care of yourself, your spirit, your soul your friends, your family, your loved ones. That's the best way to live with cancer."
Ovarian cancer survivor Rhonda Gold says not to take things for granted after a cancer diagnosis
Learn more about SurvivorNet's rigorous medical review process.