Demi Jones' Thyroid Surgery
Love Island reality star Demi Jones, 21, shared with fans that she went through surgery to have half her thyroid gland removed so doctors can determine whether it's cancerous or not.
Jones also hosted a Q&A on Instagram where she answered questions about thyroid cancer, the surgery, and also received messages that her honesty about finding the lump on her neck inspired others to check for lumps themselves.
Thyroid cancer is cancer of the thyroid, the butterfly-shaped gland at the base of the neck. The most common sign of the disease is a lump at the base of the neck
Love Island 
reality star
Demi Jones
, 21, recently shared an update about the
lump on her neck
that doctors think may be cancerous. After advocating for herself and pushing for more tests, she's going through surgery to get half the lump removed, biopsied, and figure out once and for all if it's
thyroid cancer
.
Since posting an emotional video on Instagram about hearing she may have thyroid cancer, Jones has been staying positive and keeping it light and airy with fans on social media. Last night, she finally gave an update on then next steps to determine whether the lump is cancerous.
Read More
According to Jones, she's having an
operation
to have half the lump removed so doctors can perform a biopsy and determine whether it calls for concern. This morning, she shared a photo of her in the hospital room after the procedure and says it went well and that she's recovering.
Related: 'Love Island' Star Demi Jones, 21, Says Lump On Her Neck Might Be Thyroid Cancer and Shares Important Message About Self-Advocacy
"Lump Update! Lots of you checking in and asking for updates," Jones wrote on Instagram. "Tomorrow morning I'm going to the hospital to have an operation to remove the first half of my thyroid in order to check if it's cancer. I'm actually feeling nervous today but the quicker it's out the better. I've been inundated with messages from you saying my stories have pushed you to check for lumps and chase doctor's appointments and scans! I'm going to keep you updated on my journey in order to raise awareness of Thyroid Cancer, and if my stories can get one of you to check and potentially save a life that would be amazing."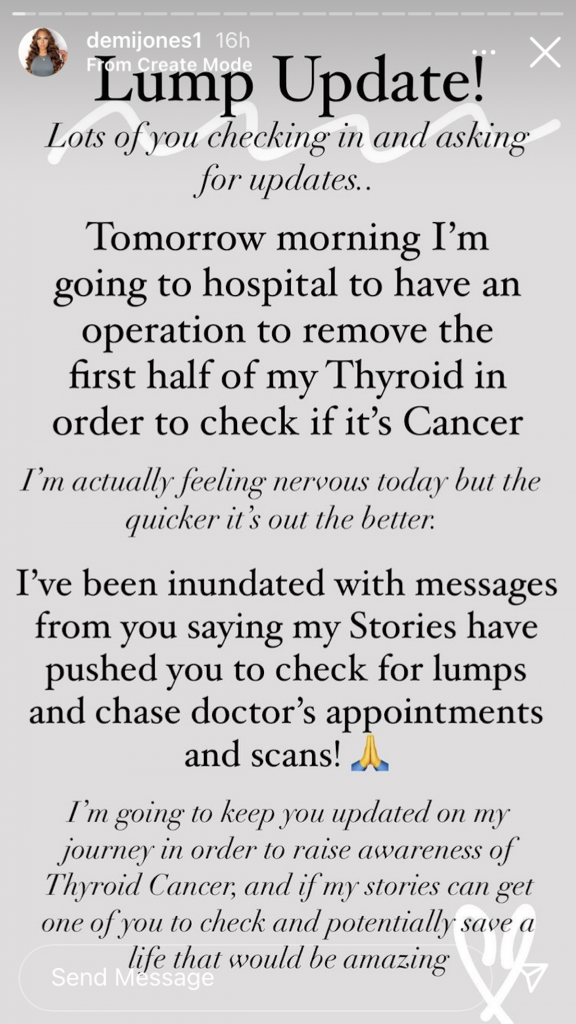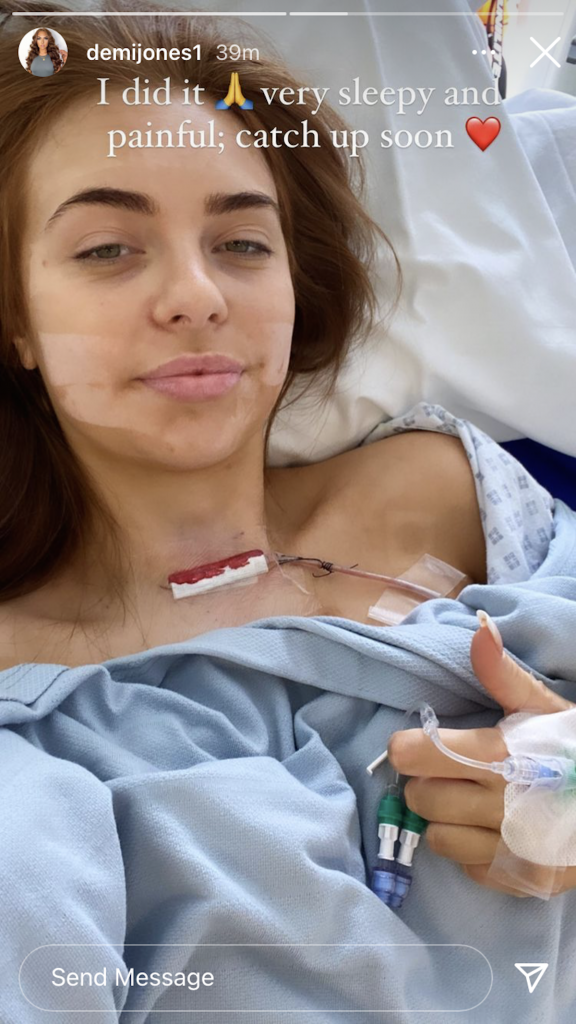 In addition to sharing a health update, Jones also hosted a Q&A through a series of Instagram stories about her lump, the procedure she's going through, and how others can stay vigilant.
According to Jones, she noticed the lump at the beginning of 2019 but didn't think much of it until it started getting bigger. Many people asked her what kind of surgery she is going through, and Jones took her informative lesson up a notch by showing info graphs about what a normal thyroid gland looks like and what an abnormal one looks like. Perhaps most inspiring of all is that one fan shared with Jones that her message about checking for lumps made the fan give herself a self breast exam, where she found a lump and was able to get ahead of it.
Related: 'The Biggest Loser's' Erica Lugo Shares Powerful Photos of Thyroid Cancer Surgery On 2-Year-Anniversary; Reminds Women to '#CheckTheirNeck'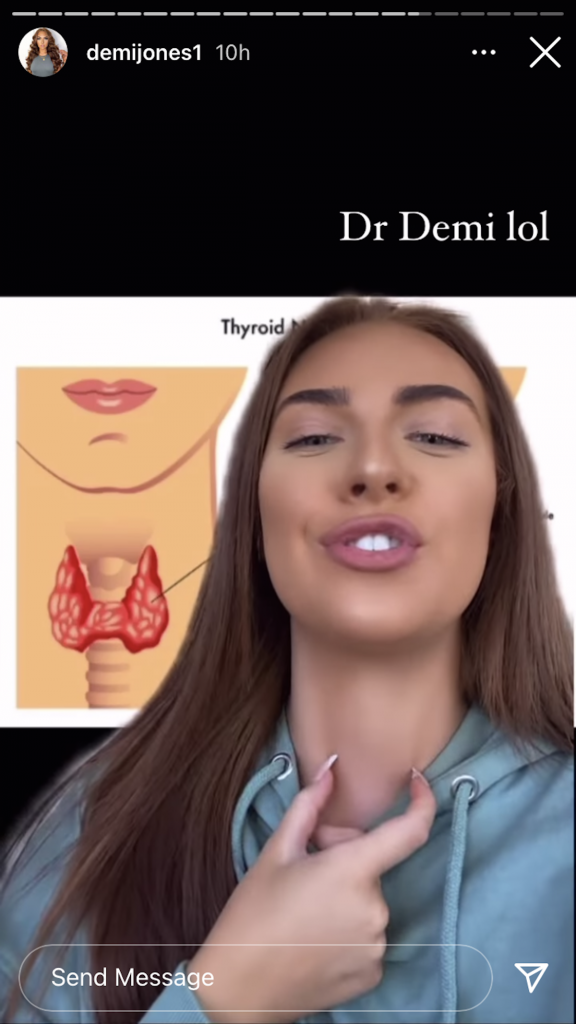 Signs of Thyroid Cancer
Thyroid cancer is cancer of the thyroid, the butterfly-shaped gland at the base of the neck. It's still unclear what causes the disease, but the most common sign of thyroid cancer is a lump at the base of the neck. This is often the most telling sign of the cancer especially since other symptoms can be mistaken or misdiagnosed as something as simple as the common cold. These other symptoms can include a hoarse voice, other changes in the voice that do not resolve themselves, difficulty swallowing or difficulty breathing.
"Most people have no discrete symptoms — the majority of cases now are found incidentally," Dr. Allen Ho, a head and neck surgeon at Cedars-Sinai Hospital, told SurvivorNet in a previous interview. "However, a sizeable number of people may first discover their cancer when they feel a bump on their neck."
Related: 7 Common Signs of Thyroid Cancer & How to Spot Them
Initially doctors told Jones the lump wasn't anything to worry about. However, as she noticed that the lump started getting bigger she pushed for the doctor to do an ultrasound and run more tests. While doctors didn't initially believe the lump was a call for concern, they realized it may be cancerous after draining some of the fluid out of the lump. Jones' story is the perfect example of why you always need to advocate for yourself and push for more answers if you feel that something is not right with your health.
Dr. Zuri Murrell pushes for patients to always advocate for themselves
Learn more about SurvivorNet's rigorous medical review process.