Fertility After Cancer
A couple who were each diagnosed with lymphoma welcomed a healthy baby, after they both underwent chemotherapy.
Lymphoma is a cancer of the immune system that affects infection-fighting cells called lymphocytes; there are more than 40 different types of lymphoma.
People diagnosed with cancer may consider freezing their sperm or their eggs if they wish to have a family, as some cancer treatments damage fertility.
James and Bethany Jefferson-Loveday, two cancer fighters who underwent chemotherapy, are the proud parents of a healthy baby girl called Heidi. The glowing couple says, "James and I both agree that Heidi's birthday was the best day of our lives. It is the happiest I have ever felt."
James and Bethany were diagnosed with lymphoma a few months apart. The couple was "left devastated," reports the Daily Mail.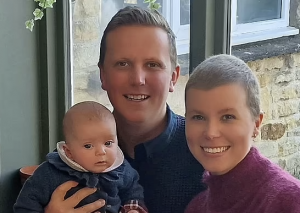 Read More
James was diagnosed with Hodgkin lymphoma, and Bethany was diagnosed with a high grade of Non-Hodgkin lymphoma while she was 21 weeks pregnant. The pair was initially overjoyed at the pregnancy, but became concerned after her diagnosis. The chances of getting Bethany's type of cancer while pregnant is very rare. The mom-to-be had chemotherapy; without chemo, the paper reports, "she wouldn't have survived." Bethany was told that her child was unlikely to survive the full pregnancy as well. James, at the time, was undergoing treatment for his cancer. Her symptoms started during her first trimester, and continued to progress. At the time, she believed them to be pregnancy related. Bethany's symptoms included debilitating headaches. "I became breathless, unable to do my usual activities," she said.
Bethany also had a lump appear on her collarbone.
Distinctions Among Types of Lymphoma
Bethany and James each battled different types of lymphoma. Theirs are the most common types of this disease – Hodgkin and non-Hodgkin lymphoma. Lymphoma is a cancer of the immune system that affects infection-fighting cells called lymphocytes. And there are more than 40 different types of lymphoma.
"Lymphoma is split up into a number of different categories," Dr. Elise Chong, a medical oncologist at Penn Medicine, previously told SurvivorNet in an earlier interview.
"The first distinguishing breakpoint, if you will, is non-Hodgkin lymphoma versus Hodgkin lymphoma," she added, "and those sound like two different categories. But non-Hodgkin lymphoma comprises the majority of lymphoma, and Hodgkin lymphoma is a single specific type of lymphoma."
Hodgkin lymphoma has distinctive, giant cells called Reed-Sternberg cells. The presence of these cells, which can be seen under a microscope, will help your doctor determine which of the two lymphoma types you have.
There are a few other important differences between non-Hodgkin lymphoma and Hodgkin lymphoma to note. For one thing, non-Hodgkin lymphoma is much more common. And you're more likely to be diagnosed with it after age 55. People usually develop Hodgkin lymphoma at a younger age.
It should be noted that another difference between these two types of lymphoma is that non-Hodgkin lymphoma is more likely to spread in a random fashion and be found in different groups of lymph nodes in the body, while Hodgkin lymphoma is more likely to grow in a uniform way from one group of lymph nodes directly to another.
These two different types of lymphoma behave, spread and respond to treatment differently, so it's important for you to know which type you have.
What Kind of Lymphoma Do You Have? Why Your Type Matters
Preserving Fertility Through Cancer
Some people diagnosed with cancer may chose to freeze their eggs or their sperm as a way to preserve their fertility prior to cancer treatment. Some cancer treatments can damage fertility, so it's a preventative measure for people who may want to have children.
In a previous interview, Dr. Jaime Knopman, a reproductive endocrinologist at CCRM NY, says that time is of the essence when it comes to fertility conversations with your doctor. She says, "The sooner we start, the sooner that patient can then go on and do their treatment. A lot of the success comes down to how old you are at the time you froze and the quality of the lab in which your eggs or embryos are frozen in."
"Oftentimes, we just do what we call a 'fast start,'" says Dr. Knopman. "We start them no matter where they are in their menstrual cycle. Because of that, it can sometimes take a bit longer than it would for traditional IVF stimulation. But all in, you're never really talking about more than two weeks."
Fertility Preservation After a Cancer Diagnosis
Learn more about SurvivorNet's rigorous medical review process.