Mom of 11 Thought Stomach Pains Were Anemia Not Cervical Cancer
Sharon Lawless, 39, of England died of cervical cancer after believing stomach pains were anemia.
Diagnosed in January stage IV cervical cancer; Died in August.
Family 'shocked' saying she was just tired a lot and suffering stomach pains.
About 13,170 new cases of cervical cancer will be diagnosed this year.
The disease has a 65.8% survival rate after five years.
She was a mother of five daughters and six sons. Thirty nine-year old Sharon Lawless of Merseyside, England near Liverpool was very busy, and believed her anemia was the cause of her intense stomach pains and fatigue last year.
Doctors gave Lawless iron pills for anemia, but she later discovered she had cervical cancer.
Read More
"She was just tired a lot and she was getting stomach pains," said her sister Megan Povey in an interview with the newspaper, Liverpool Echo. "At first, she didn't think anything of it. We just thought she was unwell and then obviously it was prolonged and prolonged."
More tests, including a scan at Liverpool Women's Hospital, confirmed she had cervical cancer.
"She was going to the doctors to find out what it could be. She always suffered from anemia, so they put her on iron tablets to see if that's what it was about."
Sadly, Lawless died Friday, August 5, 2022 with her family by her side.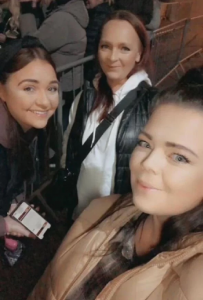 Described as "strong and independent," she lost her battle against cervical cancer, leading behind her eleven children.
Lawless began feeling tired and started suffering stomach pain in October last year.
"She was diagnosed in January with cervical cancer and it was actually at stage four," said her sister. "It came as a massive shock but from day one Sharon had always said she was going to fight it no matter what."
Lawless was supposed to start radiotherapy and chemotherapy in April when she broke her leg on the way to her first hospital appointment.
It was at this point that she learned the cancer had also spread to her bones, and the cancer was too aggressive for her to start treatment.
"They basically said 'it's terminal cancer and the cancer is very aggressive in Sharon's body, especially for her being so young and she's only got a short time left," said Povey.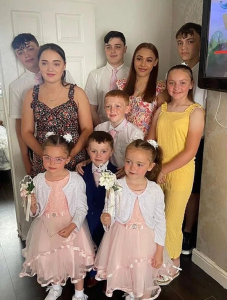 HPV and Cervical Cancer
About 13,170 new cases of cervical cancer will be diagnosed this year, making up about 0.7% of cancer diagnoses, according to the National Cancer Institute. The disease has a 65.8% survival rate after five years.
Nearly all sexually active people will be infected with Human papillomavirus (HPV) infection almost immediately after they become sexually active, according to the National Cancer Institute. HPV is also the biggest risk factor for cervical cancer, and there are usually no early signs or symptoms of the disease. However, cervical cancer can be detected through regular check-ups.
Dr. Allen Ho, director of Head and Neck Program at Cedars-Sinai Medical Center on the basics of HPV and cancer risk.
Other risk factors for cervical cancer include giving birth to many children, smoking cigarettes, using oral contraceptives ("the Pill"), and having a weakened immune system, according to the NCI.
The most common screening technique for cervical cancer is a pap test, during which doctors collect cells from the surface of the cervix and vagina, and view them under a microscope to see if they are abnormal.
IVF For Cancer Fighters & Survivors
Many people fighting cancers that affect reproductive parts (i.e. cervical cancer, ovarian cancer, testicular cancer), chose to freeze their eggs or their sperm as a way to preserve their fertility prior to cancer treatment. Some cancer treatments can damage fertility, so it's a preventative measure for people who may want to have children.
In a previous interview, Dr. Jaime Knopman, a reproductive endocrinologist at CCRM NY, says that time is of the essence when it comes to fertility conversations with your doctor. She says, "The sooner we start, the sooner that patient can then go on and do their treatment. A lot of the success comes down to how old you are at the time you froze and the quality of the lab in which your eggs or embryos are frozen in."
"Oftentimes, we just do what we call a 'fast start,'" says Dr. Knopman. "We start them no matter where they are in their menstrual cycle. Because of that, it can sometimes take a bit longer than it would for traditional IVF stimulation. But all in, you're never really talking about more than two weeks."
As for Lawless, her family set up a Gofundme page as she spent her final days at home. The time and money allowed Lawless to make memories with her children without worrying about their care.
Following her death, Lawless's family decided to keep the Gofundme page open, with all proceeds going towards funeral costs and future support for her children.
Learn more about SurvivorNet's rigorous medical review process.
---