Protecting Your Skin From Cancer
Sarah O'Brien, from Sydney, Australia, was diagnosed last year with Basal Cell Carcinoma (BCC) after dismissing a lump on her face as an "annoying pimple." Now, she's urging others to get their checked because cancer "can happen to anyone at any age."
BCC is the most common form of skin cancer. In the United States alone, an estimated 3.6 million cases are diagnosed each year. It is important to treat them and treat them early because BCC lesions can grow and become disfiguring and dangerous.
BCC tends to grow more slowly, and BCC can often be overlooked as a pimple or skin tag. They can look like open sores, red patches, pink growths, shiny bumps, scars or growths with slightly elevated, rolled edges and/or a central indentation. These spots may ooze, crust, itch or bleed.
Wearing sunscreen will decrease your risk for skin cancer, however, it's important to still prioritize routine checkups with your dermatologist and always be on the lookout for any skin changes in between visits.
Our leading experts and SurvivorNet medical advisors have got you covered with important reminders for protecting your skin during all seasons.
Sarah O'Brien, from Sydney, Australia, was 37 years old when she was diagnosed last year with Basal Cell Carcinoma (BCC), a type of skin cancer that is highly treatable, especially when caught early.
Now, 38, the mom is sharing her story in hopes others will get their skin checked because cancer "can happen to anyone at any age."
Read More
Recounting to FEMAIL
 how she ignored the cancerous lump above her right eye, O'Brien said, "Every time I flicked my fringe with my fingers I would touch it, which annoyed me, so I wanted it gone for that reason." "I walked into the skin clinic thinking nothing of it, then the doctor said it 'doesn't look right,'" she added, admitting she first dismissed the bump as an "annoying pimple" which lasted for two months.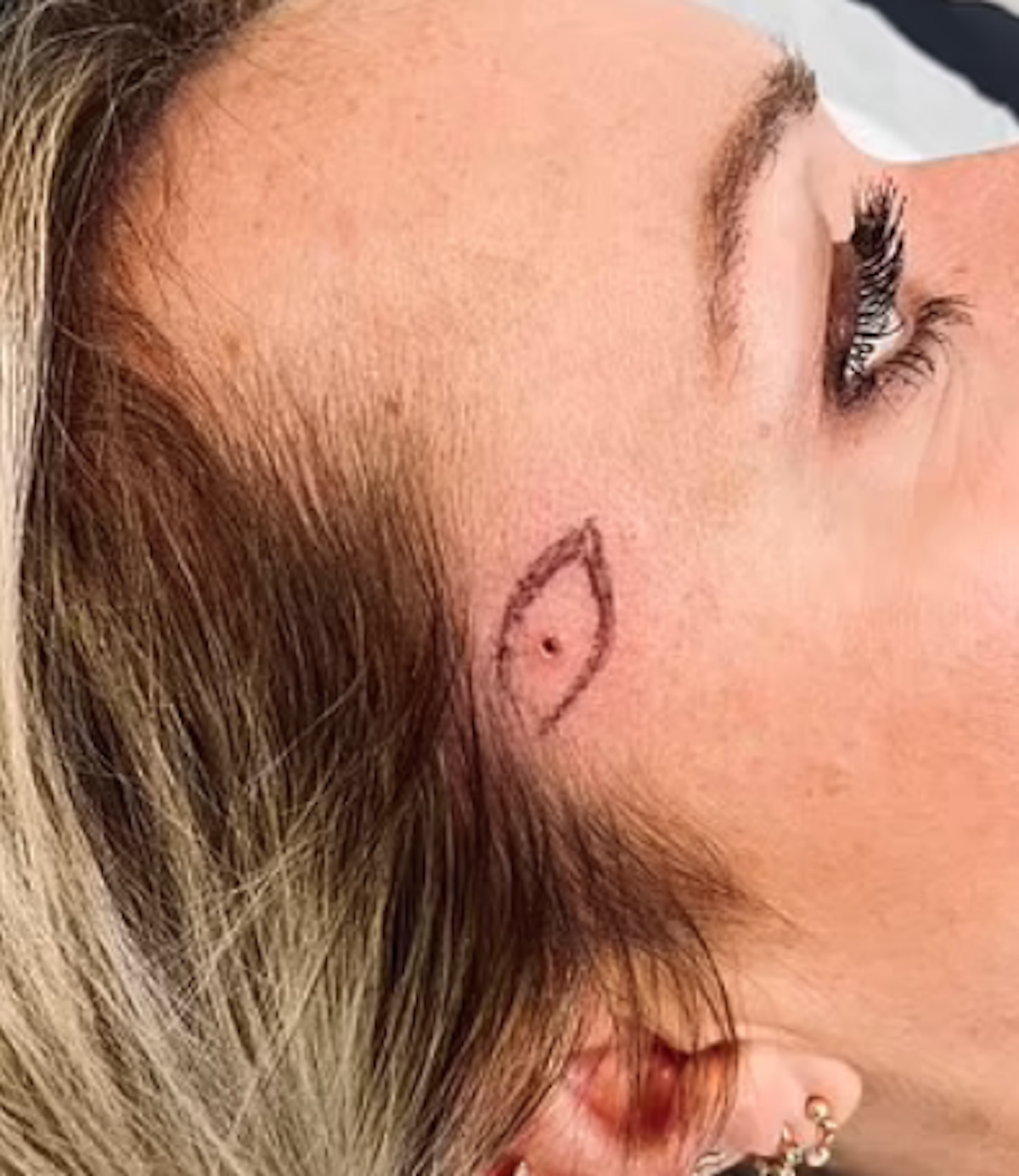 O'Brien was in "complete shock" when a needle biopsy revealed days later she had cancer because she had just gotten her skin checked five months earlier.
The cancer, however, was benign and didn't spread, so all she had to have done was have the lump removed with local anesthesia, as well as "around 3mm" of surrounding tissue, a procedure which needed stitches to close up. It took her approximately five months to heal.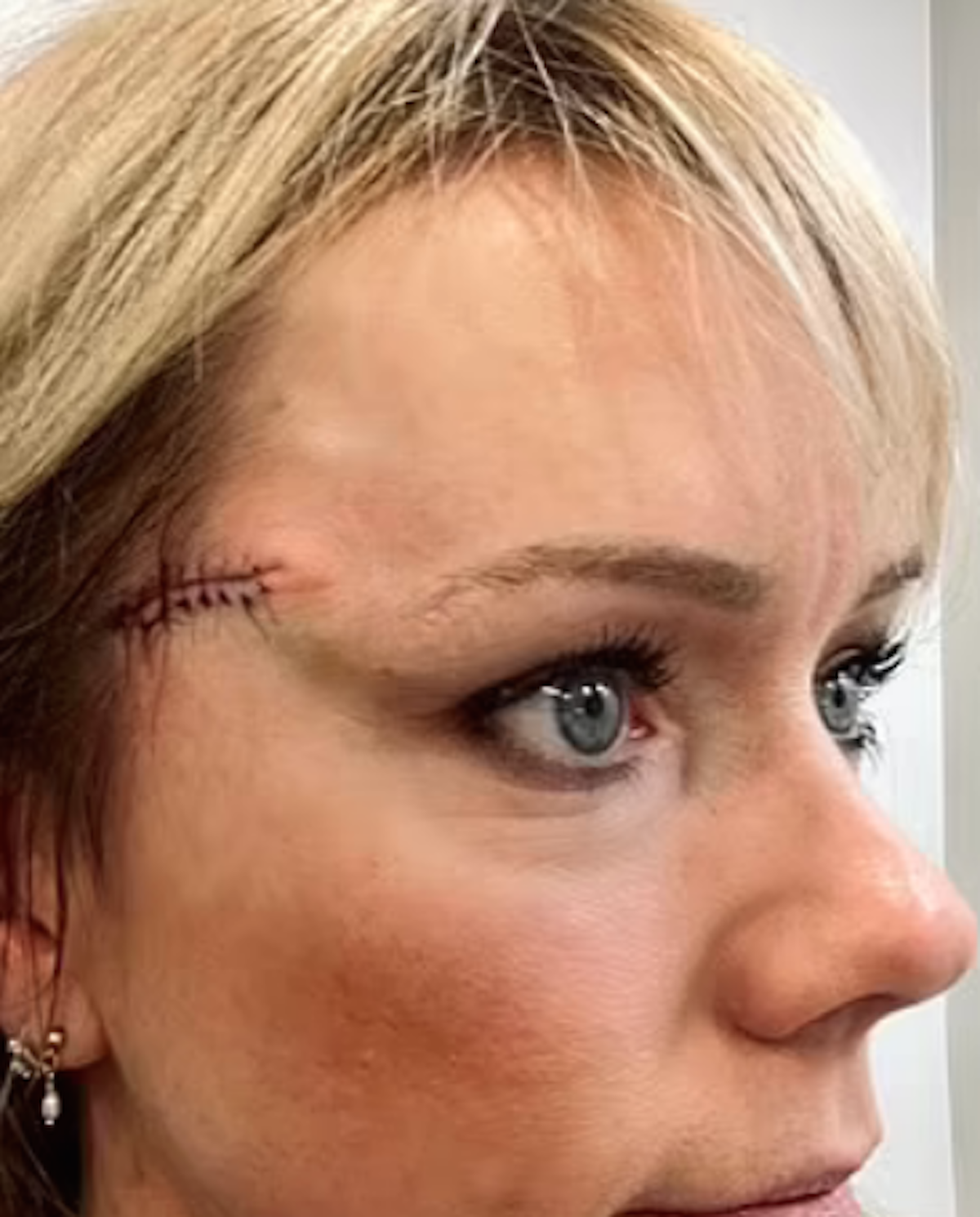 She suspects the skin cancer formed on her face from all the times she didn't wear sunblock while driving, as the "pimple" appeared on the side of her face that gets hit by the sun in the car.
"I've always been sun smart and wear sunscreen daily when I know I'm going to be in the sun, but I never thought about wearing sunscreen while driving," O'Brien said.
In regard to getting cancer, she added, "It was confronting for sure, I think everyone believes they're invincible until something happens. I used to think cancer was an 'old person's problem'… but now I know that definitely isn't the case and can happen to anyone of any age."
What Is Basal Cell Carcinoma?
Basal cell carcinoma is the most common form of skin cancer and develops when basal cells, one of three main types of cells in the top layer of the skin, grow abnormally or uncontrollably.
One distinguishing factor of this type of skin cancer is that it tends to grow more slowly resulting in minimal damage and making it generally curable when caught and treated early.
The tricky thing, however, is that BCC can often be overlooked as a pimple or skin tag. They may appear as raised areas on the skin with pale, pink or red-ish colors, and they may also have abnormal blood vessels. No matter what, if you have a spot on your skin that seems abnormal or questionable, you should consult your doctor because BCC can look very different from person to person.
Generally speaking, BCC occurs when DNA damage from exposure to ultraviolet (UV) radiation from the sun or indoor tanning triggers changes in basal cells. Because it most often develops on areas of the skin that are exposed to sun, it's crucial to protect yourself from the sun in any way that you can.
No matter how vigilant you are about decreasing your risk for skin cancer, it's important to still prioritize routine checkups with your dermatologist and always be on the lookout for any skin changes in between visits.
Surgery is the Best Option
"The gold standard for treatment of melanoma is surgical treatment with wide margins," says Dr. Nima Gharavi, Director of Dermatologic Surgery at Cedars-Sinai.
In some cases of early-stage melanoma that's close to the skin's surface, Mohs surgery may be offered. This is most common in areas such as the face, ears, and nose.
This type of surgery is also considered the most effective technique for treating the two most common types of skin cancer, basal cell carcinomas (BCCs) and squamous cell carcinomas (SCCs), according to skincancer.org.
Mohs micrographic surgery (MMS) is a microscopically controlled procedure that removes skin cancer by conservatively cutting along the entire margin until the surgeon reaches clear tissue. It's used more commonly to remove other skin cancers like basal cell and squamous cell carcinomas.
During the procedure, your doctor will numb the area with anesthesia and remove the tumor using a scalpel. You'll be asked to wait while they analyze layers of the removed sample under a microscope. The procedure is done one layer at a time, analyzing each layer for cancer cells before removing the next layer.
Mohs Surgery Removes Skin Cancer With Smaller Incisions and More Certainty
This process continues until all cancer cells are removed from the area. Once the surgery is complete, your doctor will cover the area with a bandage. Stitches may also be required.
While Mohs surgery isn't as common with melanoma as it is with other skin cancers, it may be the best option for some patients. Talk to your doctor about whether Mohs surgery is right for you.
Top 5 Ways to Protect Your Skin From Skin Cancer
Unfortunately, as we know, the sun is not your friend. For most people, there are simple ways to significantly reduce your risk of developing skin cancer. We asked dermatologist Dr. Dendy Engelman to provide the top five ways to protect your skin from skin cancer. Turns out, most of her recommendations are really simple to follow, and could save your life.
Avoid sun during peak hours – This means from 10 a.m. to 2 p.m. It doesn't mean you should never go outside during the middle of the day, but make sure you're protected when you do venture outdoors.
Cover your skin and eyes – A wide-brim hat and sunglasses will protect your face, the top of your head, your ears, and the delicate skin around your eyes.
Wear an SPF of 30 or higher – This is easy enough. Plenty of facial moisturizers have SPF built into them. Dr. Engelman also recommends reapplying every few hours, or after excessive sweating or swimming.
Get an annual skin check – You can check your own skin for anything that looks out of the ordinary, but you should still get a yearly check to make sure you didn't miss anything. If you do happen to notice anything out of the ordinary in between checks, schedule an appointment to talk to your doctor about it ASAP — it is always worth it to make sure.
Avoid tanning beds – This one is obvious … but just a reminder, tanning beds can significantly increase your risk of developing melanoma. If you feel like you're just too pale, Dr. Engelman recommends a sunless tanner. "There's absolutely no benefit to going to a tanning bed," Dr. Engelman said.
Top 5 Ways to Protect Your Skin
Is Skin Protection Seasonal?
Dr. Engelman says it's a common misconception that the need for sun protection is seasonal.
"My patients ask me all the time, 'Do I really need sunscreen every day, all year round?' The answer is yes," Dr. Engelman told SurvivorNet. "People think they only need sun protection when they're in the bright, warm sunshine. But the reality is, we can get sun damage at any time throughout the year, even in the cold, wintry months. Think about when you go skiing. That's a very high risk. Even though it's cold, our skin should be protected."
So, don't forget your sunscreen when you hit the slopes! And if you're still unconvinced of the effects of unprotected sun exposure in the winter, try to think more big picture.
Choose the Right Sunscreen and Use It Often
"The reality is, the sun can damage us even in incidental exposure," Dr. Engelman said. "If we're unprotected, for even 15 minutes a day, if we think about the cumulative effects that has on our skin over a lifetime, it's very real… The more we [wear sunscreen], the more we're protected. The more our risk is limited."
To make sure you keep up with skin protection throughout the winter, Dr. Engelman recommends making a habit out of it.
"I just tell patients, 'Make it part of your daily routine. Just like you brush your teeth, you should be reaching for sunscreen every day,'" she said.
But sun protection is only really effective if you're doing it wisely. Dermatologist Dr. Snehal Amin, the co-founder and surgical director of MDCS Dermatology: Medical Dermatology & Cosmetic Surgery, says finding the right skin protection depends on the activities you'll be doing.
"If you want to engage in outdoor activities, which is great for your health and is really a lot of fun, it's important to make sure you don't also get a sunburn," he said. "Now if you're like me, and you like to surf, or wind surf, or ski or anything like that, most of those activities can't be done in 20 minutes, so you have to wear the right protection for those activities.
"When I go skiing, always make sure you've got the zinc oxide paste on your nose. When I go surfing, always make sure you have the long-sleeved surf shirt, because really you can't apply that much sunscreen over and over again to your body."
Contributing: SurvivorNet Staff
Learn more about SurvivorNet's rigorous medical review process.
---