Young Mother Fights Bowel Cancer
A 29-year-old mom of two in the UK is fighting stage 4 bowel cancer, which she initially assumed to be heartburn.
Bowel cancer is a general term for cancer that begins in the large bowel, and this type of cancer can also be called colon cancer, rectal cancer, or colorectal cancer.
The woman's partner and best friend are raising money for her to have a specialized radiation treatment that could extend her life.
A mother of two in the UK, Amie Walton, 29, is battling stage 4 bowel cancer after being diagnosed with the disease in September 2020; she initially thought her symptoms were from severe heartburn.
Eventually, Amie's best friend encouraged her to visit the doctor, where she had a scan and was diagnosed with bowel cancer.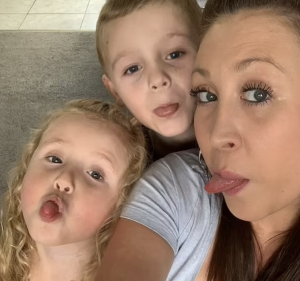 Read More
Her partner – along with Amie's best friend, Jess Davies – is raising money for Amie to have a treatment that could extend her life. Jess tells
The Daily Mail, "
When you're growing up, you expect your parents are going to go so you prepare yourself for that but you never think
you are going to lose your best friend
, that children are going to lose their mum."
Amie's Cancer Journey
To treat her cancer, Amie has had chemotherapy, and she also had over half of her liver removed. The cancer, however, has come back, reports The Daily Mail. Amie has tumors in her liver, and in October 2021, she was told that the cancer had metastasized to her lungs, and it was terminal.
Related: Four Months After Giving Birth, This Mother of Two Was Diagnosed With Terminal Bowel Cancer, Something Her Doctors Misdiagnosed as Irritable Bowel Syndrome; Know the Symptoms of Bowel Cancer
Amie's friend Jess and Amie's partner started their fundraiser for a specialized treatment – a type of internal radiation therapy called SIRT (Selective Internal Radiation Therapy) used to treat secondary and primary liver tumors that are unable to be removed with surgery – which could prolong Amie's life.
It's a private treatment that will cost Amie and her family $47,477 (£35,000) to pay for out of pocket, as it is not available via the UK's National Health Service (NHS). To be effective, this treatment needs to be carried out in December of this year.
Treating a Bowel Obstruction Caused by Colon Cancer
What is Bowel Cancer?
Bowel cancer is a general term for cancer that begins in the large bowel, and this type of cancer can also be called colon cancer, rectal cancer, or colorectal cancer. According to the American Cancer Society (ACS), colorectal cancer is the third most common cancer diagnosed in both men and women in the United States.
Related: FOX Anchor Lindy Thackston, 40, Returns to the Anchor Desk Following Colorectal Cancer Treatment: 'It Was So Nice to Not Feel Forgotten'
Treatments for bowel cancer can include surgery, like Amie had, along with chemotherapy, and radiation therapy. If the bowel cancer is detected early, treatment can be fully effective and stop the cancer from recurring.
What are the Symptoms of Bowel Cancer?
In an earlier interview, Dr. Paul Oberstein, the director of the Gastrointestinal Medical Oncology Program at NYU Langone's Perlmutter Cancer Center, shares some common symptoms of bowel cancer.
Dr. Oberstein cites these symptoms as:
Change in bowel movements — sudden changes to the size, consistency or caliber of stool
Change in stool color — bright red or black stool is a sign that an individual should seek medical attention
Pain in the abdomen — unusual discomfort or bloating of the stomach. In the case of women, pain isn't related to the menstrual cycle.
Sudden and unexplained weight loss — a rapid drop in weight that isn't the result of diet or exercise
Anemia — individuals who feel a general sense of malaise or faintness, or are constantly tired or weak much more than usual may want to consult a doctor.
Bowel Cancer Symptoms Explained
Learn more about SurvivorNet's rigorous medical review process.