The Power of Support Through Cancer
Selma Blair, who was diagnosed with multiple sclerosis (MS) in 2018, is spreading awareness on the importance of community support during Disability Voting Rights Week held by the American Association of People with Disabilities (AAPD).
MS is a serious disease of the brain and central nervous system that can lead to permanent disability, and it's something Selma Blair, 51, has been open about in hopes of helping others.
There is no cure for MS, but MS warriors battling the disease do have methods to manage their symptoms.
Feeling supported during a cancer battle a degenerative disease, like Selma Blair has, is hugely beneficial. New York-based psychiatrist Dr. Lori Plutchik, tells SurvivorNet that receiving the diagnosis "can be a very overwhelming experience" that requires finding support outside of your usual circles to help cope.
As Multiple Sclerosis warrior Selma Blair, 51, continues to lead by example for others living with disease, she has taken time to spread awareness on the importance of community support and the American Association of People with Disabilities (AAPD).
The Disability Voting Rights Week, hosted by the AAPD, is "all about protecting the rights of people with disabilities to participate fully in our democracy," and Blair is all for it.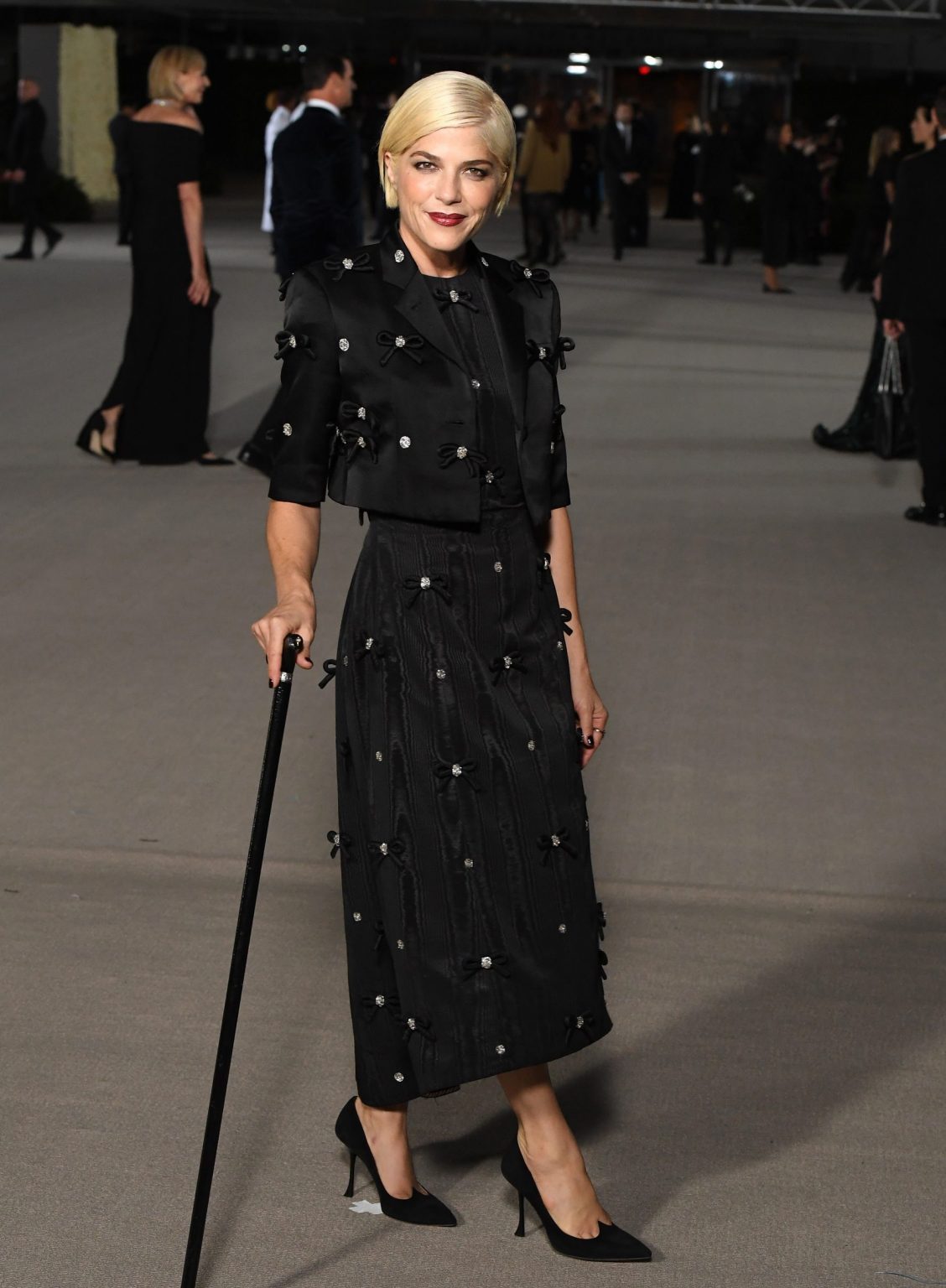 Read More
Blair, best known for her roles in "Cruel Intentions" and "Legally Blonde," took to her Instagram story to inform her fans about
AAPD's initiative
. She wrote, "This week is Disability Voting Rights Week, hosted by @aapdofficial. There are millions of disabled voters, yet many anti-voter laws and inaccessible polls make our democracy inaccessible. "The disability community is powerful. Our voice matters and we'll keep raising it until everyone can access their right to vote. #RevUp 2023."
According to the AAPD, the REV UP was initiated in 2016 and stands for "Register, Educate, Vote, Use your Power!"
It's mission is "build the power of the disability vote by "making sure disabled voters are registered and ready to vote in every election," and "advocating for accessible voting processes, from register to vote to casting a ballot."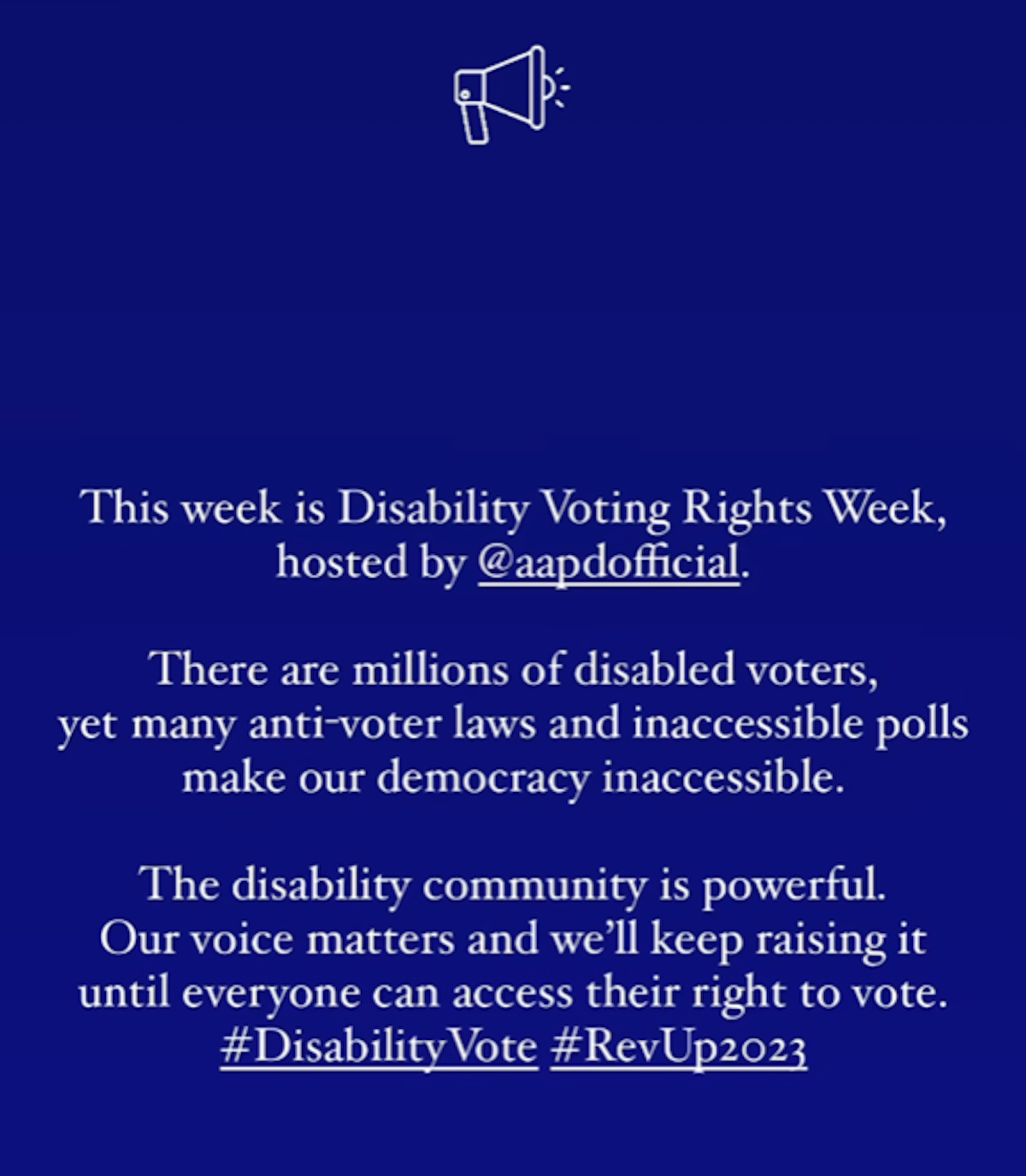 Blair also reshared an Instagram post by AAPD Official, featuring the quote, "If people with disabilities voted at the same rate as people without disabilities who have the same demographic characteristics there would be about 2 million more voters."
We love seeing Blair stand up for something she's passionate about, especially for others with disabilities, like herself.
In fact, Blair said in an earlier interview, "You have to be a squeaky wheel to get what you want. There aren't a lot of allies in the disabled community that are lucky enough to be on the platform that I have to bring things out.
"I've really changed a lot of my own perceptions of disability and now realize what heroes so many people in the disabled community are."
View this post on Instagram
Selma Blair's Multiple Sclerosis Battle
Selma Blair was diagnosed with MS in 2018. Following her diagnosis, Blair took to Instagram to share the news with fans and followers. In a 2018 post discussing her illness, she wrote candidly: "I have multiple sclerosis. I am in an exacerbation. I am disabled."
She wrote to fans, "I fall sometimes. I drop things. My memory is foggy. And my left side is asking for directions from a broken GPS. But we are doing it. And I laugh and I don't know exactly what I will do precisely but I will do my best. Since my diagnosis at ten thirty pm on The night of August 16, I have had love and support from my friends."
SurvivorNetTV Presents: Defying All Odds – A World-Renowned Doctor's Incredible Journey Through MS
Blair, who has used chemotherapy to treat her symptoms, is a lovely example of someone who embraces the reality of life with a health challenge. She's open and candid about her journey with MS, as well as her need for additional support and tools throughout it.
Blair has also been using her cane proudly in on magazine covers, on red carpets, and during talk show interviews.
People facing a health issue like MS or like cancer may require support tools, like a cane, or a wig to cope with hair loss from cancer treatments. There's nothing shameful about needed support through a health battle, or otherwise.
Speak with your doctor or an oncological social worker about tools that may be available to you to help make your journey easier. You're not alone in your battle, and there's likely a way to mitigate some of the experiences and make them less difficult, even communicating with others and hearing inspirational stories like Blair's can help.
The Importance of Support
Having a strong support system is crucial during the emotionally and physically taxing job of fighting cancer or battling disease. As Blair battled MS, her quality of life is enhanced by The American Association of People with Disabilities, among other things, like her supportive friendships, family members, and fans.
The Benefit of Support Networks for Cancer Patients
"Studies have found consistently that loneliness is a significant risk factor for physical and mental illnesses and the trajectory of recovery," licensed clinical psychologist Dr. Marianna Strongin told SurvivorNet.
"The act of sharing our time and words with others can alleviate emotional and physical pain."
In order to receive support, however, it is imperative you share at least some details about your journey, either with disease or a disability, with others. But whom you share with and how much to share is entirely up to you.
RELATED: Do I Need to Share My Cancer Diagnosis in Social Situations?
"Some people start to kind of share the information with many family members and friends, and they feel that works for them, and that it's a way that they can get support from other people," New York-based psychiatrist Dr. Lori Plutchik said. "Other people are much more private about it, and there is no one right way to handle this diagnosis. People should do what feels right to them."
Some cancer survivors don't need to go beyond their circle of family and friends for support, but others might need a little extra help. For the latter group, Dr. Plutchik recommends reaching out to a mental health professional who has experience working with cancer warriors.
"Try to find a mental health professional who is experienced in this area and who really understands the nuance and intricacies involved in this," Dr. Plutchik explained. "Make sure that the mental health professional that you work with is reaching out with your consent to the rest of the team, to the oncologist, to the surgeon if those people are involved.
"It can be helpful to reach out to family, friends, anybody else, any other caretakers that would be involved in the person's treatment. You don't want a situation where everybody is kind of doing their own thing on the team."
"Faith, Family, and Friends" Helped Beverly Reeves Get Through Ovarian Cancer Treatment
We love how Blair is keeping an attitude of gratitude and remaining grateful for her community, in addition to helping others finding community support. Having a strong support network through cancer is so important.
Ovarian cancer fighter Beverly Reeves shared in an earlier interview how she thinks having a strong community during cancer is critical. She told SurvivorNet, "If I had one piece of advice for someone who had just been diagnosed with ovarian cancer, it would be to get a strong support group together. Get your close friends. If you're connected to a faith community, get your faith community."
She continued, "Get your family. Let them know what's going on and let them help you. And sometimes that's the most difficult thing to do, but just know that they are there. If they love you, they're there to help you."
Seeking Support During a Cancer Journey
Feeling supported during a cancer battle is hugely beneficial. According to New York-based psychiatrist Dr. Lori Plutchik, receiving the diagnosis "can be a very overwhelming experience" that requires finding support outside of your usual circles.
Seeking Support: The First 3 Things to Do After a Cancer Diagnosis
"Some people don't need to go outside of their family and friends circle. They feel like they have enough support there," Plutchik previously told SurvivorNet. But for people who feel like they need a little bit more, it is important to reach out to a mental health professional.
Dr. Plutchik recommends the following three steps for anyone who just found out they had cancer.
Seek additional support if you need it. This might mean speaking to a mental health professional or finding a support group to join.
If needed, find a mental health professional who has experience helping people dealing with things like cancer.
Make sure your care team stays connected. Your care team may include your friends, loved ones, therapist and doctors.
Overall, know you're not alone and there are many people out there for you to be vulnerable with should you choose to open up about your cancer diagnosis.
Living With Hidden Disabilities — Voice Over Artist Kat Cressida Shares Her Cancer Story
Contributing: SurvivorNet Staff
Learn more about SurvivorNet's rigorous medical review process.
---