Popular BBC Host Sarah Cawood, 50, Reveals Early Stage Breast Cancer Discovered By Routine Mammogram
Popular BBC host Sarah Cawood, 50, reveals she's been diagnosed with breast cancer.
Her stage 1 cancer was caught early through a routine mammogram.
Mammograms looks for lumps in the breast tissue and other signs of existing cancer.
Cawood underwent lumpectomy surgery, which targets a specific part of the breast by removing only the tumor and surrounding tissue.
Popular British host Sarah Cawood, 50 is nothing but upbeat. The BBC star has been diagnosed with
breast cancer
, but says she feels "really lucky."
"Last week I got a bit of a shock when I was diagnosed with stage 1 breast cancer," she posted on Instagram, while sharing a picture of herself smiling. "You always think 'that's someone else's journey, not mine' and then, there it is…"
Read More
Another Instagram post was much more graphic, showing a picture of Cawood's bruised and bandaged up breast.
View this post on Instagram
"DON'T REMOVE THIS IMPORTANT PICTURE @instagram . This is how your boob looks after a lumpectomy with sentinel node removal to biopsy. (The dye is to locate your lymph nodes I THINK)," Cawood's posting read. ""It also turns your wee the same colour and my face is a funny blue/grey colour.
Cawood is best known for presenting the now-defunct BBC Children's Saturday flagship morning show Live & Kicking, and says she's feeling positive because the cancer was caught so early, through a routine mammogram.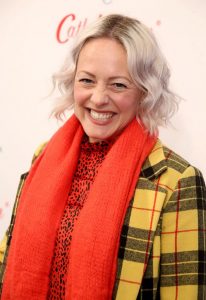 "It's very early and 100% treatable so I feel very lucky and eternally grateful to the NHS for routine mammograms," she wrote. "I'm going to start podcasting about my journey through menopause and breast cancer as I didn't realize there was so much to it all".
Screening for Breast Cancer
Breast cancer is screened by mammogram, which is a test that looks for lumps in the breast tissue and other signs of existing cancer, or cancer in its earliest stages.
If a worrisome lump is detected, a radiologist or doctor will advise you on the next steps, which typically include a breast biopsy.  Currently, The American Cancer Society recommends that women be given the option to begin annual mammograms at age 40 – and that all women, regardless of risk factors, start annual mammograms at age 45.
Related: When Should I Get a Mammogram?
For women with an elevated risk of breast cancer (who have a family history of the disease or carry the BRCA1 or BRCA2 gene mutation), you should begin screening before age 45.
Performing self-exams in the shower or at home is another good way to stay on top of breast cancer screenings; these should be done in addition to – not in place of – mammograms.
Dr. Connie Lehman, the chief of the Breast Imaging Division at Massachusetts General Hospital, emphasized in an earlier interview how mammograms save lives.
She says, "If you haven't gone through menopause yet, I think it's very important that you have a mammogram every year. We know that cancers grow more rapidly in our younger patients, and having that annual mammogram can be lifesaving."
Related: When You're Getting a Mammogram, Ask About Dense Breasts
"After menopause, it may be perfectly acceptable to reduce that frequency to every two years," says Dr. Lehman. "But what I'm most concerned about is the women who haven't been in for a mammogram for two, three, or four years, those women that have never had a mammogram. We all agree regular screening mammography saves lives."
When Should I Get a Mammogram?
'Carlsberg' of Breast Cancers
The TV presenter who also hosted the BBC's The Girlie Show, called her disease "the Carlsberg" of breast cancers (in a reference to her ideal choice of beer) and revealed she underwent a lumpectomy and will be on medication for years.
"Nobody cried, it wasn't very dramatic. It's just a lumpectomy, radio-therapy, then a drug called Tamoxifen, which is a hormone blocker, for five to ten years," she said. "
The veteran broadcaster and mother of two shared the moment she learned something was wrong.
"It was my first ever routine mammogram and I got a letter back ­saying they couldn't give me my screening result back yet," she said. "So I had another mammogram and an ultrasound and then they said, 'We're going to biopsy you'. That's where they take a bit of tissue from your boob."
Soon after her stage 1 breast cancer was confirmed Cawood admitted she leaned into the "lying in bed at night, not watching my children grow up thing."
"I always think cancer seems like a slow death. It's like being chucked out of the party early," she added.
But not for Cawood, who has taken an upbeat and irreverent approach to her treatment.
"Cancer, you have been evicted from Sarah's Right Boob. Please gather any other cancer cells and leave. PS. No big brother-style audience cheers for this little f****r please," she wrote on Instagram.
The former 'Top Of The Pops' presenter also told The Sun she believes that if she had posed for more adult magazines in the 80's and 90's she would have boosted her career.
"Like, I'm not going to get my boobs out to get ahead. Why the f*** not? My boobs were epic. They still are," she quipped. "They were honestly the best boobs — better than Denise van Outen's, I'd say."
Cawood continued: "I was really conflicted. If I'd done more lads' mags shoots, my profile would have been higher, I'd have been offered more of the high-profile jobs."
On a more serious note, Cawood says she knows how blessed she is to have such an early-stage breast cancer diagnosis that is 100% treatable.
What is a Lumpectomy?
When considering surgery for breast cancer, or to prevent breast cancer, one common decision that will arise for women is whether they should go through a mastectomy or lumpectomy.
Unlike a mastectomy, which completely removes one or both breasts, a lumpectomy targets a specific part of the breast by removing only the tumor and surrounding tissue.
One of the main benefits of considering a lumpectomy, if it's possible, is that the procedure itself only takes about an hour and the patient can usually go home the same day.
Lumpectomies are usually a good route to take for those diagnosed with early stage breast cancer. Radiation treatment is usually given as well in order to minimize the risk of recurrence.
Related: Actress and Cancer Survivor Suzanne Somers Dishes With SurvivorNet Ahead Of Her 75th Birthday: 'I Live My Life With No Expiration Date'
Some women may believe that going through a mastectomy is the best way of preventing a breast cancer diagnosis, but experts have told SurvivorNet that's not always the case.
The size of the tumor, the genetic markers, and the patient's family history are all factors to consider when choosing which surgery to undergo.
"So many patients will come in wanting both breasts removed, but we'll end up with lumpectomy and radiation, which is really standard of care," Dr. Sarah Cate, lead physician for the Special Surveillance Breast Program at Mount Sinai Beth Israel, previously told SurvivorNet.
Dr. Sarah Cate breaks down when to consider a lumpectomy vs. a mastectomy
Doing a Self-Exam at Home
In addition to regular mammogram screenings women should also do self-exams at home.
If you notice any changes in your breasts, such as new lumps or nipple changes, ask your doctor about getting a mammogram or other screening tests. Remember that you're the best expert on your own health and what's normal, or not, for your body.
Related: You Should Be Aware of These Signs of Breast Cancer
The National Breast Cancer Foundation says here's how to do a self-exam at home:
While standing straight in front of a mirror, place your hands on your hips and look at your breasts for any swelling, bulging, changes in the shape of breast or nipple (inverted), redness, rashes, or any fluid leaking. Then do the same with your arms in the air.
Next, while lying down, use your right hand to examine your left breast and vice versa, while using your first three fingers to apply pressure.
Ensure you cover the entire breast area, from your collarbone to below your ribcage and from your armpit to your cleavage area.
Do the same self-exam standing or sitting up. Be sure to use light to medium pressure for the middle breast area and firmer pressure when feeling deep breast tissue.
Getting to Know Your Breasts with Self-Exams
Learn more about SurvivorNet's rigorous medical review process.
---