Pop Star Notices Strange Mark On Her Mom's Forehead While Giving Her A Facial And Assumed It Was 'Just Dry Skin:' It Turned Out To Be Cancer
Natasha Hamilton, 40, known for being a member of the girl group Atomic Kitten, has used her mother's skin cancer diagnosis as a "wake-up call" and is now promoting skin cancer awareness.
Luckily, basal cell carcinoma is easily treatable if it's caught early — like Natasha's mom's case. The pop star noticed an unusual mark on her mother's face and urged her to get checked by a doctor.
To minimize your risk of getting skin cancer, wear sunscreen, avoid direct sunlight, and don't use tanning beds.
Pop star Natasha Hamilton is recalling how she learned her mother had the most common type of skin cancer called basal cell carcinoma and is now urging others to know the signs of skin cancer and take action sooner than later.
The 40-year-old singer, who is known for being one of the members of the enormously popular British girl group Atomic Kitten, credits her early career as a skincare specialist for how she was able to notice her mom Maria Hamilton's worrying patch of skin. She has since opened up about her mom's skin cancer journey in an effort to raise awareness for the disease.
Read More
"I was giving my mom a facial when I noticed a mark on her forehead that I hadn't seen before – when I asked her about it, she said it regularly disappeared and then came back again but had assumed it was just dry skin," Hamilton told the
Evening Standard
. "Over time, I noticed that it would sometimes be bigger, a bit scaly and looked really sore so I urged her to go to the doctor and get a medical opinion."
Related: Mom, 40, Told By Doctor 'Not To Worry' About Strange Streak On Her Fingernail: It Turned Out To Be Cancer And Her Finger Was Amputated
A doctor first told Hamilton's mom not to worry about the mark on her skin, until about a year later when she returned with a "bigger and more prominent" mark, the singer explained. "She went back to the doctor and this time got a referral to a dermatologist who then diagnosed it as a basal cell carcinoma, a form of non-melanoma skin cancer," Hamilton added. "She's recently been given some cream that burns off pre-cancerous cells and then later had it cut out."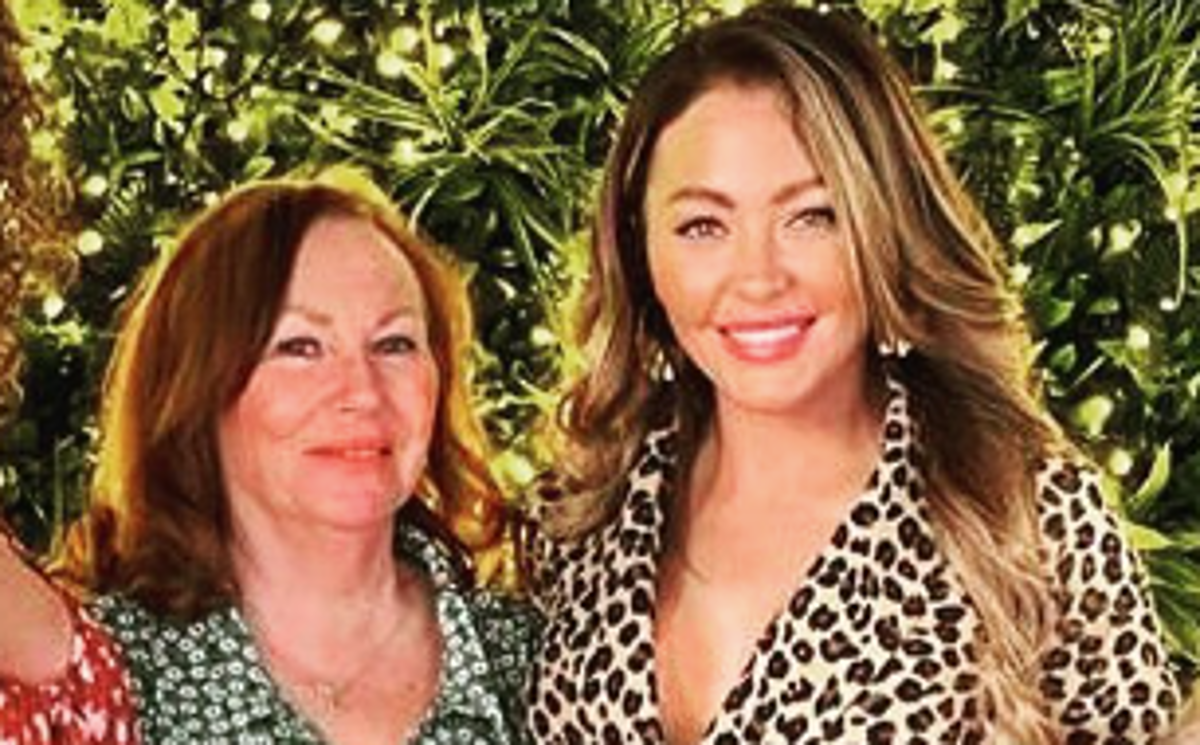 Hamilton is thankful her mom's diagnosis a few years back was not melanoma, a deadly form of skin cancer that is curable when found and treated early. Maria's type of skin cancer was caught early enough and successfully removed. "Her experience was a major wake-up call for us all, forcing us into checking our skin for markings and moles, and making sure anything new or out of the ordinary is checked out as soon as possible," she said.
The mom of four, who admits to using tanning beds as a teen, no longer participates in activities that increase her risk of skin cancer. "I remember hitting the sunbeds desperate for a tan and to look healthy and glowing," she said. "As I've got older and educated myself though, I slap on the factor 50 and make sure my children know how to enjoy the sunshine safely."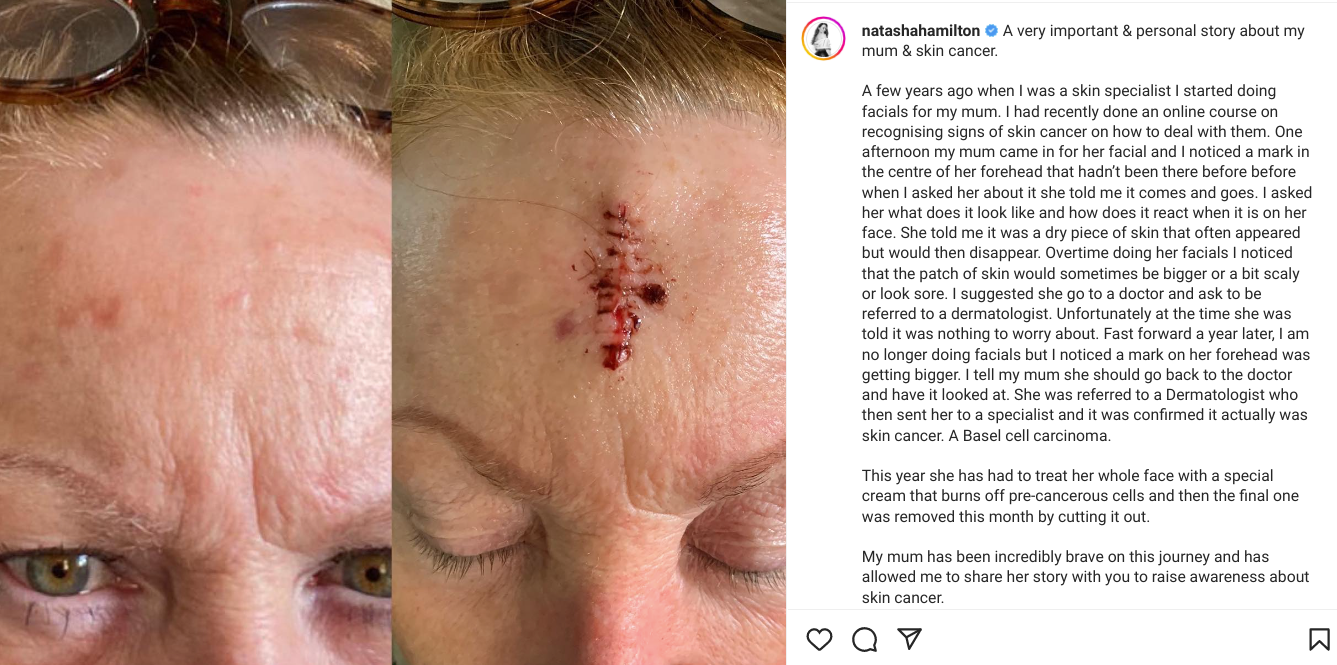 Hamilton shared two photos of her mom's forehead several months ago on Instagram and informed her followers, "This year she has had to treat her whole face with a special cream that burns off pre-cancerous cells and then the final one was removed this month by cutting it out. My mom has been incredibly brave on this journey and has allowed me to share her story with you to raise awareness about skin cancer."
Related: Redheaded Tanning Fan, 43, Spots 'Strange Freckle' On Her Stomach While Brushing Her Teeth In Her Underwear: It Turned Out To Be Cancer
"If you have something on your skin that comes & goes or changes in color, shape or size then pls ask your doctor to refer you to a dermatologist," she concluded.
What is Melanoma?
Melanoma is a type of skin cancer that starts in the same cells that give your skin, hair and eyes their color. The American Cancer Society estimates that about 99,780 new melanomas will be diagnosed in the United States in 2022.
And while the ACS says the risk of melanoma increases as people age with the average age of diagnosis being 65, the disease is not uncommon among those younger than 30. In fact, it's one of the most common cancers in young adults (especially young women).
Related: Sun-Worshipping Grandpa, 63, Who Even Tanned On His Lunch Breaks, Notices Scab On His Head That 'Erupted Like A Volcano:' It Was Skin Cancer
The disease can develop from an existing mole or appear as a dark or pink growth on the skin even in places on the body that never see the sun. It's also known to be the deadliest form of skin cancer.
"Melanomas are the deadliest type of skin cancer because they have a tendency to spread to other parts of the body," explains Dr. Anna Pavlick, a medical oncologist with Weill Cornell Medicine who specializes in treating skin cancer.
Paying Attention to Your Skin
Keeping an eye on the moles or growths on your skin is an easy way to keep an eye out for melanoma. Changes to a mole you've had for a while or developing a new growth you don't remember having on your skin could be signs of this cancer, according to SurvivorNet's experts.
Examining Your Skin for Melanoma Remember ABCDE
Dr. Cecilia Larocca of the Dana-Farber Cancer Institute gives SurvivorNet an overview of things to look out for with moles using the ABCDE self-screening method:
Asymmetrical moles: "If you drew a line straight down the center of the mole, would the sides match?"
Borders that are "irregular, jagged, not smooth." It can also stand for bleeding.
Colors: "Multiple distinct colors in the mole."
Diameter: "Larger than 6mm, about the size of a pencil head eraser."
Evolution: "This may be the most important," she says. "Anything that is changing over time such as gaining color, losing color, painful, itching, hurting, changing shape, etc."
Spots on our skin are often harmless, but it's still important to keep an eye on them and reach out to your doctor if you see any changes or find a growth anywhere on your skin that looks suspicious.
Understanding Skin Cancer
The Skin Cancer Foundation estimates that over 5 million cases of skin cancer are diagnosed in the United States every year, making it the most common cancer in the United States. In an earlier interview, dermatologist Dr. Dendy Engelman, a board-certified dermatologic surgeon at Shafer Clinic Fifth Avenue, told SurvivorNet that her patients always ask whether sunscreen is needed all year round.
Related: Woman Who's Had Skin Cancer FIVE TIMES Warns That 'The Only Safe Tan Is A Spray Tan!'
"The answer is yes. People think they only need sun protection when they're in the bright, warm sunshine," Engelman explains. "But the reality is, we can get sun damage at any time throughout the year, even in the cold, wintry months. Think about when you go skiing. That's a very high risk. Even though it's cold, our skin should be protected."
Top 5 Ways to Protect Your Skin From Skin Cancer
The top five things Dr. Engelman, recommends to avoid skin cancer:
Avoid the sun during peak hours: 10 a.m. to 2 p.m.
Wear a wide-brimmed hat and sunglasses to protect the tops of our heads, the tops of our ears, and the delicate area around the eye.
Wear at least SPF 30 sunscreen and make sure to reapply every two hours or after excessive sweating or swimming.
Have yearly skin checks (with a professional) because it's difficult to evaluate areas all over the body.
Avoid tanning beds. There are no "good" tanning beds, and they can significantly increase your risk of skin cancer.
It's important to still prioritize routine checkups with your dermatologist and always be on the lookout for any skin changes in between visits.
Top 5 Ways To Protect Yourself From Skin Cancer
Contributing: SurvivorNet staff
Learn more about SurvivorNet's rigorous medical review process.
---