Family Deals With Devastating News
Allan Jones, 48, had been experiencing severe shoulder pain shortly after having back surgery and chalked up his pain to a part of his recovery from the operation.
It eventually became hard for him to breathe, prompting a walk-in visit where a CT scan revealed he had a mass on his liver. A biopsy revealed the mass to be a neuroendocrine tumor.
Neuroendocrine tumors are incurable and in cases where they are found in the liver often inoperable, so Jones is receiving hormone injections to slow growth.
Despite being incurable, the 5-year survival rate for a neuroendocrine tumor is 97% when the cancer has not spread.
After dismissing his constant shoulder pain as a side effect from recent back surgery, a loving husband and doting dad is battling an inoperable and incurable form of cancer.
Allan Jones, 48, started experiencing this pain shortly after undergoing surgery to repair a disc in his back and assumed it would pass after time.
Read More
After his condition continued to worsen for weeks, he decided to stop by his local walk-in facility. The medical staff could not find anything wrong and sent him home.
He returned a few days later struggling to breathe, prompting the staff to order a CT scan, thinking a blood clot or tendinitis could be to blame.
Related: 'COVID Saved My Life': Triathlete Mom-of-Three Thinks She Is Battling Long COVID, Gets Thyroid and Kidney Cancer Diagnosis
Five weeks later, a doctor called Jones into the hospital along with his wife and parents. The doctor told him that the CT scan did not detect a blood clot but did find a concerning mass on his liver.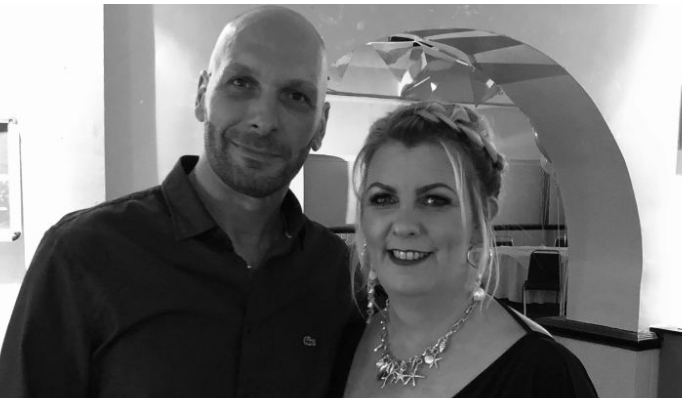 Jones had a biopsy and learned that he had a neuroendocrine tumor in his liver a few weeks later. The cancer is incurable in all cases, and in Jones' case, inoperable, said the doctor.
"It hit him hard because he blames himself really bad as he's always smoked," his wife of 16 years, Becky, tells the Liverpool Echo.
"The doctors explained you don't have pain from your liver as such – they said the way the liver disperses pain is in your right shoulder."
Family Adjusts After Neuroendocrine Tumor Diagnosis
Jones is receiving hormone injections in hopes that it will slow down the tumor. If that is successful, he will receive radiotherapy, though doctors are still unsure if the cancer has metastasized to other parts of the body.
Plans for a 50th birthday trip have been scrapped, which was particularly devastating for the family.
"We've never been on holiday. It's always been work work work, the [16] years we've been together," notes Becky.
Jones posted a brief note for his friends after his diagnosis, saying:
It's with a heavy heart I write this after a few days with my family getting my head round my final diagnosis!!! But…. As much as I may fight (and I will never stop) this is one battle I am not going to win. The cancer I have 90% of the time is not diagnosed until it becomes a secondary in another organ or part of the body and I fall into that 90%. I now have a neuroendocrine tumor in my liver which is incurable and inoperable. I will be having injections and radiotherapy to hopefully slow or stop it's growth to hopefully give me more time and lead as normal life as possible. I wouldn't of got through any of this without the people in this photo and my mum Heather Jones and dad. It's been a pleasure knowing every single one of you and please all of you live your lives to the MAX because none of us know when it will be over. Love you all
Related: Cancer-Surviving College Student Reconnects With Her Lifesaving Leukemia Nurse 17 Years After Beating Disease
Neuroendocrine Tumors: Incurable, Not Always Inoperable
Neuroendocrine tumors are incurable and claimed the lives of Aretha Franklin and Steve Jobs.
Jobs was able to survive eight years after being diagnosed with a pancreatic neuroendocrine tumor. Franklin survived eight years as well after also being diagnosed with a pancreatic neuroendocrine tumor.
In most cases, doctors can offer treatment options to patients that can extend their lives.
Individuals with a neuroendocrine tumor have a 5-year survival rate of 97% if there has been no spread accoridng to the American Society of Clinical Oncology. That number drops only slightly to 95% in cases where the cancer has spread to the lymph nodes or nearby tissue. If the tumor spreads to another organ, 5-year survival drops to 67% and 40% in the liver.
Jones is also one of the rare patients who developed neuroendocrine liver metastases in addition to the tumor. Those patients have a 5-year survival rate of 0 – 20% because only a handful of patients are candidates for surgery to remove the metastasis. The survival rate is almost entirely dependent on the number of eligible patients who have a successful surgery.
Some patients do qualify for liver transplants, which has extended survival. These individuals are rarely approved for transplants because neuroendocrine patients have lower survival rates than other transplant candidates.
I Knew There Was Something Wrong, But I Didn't Know What
Living and Thriving With Neuroendocrine Cancer
Early detection is critical when battling cancer, something Judy Golz learned when she was diagnosed with neuroendocrine cancer.
She had spent years trying to get pregnant with no luck, eventually choosing to adopt with her husband.
Then came her diagnosis.
"When I was first diagnosed, my son was 10. And I really didn't know if I'd make it to see him ever get married," Golz previously told Survivor Net.
However, that did not end up being the case, and Golz was able to reach the milestone she thought she might never live to see.
"For me to be sitting at the wedding and do my mother-son dance was even more powerful," she said. "Everything that you could hope for."
She hopes that her story will help to open the eyes of other warriors currently battling the disease.
"Cancer really does not have to be a death sentence anymore. What I tell people all the time is listen to that inner voice, and listen to your body, and be proactive," explained Golz.
"It's about learning to live with the disease."
She also noted that there is no reason not to research any concerning symptoms or aches and pains with all the available resources.
"I knew something was wrong with me, but I didn't have the knowledge as to exactly what it was," she said.
"And when you go to these different doctors, and you're trying to explain, I think sometimes they actually think you're being a hypochondriac. Sometimes in the medical community, we can over-diagnose ourselves."
She continued: "If I had these symptoms today, because of all the information out there, I think I would have been able to diagnose myself."
Learning to Live With Neuroendocrine Cancer
Learn more about SurvivorNet's rigorous medical review process.
---