New Mom's Skin Cancer Scare
A new mom in the UK thought the mark on her face was a birthmark and put off seeing a doctor for over 5 years.
It began to spread across her face during her pregnancy and she was diagnosed as skin cancer. The mom delayed her skin cancer surgery till four months after pregnancy.
Basal cell carcinoma (BCC) is the most common type of skin cancer. Our expert provides tips on protecting your skin from sun damage.
UK mom Rachael Rollisson, 32, initially thought the mark on her forehead was a birthmark and so she didn't pay it much attention; it was later diagnosed as skin cancer, and she put off surgery due to pregnancy. "I first noticed it a few years ago but
stupidly I didn't get it checked out
until recently," she tells the 
Daily Mail.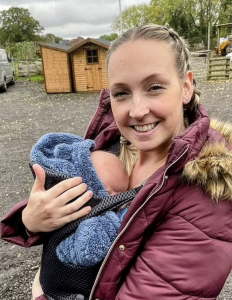 She initially noticed how the mark on her face remained white and the rest of her face became red while she was exercising. This triggered her to think something may be wrong.
Read More
Rollisson provides a good example of the importance of investigating things on your body when something feels or looks off. Even if it appears to be something harmless, like potentially a birthmark, it's a good idea to get things checked out with your doctor to confirm.
Rollisson's Skin Cancer Story
When Rollisson became pregnant, the birthmark started growing. So she got it checked out and was diagnosed with basal cell carcinoma (BCC) the most common type of skin cancer. It grew across her forehead, reports the Daily Mail. 
"I thought it was a birthmark to start off with so I didn't really think anything of it, just because I'd had it for so long and it never grew from what I saw anyway."
She continues, "But when I fell pregnant last year I really started really noticing a difference – it started looking more prominent even when I wasn't exercising and it looked bigger around the edges so it was growing."
Rollisson explains the diagnosis process, saying, "I had this test where they basically take a section of it out like a hole punch and test it and the results came back that it was low grade skin cancer."
The wait for her surgery was anxiety-provoking, she says. "While I had to wait to have the surgery I was worrying about it spreading – I'd already had it for a few years and I just kept thinking, "How much bigger is it going to get in that time?"
Four months after giving birth to her son, she had an operation, Mohs surgery, to remove the cancer. Surgery – Mohs surgery, in particular – is a common treatment for skin cancer. New mom Rollisson has been left with a scar from the surgery but is basking in the glow of newborn life. She continues to encourage people to take care of their skin.
Protecting Your Skin from Cancer
Skin cancer is the most commonly diagnosed type of cancer in the U.S., and you can protect yourself and lower your skin cancer risk by taking prevention steps.
Related: 'Grateful & Blessed': Six-Time Skin Cancer Survivor & Thriver Hugh Jackman Opens 'The Music Man' on Broadway
In an earlier interview, dermatologist Dr. Dendy Engelman outlines five easy ways to protect your skin, and lower your skin cancer risk. She tells us:
Avoid sun during peak hours. This means from 10 a.m. to 2 p.m. It doesn't mean you should never go outside during the middle of the day, but make sure you're protected when you do venture outdoors.
Cover your skin and eyes. A wide brim hat and sun glasses will protect your face, the top of your head, your ears, and the delicate skin around your eyes.
 Wear an SPF of 30 or higher. Plenty of facial moisturizers have SPF built into them. Reapply often.
Get an annual skin check. You can check your own skin for anything that looks out of the ordinary, but you should still get a yearly check to make sure you didn't miss anything. If you do happen to notice anything out of the ordinary in between checks, schedule an appointment to talk to your doctor about it ASAP — it is always worth it to make sure.
Avoid tanning beds. "There's absolutely no benefit to going to a tanning bed," Dr. Engelman says.
Top 5 Ways to Protect Your Skin From Skin Cancer
Learn more about SurvivorNet's rigorous medical review process.