Government approvals for cancer drugs are based on clinical trial information. Those approvals affect everyone, but the clinical trials focus disproportionately on white people, according to a new study.
Related: The Courage to Be You: Meet Survivor Ericka Hart
Read More
Lack of racial diversity in the cancer world has been a problem for a long time, and clinical trials are only one way in which underrepresented groups are often disadvantaged when it comes to this illness. That lack of representation leads to a number of issues.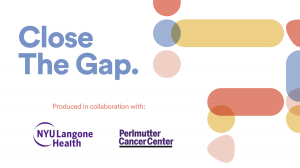 SurvivorNet and NYU Langone Health's Perlmutter Cancer Center are collaborating to help close the racial gap in cancer prevention, cancer care, and survival rates.
"If you look at a lot of cancer advocacy campaigns, they're mostly white, middle class, house in the suburbs, five kids, and when I was diagnosed, I was broke, living in Brooklyn, about to get married to a woman," said Ericka Hart, 32, a survivor who was diagnosed with triple negative breast cancer at the age of 28.
Breast cancer survivor Ericka Hart talks about how black women are underrepresented in cancer literature
Study Information
In this study, researchers from University of British Columbia, the University of Texas MD Anderson Cancer Center, the Fred Hutchinson Cancer Center in Seattle and Baylor University in Texas, found a lack of racial diversity in landmark clinical trials used to determine government approvals for cancer drugs. Blacks, Asians and Hispanics were dramatically underrepresented in the trials compared to whites.
Related: Obamacare Has Almost Eliminated One Type of Race-based Cancer Disparity, New Study Says
If racial minorities are left out of clinical trials that are used to grant government approvals, then those approvals may not accurately reflect what is best for the population with cancer. Given the finds, the study advocates for increased efforts to enhance minority representation in clinical trials and to eliminate racial disparities.
Using 230 landmark trials taking place between 2008 and 2018, researchers found that only 145 of the trials reported on at least one race, and only 8 percent of the trials reported on whites, Asians, blacks and Hispanic races.
Dr. Diana English, Gynecologic Oncologist at Stanford Medicine on the need for more minority groups in clinical trials
The study used clinical trial reports collected from PubMed and ClinicalTrials.gov, as well as the FDA Archives, and US population-based cancer estimates by race from National Cancer Institute–Surveillance, Epidemiology, and End Results and US Census databases.
Compared with white people, who were represented in the trials at 98 percent of the expected proportion based on their proportion of the U.S. cancer population, black people were represented at 22 percent of the expected proportion and Hispanics at 44 percent.
Over time, the proportions of minority representation changed nominally.
Ericka Hart's Advocacy Journey
"Breast cancer can happen to anybody, so you want to be seen in advocacy campaigns," said Hart, who knows from her experience with breast cancer that black people are underrepresented in cancer literature.
Hart began campaigning when, after going to a music festival topless, without any marking to say she was speaking out about breast cancer, people started to take pictures of her displaying her post-surgery breasts. Since that time, Hart has used her platform to educate about black bodies and how they are regarded in the medical world and the world at large.
"Black people die at a faster rates than white people, and it has nothing to do with black people and a gene. It has everything to do with us not existing in advocacy programs," she said. "I went topless just to educate and raise awareness, and I think it's working."
Learn more about SurvivorNet's rigorous medical review process.