The Lasting Impact of a Breast Cancer Warrior
Swimmer Caeleb Dressel was just named the male athlete of the year by Sports Illustrated after winning five gold medals at the Tokyo Olympics this year. Dressel always brings a blue bandana to every swim competition. It belonged to a former high school teacher of his who lost her battle with breast cancer.
Mammograms, a standard screening procedure for breast cancer, and self breast exams can save lives. The American Cancer Society (ACS) recommends women begin mammogram screening for breast cancer at age 45 if they are at average risk for breast cancer.
Coping with the loss of a loved one to cancer is incredibly challenging, but moving forward with the lessons your loved one shared and remembering you don't have to forget them to move forward can be a great place to start.
Swimmer Caeleb Dressel was just named the male athlete of the year by
Sports Illustrated
– an award well deserved by a man who won five gold medals at the Tokyo Olympics this year. And while you may know about his amazing athletic accomplishments, you might not know about the memento from a cancer warrior that's accompanied him to every swim meet since her passing.
It's not uncommon to see Dressel carrying medals at swim meets – he has been dubbed "the next Michael Phelps," after all. But it's always a given to see him carrying a blue bandana adorned with flowers and cows whenever he's near a pool. This bandana belonged to Claire McCool, Dressel's former math teacher at Clay High School in Green Cove Springs, Fla., who died of cancer in November 2017.
Read More
RELATED: Overcoming Cancer to Live Their Olympic Dreams – The Triumph of Making It to Tokyo
"It was given to me as a gift from [McCool's] husband," he previously told Swimming World magazine. "She wore it when she had chemo. It's the most important thing in my life for a physical object. It's just nice to carry her behind the blocks in a physical form. She's with me every race, and it will be until I finish my career. You can get used to that bandanna for a while."
That was back in 2018, and he wasn't lying. Dressel even took the heartfelt memento from his favorite teacher to Tokyo this past summer. But how did McCool leave such a lasting impact on Dressel? His sister said McCool was there for him when he needed it most.
"They bonded like no other student and teacher at Clay High," Dressel's younger sister, Sherridon, told NBC Sports. "You could just tell she really, genuinely cared about each of her students. Not [just] how they did academically — obviously she was a great teacher — she provided support, encouragement in every aspect of life. I think Caeleb really needed that at points in his own life and just having that person to talk to and trust and just share that bond."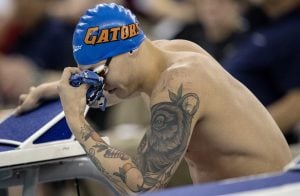 During Dressel's final year of high school, the nation's top-ranked swim recruit at the time took about a 5 month break from the sport.
"I just needed a little mental break," Dressel said in 2015. "I had some demons I was fighting at that point."
That was when he confided in McCool who carried his trust as an honor.
"To know that he trusts me with secrets and the way he felt," she said, according to WUFT TV in Gainesville in 2016. "It's just something that is so special to me and is almost sacred."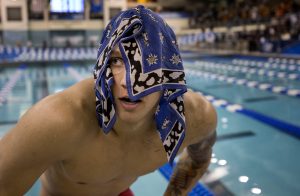 McCool was diagnosed with breast cancer in 2015 but continued to teach in between chemotherapy sessions. And it wasn't until towards the end of 2017 that she began hospice care. It was at that time Dressel and his family visited her in her last days at her house.
RELATED: New Jersey High School Quarterback Scores 8 Touchdowns the Day after Losing His Mother to a Nearly 15-Year Battle with Breast Cancer: 'I Could Feel My Mother's Presence with Me'
"I saw her on her deathbed," Dressel said. "She was still the strongest woman I've ever seen."
Losing a Loved One to Cancer
Coping after the loss of a loved one to cancer is never going to be an easy journey. But remembering all the wonderful ways your loved one enriched your life and moving on from there can be such a powerful way to move forward.
In a previous interview with SurvivorNet, Caleb Farley talked about his mother's battle with breast cancer and how he opted out of his position as a cornerback for the Virginia Tech Hokies due to COVID-19 concerns. Having lost his mom to breast cancer in 2018, he knew he wanted to be extra careful during the pandemic.
RELATED: Tom Hanks and Rita Wilson's Assistant Died of Pancreatic Cancer. She's Now Memorialized in Author Ann Patchett's Latest Book; Moving Forward after the Loss of a Loved One to Cancer
Farley announced the news of his opt-out in an Instagram video saying, in part, "I cannot afford to lose another parent or loved one… Though the competitor in me badly wants to play this season, I cannot ignore what's going on in my heart, and I must make the decision that brings me the most peace."
2021 NFL Draft Prospect Caleb Farley Tells SurvivorNet His "Mom Was Like a Superhero" Before She Lost Her Battle with Breast Cancer; Here's What Got Him Through
Farley trained for the NFL draft instead of playing for Virginia Tech, and his efforts paid off. He was selected by the Tennessee Titans as the number 22 overall pick in the first round of the 2021 NFL draft.
Farley's mother fought two battles with cancer. He watched as she went through multiple rounds of chemotherapy while still working and taking care of her family. Although his "superhero" mother will not get to see him play in the NFL, Farley will take many lessons he learned from her and apply them to whatever challenges he faces in life moving forward.
"My mother raised me to be very religious, very God-conscious. That's been everything to me, and my life. That's like the building blocks of my, of my life," Farley told SurvivorNet. "Anything that's happened to me, any adversity, any good times, any bad times, I've always kind of stood on that rock of faith. I can't thank her enough for how she raised me and because it was her who gave me all of that, um, spiritually, she, she just filled my heart with love and joy. I've had a happy life because of her."
RELATED: Comedy Legend Mel Brooks, 95, Reflects on the Loss of Best Friend Carl Reiner: 'I Miss Him So Much'; Coping with Grief After Losing Loved Ones
Doug Wendt also lost a loved one to cancer. He told SurvivorNet that after losing his wife, Alice, to a two-year battle with ovarian cancer, he'll never really get over losing her, but he does hope to move forward.
"I Don't Want to Move On; I Do Want To Move Forward" Doug Wendt On Being A Caregiver and Tragically Losing His Wife to Ovarian Cancer
"We're never gonna move on, I don't even think I want to move on, but I do want to move forward," Doug said. "That's an important distinction and I encourage anybody who goes through this journey as a caregiver and then has to face loss, to think very carefully about how to move forward."
Understanding Breast Cancer
Screening for breast cancer is typically done via mammogram, which looks for lumps in the breast tissue and signs of cancer. And while mammograms aren't perfect, they are still a great way to begin annual screening. The American Cancer Society (ACS) recommends women begin mammogram screening for breast cancer at age 45.
RELATED: 'Today Is the Perfect Day to Check Your Breasts': Fashion Icon and Cancer Survivor Camilla Franks Encourages Others to Be Vigilant about Self-Exams
It's also important to be on top of self breast exams. If you ever feel a lump in your breast, it's important to be vigilant and speak with your doctor. Voicing your concerns as soon as you have them can lead to earlier cancer detection which, in turn, can lead to better outcomes.
When Should I Get a Mammogram?
There are many treatment options for people with breast cancer, but treatment depends greatly on the specifics of each case. Identifying these specifics means looking into whether the cancerous cells have certain receptors. These receptors –  the estrogen receptor, the progesterone receptor and the HER2 receptor – can help identify the unique features of the cancer and help personalize treatment.
RELATED: Treatment for HER2-Positive Breast Cancer
"These receptors, I like to imagine them like little hands on the outside of the cell, they can grab hold of what we call ligands, and these ligands are essentially the hormones that may be circulating in the bloodstream that can then be pulled into this cancer cell and used as a fertilizer, as growth support for the cells," Dr. Elizabeth Comen, a medical oncologist at Memorial Sloan Kettering Cancer Center, told SurvivorNet in a previous interview.
One example of a type of ligand that can stimulate a cancer cell is the hormone estrogen, hence why an estrogen receptor positive breast cancer will grow when stimulated by estrogen. For these cases, your doctor may offer treatment that specifically targets the estrogen receptor. But for HER2 positive breast cancers, therapies that uniquely target the HER2 receptor may be the most beneficial.
Learn more about SurvivorNet's rigorous medical review process.