A Resilient Lymphoma Survivor
Max Parrot, a 27-year-old snowboarder from Québec, won a gold medal at the Beijing 2022 Winter Olympics. Just three years prior, he overcame a Hodgkin Lymphoma diagnosis after 12 rounds of chemotherapy.
Early symptoms of lymphoma can be tricky to notice as they may include swollen lymph nodes, fatigue or unexplained weight loss.
Resilience is not an uncommon trait amongst cancer warriors. Danielle Ripley-Burgess, a two-time colon cancer survivor, says her cancer journey helped her uncover "some beautiful things: Wisdom. Love. Life purpose. Priorities."
Making it to the Olympics is a miraculous feat all on its own. But for some athletes like Max Parrot, the road to representing their country in the highest level of athletic competition involves overcoming an obstacle unlike any other: cancer.
Parrot, a 27-year-old snowboarder from Québec, Canada, just won a gold medal at the Beijing 2022 Winter Olympics in the slopestyle event. And while victory tastes sweet no matter what the trajectory looked like to get there, Parrot is overwhelmed with pride and joy given that he missed a snowboarding season to overcome Hodgkin lymphoma just three years prior.
Read More
"I am incredibly proud of myself on the run I did,"
Parrot said
. "It was the hardest run I've ever done in my entire career."
That run to win the event included landing a triple cork on each of his three jumps doing 1,620 degrees of rotation on the first and third. And though it was the most challenging series of tricks he's done yet, Parrot has faced obstacles far greater in life after receiving a Hodgkin lymphoma diagnosis in 2018.
RELATED: NFL Running Back James Conner Is Chasing Down Franchise Records with the Cardinals Today, But Did You Know He Overcame Cancer Just Five Years Prior? Understanding Hodgkin Lymphoma
"I had 12 treatments of chemotherapy that went for six months, and these were by far the toughest months of my entire life," he said. "Once you've battled cancer, you have to gain back all of your muscles, all of your energy, because chemo puts you really down at zero percent.
"So it was a big eight months for me battling cancer and battling myself to get back in shape."
But Parrot's determination to get back to the sport he loved paid off. He finished his last treatment in June 2019 and won big at the multiple X Games competitions that followed – the first of which was only two months later.
RELATED: Overcoming Cancer to Live Their Olympic Dreams – The Triumph of Making It to Tokyo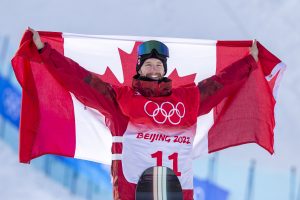 "Going through that up part of my life made me stronger mentally and physically," he said. "The year after my cancer, I won three X Games gold medals. So this was probably the best year of my career! I think my way of approaching my sports, about appreciating everything and embracing the journey, brought me better results as well."
Now, given everything he's gone through, Parrot is happy to be alive and determined to enjoy every moment as it comes.
"As a person, I used to take life for granted," Parrot said. "And I don't anymore. Every time I strap my feet on my snowboard, I appreciate so much more than before. I appreciate to be able to do my passion every day."
Understanding Hodgkin Lymphoma
Lymphoma, in general, is a cancer of the immune system that begins in the white blood cells called lymphocytes. There are more than 40 different types of the disease, but Hodgkin lymphoma and non-Hodgkin lymphoma are the main two sub-categories with the latter being more common. The American Cancer Society estimates that about 8,540 new cases (4,570 in males and 3,970 in females) of Hodgkin lymphoma will be found in the United States in 2022.
The type of white blood cells linked to the disease determines the distinction. If doctors are unable to detect the Reed-Sternberg cell – a giant cell derived from B lymphocytes – then it is categorized as non-Hodgkin lymphoma.
In a previous interview, Dr. Elise Chong, a medical oncologist at Penn Medicine, explained that Hodgkin lymphoma is most often seen in younger adults. And although less common, it is generally easier to cure than non-Hodgkin lymphoma.
What Kind of Lymphoma Do You Have? Why Your Type Matters
Dr. Chong also said lymphoma symptoms can be difficult to detect.
"The symptoms of lymphoma, especially if you have a low-grade lymphoma, often are no symptoms," Dr. Chong explained. "People say, but I feel completely fine, and that's very normal."
Lymphoma treatment depends greatly on the nature of your specific diagnosis. For non-Hodgkin lymphoma patients, their cancer is more likely to spread in a random fashion and be found in different groups of lymph nodes in the body. Hodgkin lymphoma cancers, on the other hand, are more likely to grow in a uniform way from one group of lymph nodes directly to another. Some lymphomas, called indolent lymphomas, might not even need to be treated right away because they're slow-growing. In this case, careful monitoring – including imaging scans such as PET/CT – is used to track the progress of your cancer and gauge whether it needs treatment yet.
"Where I use PET/CT in my practice quite a bit is if I'm observing a patient… and there is some new symptom or situation which makes me concerned that the patient may be changing from an indolent lymphoma to a more aggressive lymphoma," Dr. Jakub Svoboda, medical oncologist at Penn Medicine, previously told SurvivorNet. "We refer to it as transformation."
The Resilience of Cancer Warriors
At SurvivorNet, we get to share stories of resilience all the time because there's no shortages of brave cancer warriors holding onto hope in the face of adversity.
RELATED: 6 Cancer Survivors Tell Us How They Stay Hopeful During Difficult Times
Danielle Ripley-Burgess, a two-time colon cancer survivor, is another resilient cancer survivor like Parrot. She was first diagnosed with colon cancer in high school and proceeded to beat the disease not once, but twice. Understandably so, Ripley-Burgess has had to work through a lot of complex emotions that came with her cancer journey. Even still, she's always managed to look at life with a positive attitude.
How to Cope When Recurrence Rattles Your Faith At The Age of 25—Two-Time Colon Cancer Survivor Danielle Ripley-Burgess Shares Her Story
"As I've worked through the complex emotions of cancer, I've uncovered some beautiful things: Wisdom. Love. Life purpose. Priorities," she previously told SurvivorNet. "I carry a very real sense that life is short, and I'm grateful to be living it! This has made me optimistic. Optimism doesn't mean that fear, pain and division don't exist – they do. Our world is full of negativity, judgment, and hate. Optimism means that I believe there's always good to be found despite the bad, and this is what my life is centered around."
She moves through life with a sense of purpose unique to someone who's been faced with the darkest of times. Happily in remission today, she's determined to, one day, leave the world better than she found it.
"We can choose to stay positive, treat others with respect and look for the light in spite of the darkness," she said. "This type of attitude and behavior will lead to the kind of legacies I believe all of us hope to leave."
Learn more about SurvivorNet's rigorous medical review process.