There was big news in the medical world this week: More people than ever survive lung cancer.
Specifically, the data notes that "the five-year survival rate — the rate of people who are still alive five years after being diagnosed" — is now 21.7%, up from 17.2% a decade ago, a dramatic 26% improvement, according to the report from The American Lung Association. Additionally, there's reportedly a 19% decrease in the rate of new lung cancer cases diagnosed over the past decade.
Read More
The report, which comes during #LungCancerAwareness month also has grimmer news for those diagnosed with the disease: It remains the leading cause of cancer deaths in both men and women.
Staying positive can be difficult, which is why we're so inspired by 89-year-old lung cancer survivor and wedding-cake designer to the stars Sylvia Weinstock, who shared with SurvivorNet her message of keep on keeping on even in the face of mounting challenges.
The two-time survivor — Weinstock was first diagnosed with breast cancer — talked lovingly about her husband, her "soulmate," whose health began to falter before her lung cancer diagnosis. Wanting to spend all her time with him, she closed her thriving wedding business.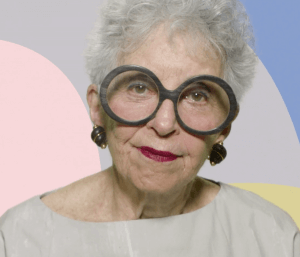 Her husband got sicker. And then she got lung cancer.
"I went to Weill-Cornell [overnight] and then I said, 'I have to leave, because my husband is dying,'" Sylvia recalled. "I walked out on the second day with stitches and I went home to be with my husband as he died. Then I went back to have the stitches removed and to have the lung operation. This is all in 12 days."
"I had a bad week," she said with gracious understatement. "You take it all with a grain of salt."
And now, she said, her attitude is "I'm here, and I'm definitely a survivor, and I will be a survivor of anything that crosses my path. I'm 89 and I'm looking forward to being 90. And then some."
Dealing with a Lung Cancer Diagnosis
People jump to conclusions about their prognoses, Dr. Raja Flores, a thoracic surgeon at Mount Sinai Health System, told SurvivorNet in a previous interview.
"Everyone hears 'lung cancer,' they think automatically it's a death sentence," Dr. Flores said. "Nowadays, cancer is not a death sentence. When you see that patient for the first time, you go over all the options, all the treatment that's out there, and you give them time. … When I first meet a patient, I don't right away rush them off to the OR, I give them all the data, I give them my opinion based on the data for their specific case, and I let them marinate."
It's important, she added, that patients get second opinions. Cancer is something that takes time to progress, Dr. Flores said, so you do have time to seek out multiple opinions and make the best choice for you personally.
The Future of Lung Cancer Treatment
With lung cancer in particular, the disease is often diagnosed in advanced stages. That's because lung cancer often presents with no symptoms. However, even though the disease gets harder to treat in later stages, there are now options even for people with advanced disease.
When lung cancer is diagnosed in stage 1 or 2, in many instances it can be treated with surgery to remove the tumor. In stage 2, chemotherapy may be recommended after surgery to reduce the chances that a lung cancer will return. Treatment gets more complex with stage 3 and 4 lung cancers. However,  there have been incredible developments when it comes to using immunotherapy for the disease.
Immunotherapy is the process of waking up a person's own immune system and helping it to recognize and attack cancer — and it has really changed the game when it comes to treating advanced lung cancers. Sylvia's lung cancer surgeon, Dr. Brendon Stiles of Weill-Cornell, recently sat down to talk to SurvivorNet as well, and touched on the promise of immunotherapy.
"It's not just hype, immunotherapy is here to stay and it's really changed the face of lung cancer, just like targeted therapies," Dr. Stiles said. "It's amazing to me now that you can have stage 4 lung cancer and actually not even need chemotherapy. If you have high-expression of a protein that we know is targeted by immunotherapy, you may just get immunotherapy alone. That's really changed the paradigm in lung cancer."
Learn more about SurvivorNet's rigorous medical review process.