Jeff Bridges' Brave Cancer Battle
Hollywood actor Jeff Bridges, 72, pictured enjoying beach in Santa Barbara, California, his hometown.
Bridges is a cancer survivor, beat non-Hodgkins lymphoma, a cancer of the lymphatic system, for which he underwent chemotherapy.
There are 100 different types of blood cancers that affect nearly 200,000 Americans every year.
Hodgkin Lymphoma and non-Hodgkin Lymphoma are two distinct categories involving the Reed-Sternberg cell.
If the cells are present, then it is classified as Hodgkin.
Longtime Hollywood actor Jeff Bridges, 72, is living it up after surviving cancer. He was recently pictured enjoying a day on the beach in his hometown of Santa Barbara, California.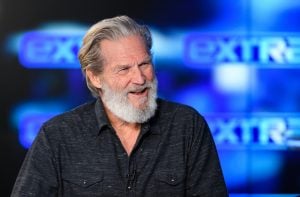 Read More
Bridges beat non-Hodgkins lymphoma, a cancer of the lymphatic system, for which he underwent chemotherapy to treat a giant tumor that was found in his stomach. The seven-time nominee and Oscar winner was snapped in a beach chair, under an umbrella, wearing black shorts, dark sunglasses and reading a book in exclusive
DailyMail.com
photos. Bridges also took to the ocean water before he was joined by his wife of 45 years, Susan Geston, and their dog Monty.
Related: Lymphoma Takes Spotlight as "Big Lebowski" Legend Jeff Bridges, 70, Says He's Starting Treatment to Fight This Complex Cancer
After a few hours, the film star made his way to a nearby hiking trail using a cane and wearing a robe and a straw hat.
It's a rare public sighting of Bridges, whose film credits include The Fisher King, True Grit, The Last Picture Show, and Crazy Heart, for which he won an Academy Award in 2020.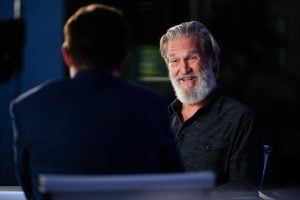 But he may be best known for playing 'The Dude' in the movie 'The Big Lebowski.'
More recently, he has appeared in the new FX drama thriller series, 'The Old Man' as a CIA turncoat on the run.
Speaking recently with CBS Sunday Morning in a new interview, Bridges said, "Yeah, been away for a while with the cancer and the COVID and the whole thing, yeah."
Related: Blood Cancer Comes in More than 100 Varieties: How They Differ & What They Have in Common
"I go in and get a scan and find out a I have a mass in my stomach," he said of the cancer diagnosis.
After cancer, Bridges and his wife Susan both battled Covid. He spent five weeks in the hospital battling the virus.
Jeff Bridges' Cancer Battle
Jeff Bridges broke the news of his cancer diagnosis lymphoma in October 2020 via social media. He announced his diagnosis saying, "I have a great team of doctors, and the prognosis is good."
The actor had chemotherapy to treat his disease, and throughout his cancer journey, he kept his fans updated during his treatment process. He shared exciting updates, such as news that his tumor is shrinking, in his online journal and on social media.
Related: Keytruda Extends Life for Those Fighting Hodgkin Lymphoma & It's Now FDA-Approved as Treatment
Luckily, his doctors were right about his prognosis. In September of last year, the actor posted to his blog that his cancer has entered remission.
"The 9" x 12" mass has shrunk down to the size of a marble," Bridges writes. He also suffered after contracting Covid in the midst of his cancer battle earlier this year. "Covid kicked my ass pretty good, but I'm double vaccinated and feeling much better now."
Non-Hodgkin Lymphoma: Types of Biopsy
Understanding Lymphoma
Lymphoma is a cancer of the immune system that affects infection-fighting cells called lymphocytes. And there are more than 40 different types of lymphoma.
"Lymphoma is split up into a number of different categories," Dr. Elise Chong, a medical oncologist at Penn Medicine, previously told SurvivorNet.
"The first distinguishing breakpoint, if you will, is non-Hodgkin lymphoma versus Hodgkin lymphoma," she added, "and those sound like two different categories. But non-Hodgkin lymphoma comprises the majority of lymphoma, and Hodgkin lymphoma is a single specific type of lymphoma."
Hodgkin lymphoma has distinctive, giant cells called Reed-Sternberg cells, which can be seen under a microscope, will help your doctor determine which of the two lymphoma types you have.
There are a few other important differences between non-Hodgkin lymphoma and Hodgkin lymphoma to note.
Non-Hodgkin lymphoma is much more common, with most cases occurring after age 55, like Jeff Bridges.
People usually develop Hodgkin lymphoma at a younger age.
Non-Hodgkin lymphoma is also more likely to spread randomly and appear in different groups of lymph nodes in the body.
Hodgkin lymphoma is more likely to grow in a uniform way from one group of lymph nodes directly to another.
What Kind of Lymphoma Do You Have? Why Your Type Matters
Back in May, Bridges told 'PEOPLE' magazine he felt grateful to be alive after surviving cancer.
The actor revealed his diagnosis in October 2020, and also contracted Covid-19 while still undergoing chemotherapy in January 2021.
Recounting the trauma, Bridges said, "I had no defenses. That's what chemo does it strips you of all your immune system," he noted. 'I had nothing to fight it. Covid made my cancer look like nothing.'
The iconic actor said he was "pretty close to dying."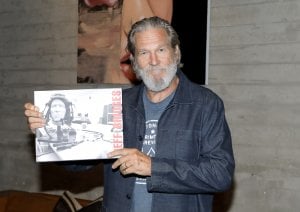 "The doctors kept telling me, 'Jeff, you've got to fight. You're not fighting.' I was in surrender mode. I was ready to go. I was dancing with my mortality."
He's now in remission, with his stomach tumor shrinking to the size of a marble.
"My ability to receive all the love and give it was just heightened. Everything was turned up in the most beautiful way," he said.
Bridges has been married to wife Susan since 1977, after meeting her on a ranch where she was working as a waitress while he was filming the movie Rancho Deluxe.
The couple has three daughters, Isabelle, Jessica, and Hayley, and one granddaughter.
He was father of the bride last August when he walked his youngest daughter Hayley down the aisle in in Santa Barbara County, California.
Learn more about SurvivorNet's rigorous medical review process.
---