Back on the Ice
Philly Flyers' Oskar Lindblom played in, and won, his first hockey game since completing cancer treatment for Ewing's Sarcoma
Lindblom says he stayed positive during chemotherapy and always planned to play hockey again
Experts tell SurvivorNet that mindset is important during treatment, and can help with successful outcomes
In a miraculous recovery that has inspired all of us, Philly Flyers' Oskar Lindblom, 24, competed in his first game since finishing cancer treatment for Ewing's Sarcoma just two months ago.
Lindblom competed in Game 7 against the New York Islanders, and helped clinch victory for his team. This game marks his first official appearance on the ice, and everyone was excited to see him back on the ice with his team. To anyone that may have doubted his resilience, this is a good lesson, don't underestimate a strong athlete with a positive attitude.
Read More
Lindblom was diagnosed with bone cancer Ewing's Sarcoma in December 2019
, and underwent chemotherapy and radiation for months. In July, his team shared a video of him ringing the bell at Abramson Cancer Center at the Hospital of the University of Pennsylvania, signaling him completion treatment.
Related: Philly Flyer's Oskar Lindblom Says He Learned A Lot About Himself While Battling Cancer — NHL Player Celebrates Finishing Chemotherapy
After their victory, Lindlom addressed his return to the ice during a press conference, sharing that throughout his cancer battle, he always intended to keep playing.
"I tried to think positive during the whole chemo," Lindblom said. "I knew I was going to play one day, but I didn't know when. Today was the day, and I was lucky to be there with these guys."
Oskar Lindblom after Thursday night's win: "I started to think positive thoughts during the whole chemo and I knew that I'm gonna play one day"#Flyers #OskarStrong pic.twitter.com/rQA2e798vq

— Dave Uram (@MrUram) September 4, 2020
Throughout his cancer journey, Lindblom received overwhelming support from his team, fans, and girlfriend Alma Lindqvist. Once completing treatment, he shared a special Instagram of him and Lindqvist celebrating the very special milestone, and credited her support as inspiration to keep fighting.
Related: Philly Flyers' Oskar Lindblom Credits Girlfriend With Getting Him Through Cancer Treatment: 'I Couldn't Have Done it Without You By My Side'
"I'm so happy that I had you by my side for the last couple of months! I couldn't have done it without you! Love you," Lindblom wrote on Instagram.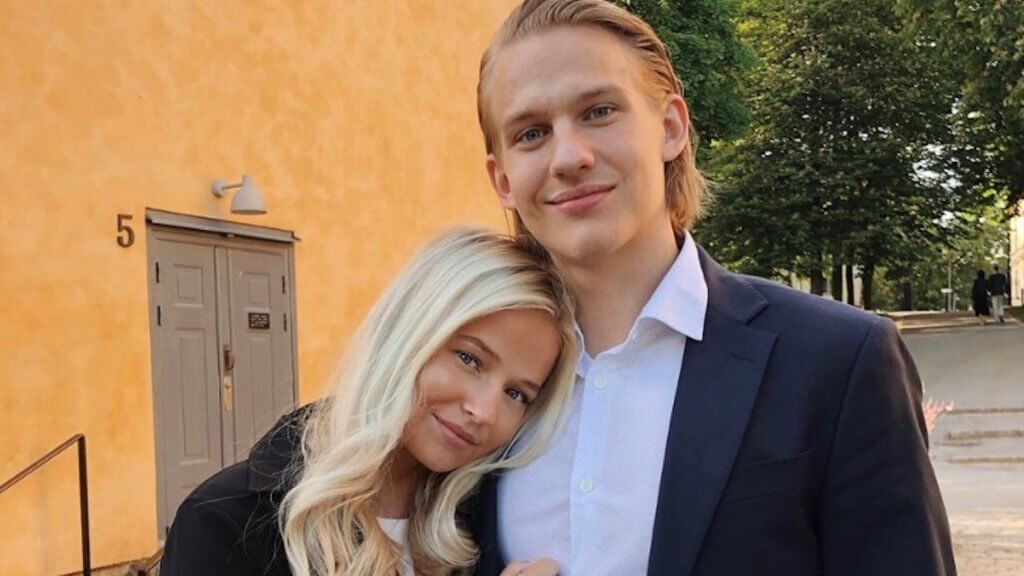 The "Eye of the Tiger" Mentality During Cancer Treatment
Chemotherapy, radiation, and other treatment methods can be a grueling experience, and it's often difficult to stay positive and keep fighting. However, studies have proven that patients who focus on their goals and feel supported do better both physically and emotionally.
Not only is staying healthy, eating a well-balanced diet, exercising regularly, and maintaining a positive mind and positive attitude important, but mindset plays a critical role during treatment in order to have positive outcomes.
Related: Do What You Love — Even if Cancer Gets in the Way of Your Dreams
"We call it eye of the tiger," Dr. Sid Ganguly, Deputy Director of Hematologic Malignancies and Cellular Therapeutics at the University of Kansas Medical Center, tells SurvivorNet. "You have to have the eye of the tiger to go through this grueling process that is necessary these days to get rid of these virulent and aggressive cancers."
Dr. Sid Ganguly explains why mindset is so important during cancer treatment
Learn more about SurvivorNet's rigorous medical review process.