Missing Helen McCrory at 'Peaky Blinders' Red Carpet
This week, the sixth season of the hit show Peaky Blinders had its red carpet event; missing from it was Helen McCrory, who passed last year after a battle with breast cancer. She was 52.
McCrory battled her cancer privately and did not share her diagnosis with the public. Breast cancer is treated with surgery, chemotherapy, and radiation.
McCrory's partner, actor Damian Lewis, took a break from acting following his wife's passing from cancer.
The all-star cast of the hit TV show
Peaky Blinders 
hit the red carpet this week for the premiere of the sixth season of the show, but one cast member was notably absent: Helen McCrory, who passed from breast cancer last year. McCrory passed in April 2021 at age 52.
Due to her "grueling" breast cancer treatments, reports the Daily Mail, McCrory was unable to take part in the filming for the newest season of Peaky Blinders. On the show, McCrory portrayed family matriarch, Polly Shelby.
Read More
Stars Sophie Rundle, Kate Phillips, and Natasha O'Keeffe graced the premiere with their presence, sans McCrory, earlier this week in Birmingham, England.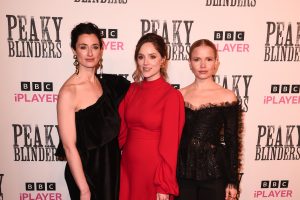 Keeping a Cancer Battle Private
McCrory, who also played Narcissa Malfoy in the Harry Potter films, kept her cancer battle private. As a result, her passing came as a shock to many, as she had chosen to keep her breast cancer battle private. Health is a deeply personal matter, and it's up to you – and you alone – to determine who has the right and privilege to know about your diagnoses.
It's important to do what feels right to you after your diagnosis, and not cave in to any pressure to share your diagnosis with others before you're ready or to share it more widely than you'd like. You have autonomy over your health and the sharing of any news related to it.
Dr. Marianna Strongin, a licensed clinical psychologist and founder of Strong In Therapy Psychology, tells SurvivorNet that whether someone shares this heavy news is their personal preference. "I recommend sharing, I'm a therapist," Strongin says with a laugh, "but to whom and how many people is up to the person [with cancer]."
There are plenty of people, like McCrory, who have chosen not to share their cancer battle publicly. While Strongin says that she encourages sharing, she also recognizes there's also a personality factor at play when it comes to whether a person shares this deeply personal news; some people are more willing to share, and some are just more private, Strongin adds. The difference, she says, is what's the process in sharing versus not sharing.
Strongin mentions one of her patients who has explored the reasons why she didn't tell people about her cancer diagnosis. For the patient, Strongin says, "it was coming to terms with the identity of being sick."
Telling Your Kids You Have Cancer "When it Comes to Your Kids, You Want to Protect Them"
Supporting A Spouse Through Cancer
McCrory's partner, actor Damian Lewis of Billions, took time away from acting while his wife was sick and after her passing. The support of a spouse is crucial during any cancer battle, especially when a loved one chooses to make that battle private. Jill Kargman opted to keep her breast cancer battle private after making a previous battle with melanoma very public.
The author, creator, and star of the book-turned-Bravo-series Odd Mom Out tells SurvivorNet that the response she got when she shared the news of her first diagnosis led to her decision to keep things quiet the second time around.
"I got a lot of support from my family and friends. With my double mastectomy, I didn't tell anyone [outside my famnily] except my bridesmaids. I have my five best friends, who are like my sisters," explains Kargman. "And so I only told them because when I had my melanoma, I told a lot of people, and there were like 20 flower arrangements and food drop-offs, and it just felt a little dramatic, and I didn't like that role of the victim-y patient person. I think some people appreciate that and take comfort in it. Where it just made me uncomfortable."
Jill Kargman on Relationships and Cancer
Learn more about SurvivorNet's rigorous medical review process.