Taking Care of Her Health
After putting off surgery for a few weeks so that she could have a special wedding day, it's time for new bride Samantha Fox to have a throat tumor removed from her vocal cords.
Doctors have warned the hit singer that the 1 cm growth could be cancer, but the newlywed is choosing to remain positive until she finds out otherwise.
One of the main causes of throat cancer is the highly common sexually transmitted virus HPV, human papillomavirus. Go get checked if you experience symptoms such as a cough that won't go away, or difficulty swallowing.
After a lavish wedding last week to her longtime love, it's time for English singer Sam Fox, 56, to face the music and have a throat tumor removed that is hopefully not cancerous.
The new bride, who rose to fame in the '80s as Samantha Fox, is over the moon to be married to her love, publicity-shy Norwegian mom Linda Olsen, 47, and had postponed this surgery so nothing could get in the way of their special day.
Read More
The two brides initially had to postpone their wedding due to COVID, and when she was then faced with her health scare, Sam had told concerned fans that she would be "fine," and said she would take care of the surgery "very soon" after the wedding.
Pop Star Samantha Fox, 56, Weds Love Linda Olsen, 48, In Lavish, Over-The-Top Nuptials Where Both Brides Wore White: Sam Swore She'd Get Married Before Tumor Surgery
The time has come, and Sam dished to Daily Mail about how she feels about it. "I believe if you have enough people praying for you all over the world, then I will be healed. I really just hope so. You know, I believe in that. I am staying positive."
Doctor found a 1 cm tumor on her vocal cords. The hit performer said she noticed her voice "getting hoarse" over the Christmas holiday and doctors suggested removing the growth rather than just having a biopsy, though she would unfortunately risk possible damage to her voice.
Related: 'It's Been Getting a Little Better Every Day': Comedian Kathy Griffin, 60, Recovering From Vocal Cord Damage After Surgery
"They said it could be a lesion, it could be a polyp or it could be something sinister. As in cancer," she said. "And they won't know until they take it out."
Samantha, who goes by "Sam" in daily life, explained that she had six benign, or non-cancerous, growths removed from her throat back in 1999. Hopefully luck is on her side with this tumor as well, and with minimal damage to her throat during the surgery, which unfortunately might delay their African safari honeymoon.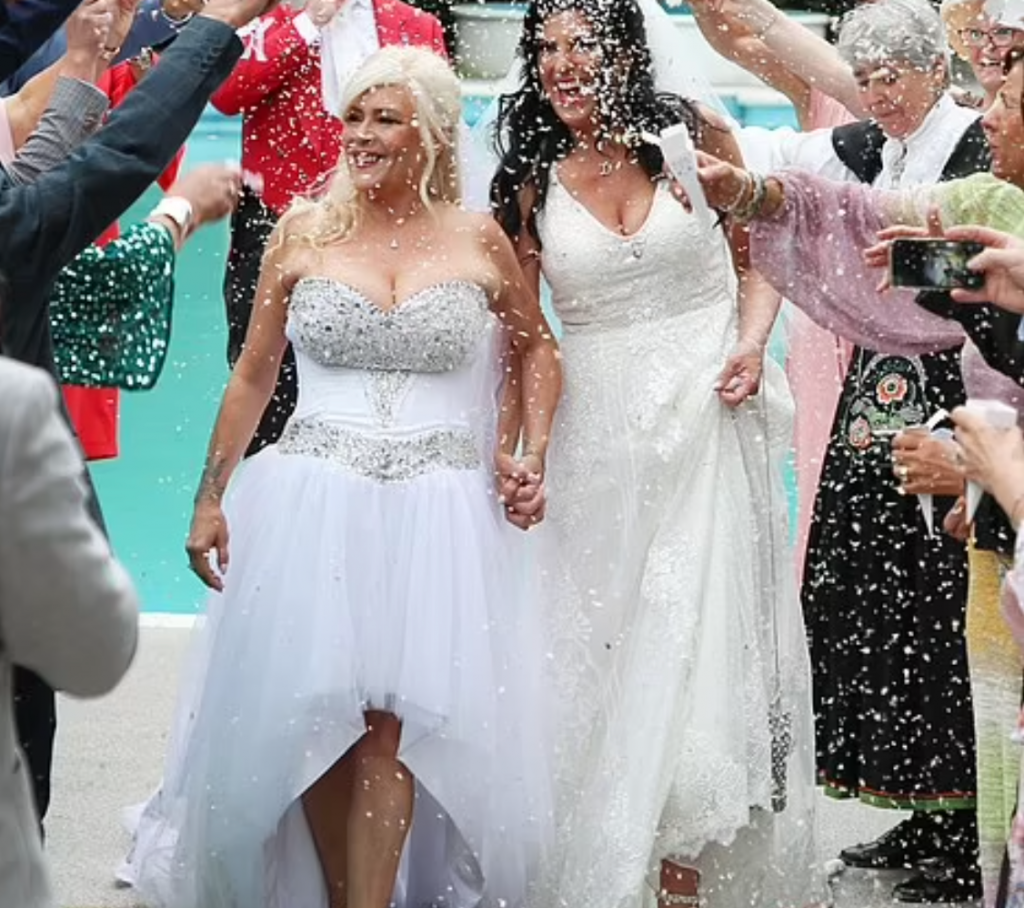 Sam also lost her first love, Myra Stratton, to sarcoma cancer in 2015, so we understand the urgency of wanting to experience a beautiful day with as minimal stress as possible.
That was the same year Sam met her future wife (and now her tour manager as well), and we are happy that she is not letting anything bring her down from her post-wedding high.
Sam and Linda's Wedding Day
Both in white gowns for their special day, Sam and Linda drank alcohol-free prosecco so that they could savor and remember every moment.
Sam chose a dress that featured a sexy, bedazzled bustier-style top, while Linda went more traditional white in her floor-length, V-neck lace gown complete with a long, white veil.
Sam arrived to the ceremony is a white taxi with "Sam and Linda are getting married, 18th June 2022."
The newlyweds looked overjoyed while cutting into their three-tier pink cake, which featured a "Mrs. & Mrs. Olsen Fox" sign at the top of the floral cake decor. Celebrity florist Warren Bushaway from London Event florist helped them with their beautiful flowers.
Sam and Linda—who is Norwegian—enlisted the Norwegian pop duo Bobbysocks to perform at the reception, since she was already wedding her favorite singer!
"Sam was my celebrity crush. I had pictures of her on my walls when I was a little girl," Linda expressed in the Daily Mail interview.
 

View this post on Instagram

 
Linda's twin sons Adam and Noah, both 20, walked her down the aisle. 'I knew I was gay when I was 20 but I always wanted children," Linda shared, explaining that she used IVF to become pregnant. "Everyone said it would take a few times but I was lucky, I got double trouble the first time round."
"Now they are my sons, too. I just couldn't be happier," Sam added. "I married this beautiful woman who I love, and I got an instant family as well."
Not only is Sam beaming from a perfectly-executed dream wedding day with friends and family, the artist is also getting back into the swing of things musically. She just launched a new single with Dana International called "This Is Your Life," aimed to gay couples and anyone who chooses to live the way the want without letting anyone else's beliefs get in their way.
 

View this post on Instagram

 
HPV and Throat Cancer
Though we don't know how much of a scare Fox is currently facing—nor do her doctors from what it sounds like until she gets the lump removed—it's important to learn about HPV's involvement with causing throat cancer and other head and neck cancers, along with cervical and anal cancer.
HPV, or human papillomavirus, is a highly common sexually transmitted virus that affects both men and women.
Related: Singer Sam Fox, 56, Describes Her Fearful Reaction To Seeing Cancerous Lump On Her Vocal Cords
"The vast majority of humans in the U.S., both men and women, will eventually get infected with human papillomavirus," says Dr. Allen Ho, a head and neck surgeon at Cedars-Sinai. "The important thing to know about HPV is that there are many different strains, and only a couple of them tend to be more cancer-inducing. Probably less than 1% of the population who get infected happen to have the cancer-causing virus that somehow their immune system fails to clear, and over 15 to 20 years [it] develops from a viral infection into a tumor, and a cancer.
HPV and Cancer Risk: The Basics
The HPV vaccine, which was recently approved in the U.S. for people up to age 45, though it's recommended that children get it before they become sexually active, can prevent a lot of these cancers.
Gardasil 9 protects against nine strains of HPV – including the strains most likely to cause cancer and genital warts. But it can't provide protection if a person has already been exposed to HPV. That's why doctors recommend it for children as young as 9.
'People Need to Know That HPV Can Cause These Cancers'
Unfortunately, there wasn't any knowledge about the connection with HPV and cancer until recent years, so later generations were unable to protect themselves with a vaccine. HPV was discovered and identified in the early '80s, and the first HPV vaccine wasn't available until 2016.
We wish Sam and Linda well as they enjoy life as newlyweds and hopefully all is A-OK come surgery time. Quite often, most lumps are benign, or non-cancerous, and we surely hope that is the case here!
Learn more about SurvivorNet's rigorous medical review process.