Amanda Salas Has Inspired With Her
After braving her bald look for months, Amanda Salas, 34, entertainment reporter for FOX 11 LA, is reveling in her new hair — and fielding lots of questions from curious fans:
"When people tell you that your hair is growing back CURLY after finishing chemo…. followed by a "can I touch it?" Salas wrote on Instagram (below).
Read More
RELATED: She Wants to Spread Hope: Beloved Hollywood Reporter and Cancer Survivor Amanda Salas Returns to the Oscars Red Carpet
While some survivors might find the curiosity intrusive, Salas' relishes the opportunity to inspire others facing chemo hair-loss, telling fans: "Yes, it's curly. Yes, it's soft. Yes, it's growing. I count my blessings every single day. There are no stupid questions."
Salas wrapped up chemotherapy for a rare form of non-Hodgin's lymphoma ten months ago. She was diagnosed in June of 2019 and is happy to be feeling — and looking — like her old self again.
RELATED: Lymphoma Survivor and L.A. Entertainment Reporter, Amanda Salas Joins Kevin Bacon's "I Stay Home For…" Campaign
Hair loss typically begins about three to four weeks after starting chemotherapy, and continues throughout treatment, says Laurie Ostacher, a medical social worker at Sutter Bay Medical Foundation in the San Francisco Bay Area.
Women can expect regrowth around four to six weeks after their treatment is completed. Some people may experience changes to their hair color and texture when the hair begins growing back.
"A Small Dose of Comfort"
As she began treatment, she took to Instagram to share her story, hoping to offer the same inspiration she'd received from others who'd shared their cancer stories there.
"While I was in the hospital laying in bed," Salas explained, "one form of inspiration for me was going on social media, and searching hashtags from others experiencing the same 'thing' I was."
RELATED: 3 Minutes: 'Radiant Racheli' Beats Hodgkin Lymphoma, Sends Positive Vibes To Young Survivors
They were brave. They were beautiful. They believed," she said. "I hope to one day be that small dose of comfort for somebody else … the same way they gave me hope."
'I Will Help Somebody Else Going Through This'
In an emotional on-air interview with her co-anchors at FOX 11 LA, Salas said, "I made a promise to God: if you give me a second chance at life, I promise I will pay it forward. I will help somebody else going through this."
When Terri Chow, 44, lost her hair during ovarian cancer treatment, she opted for a wig. Here's why. 
The interview left both of her colleagues fighting back tears.
RELATED: CAR-T Therapy is a Game-Changer for Common Type of Non-Hodgkin's Lymphoma
The promise, Salas said, changed her focus during treatment. "You're not just beating [cancer] for yourself. … You're doing it for someone else and that's bigger than yourself. And that's something I never felt before."
Amanda Salas, before chemotherapy for leukemia (lefft) and after, (right). Now, her hair is growing back. 
A Ball Gown and Tiara for Chemo on Emmy Night
Salas, who is fond of puns, made light of missing the Emmy Awards during treatment, joking about LymFOMO (aka: Fear Of Missing Out) on Instagram (below). Instead, she dressed in an evening gown and tiara, dragging her chemo pole through the hospital hallway.
"It's Emmy Sunday," she announced in the upbeat style that's earned the admiration of her Los Angeles viewers.
"But it's ChEMMY-Sunday for me on my fifth round of chemo…sorry I can't join you for the 71st Annual Prime Time Emmy Awards….I'm sending you lots of love and kisses from the City of Hope"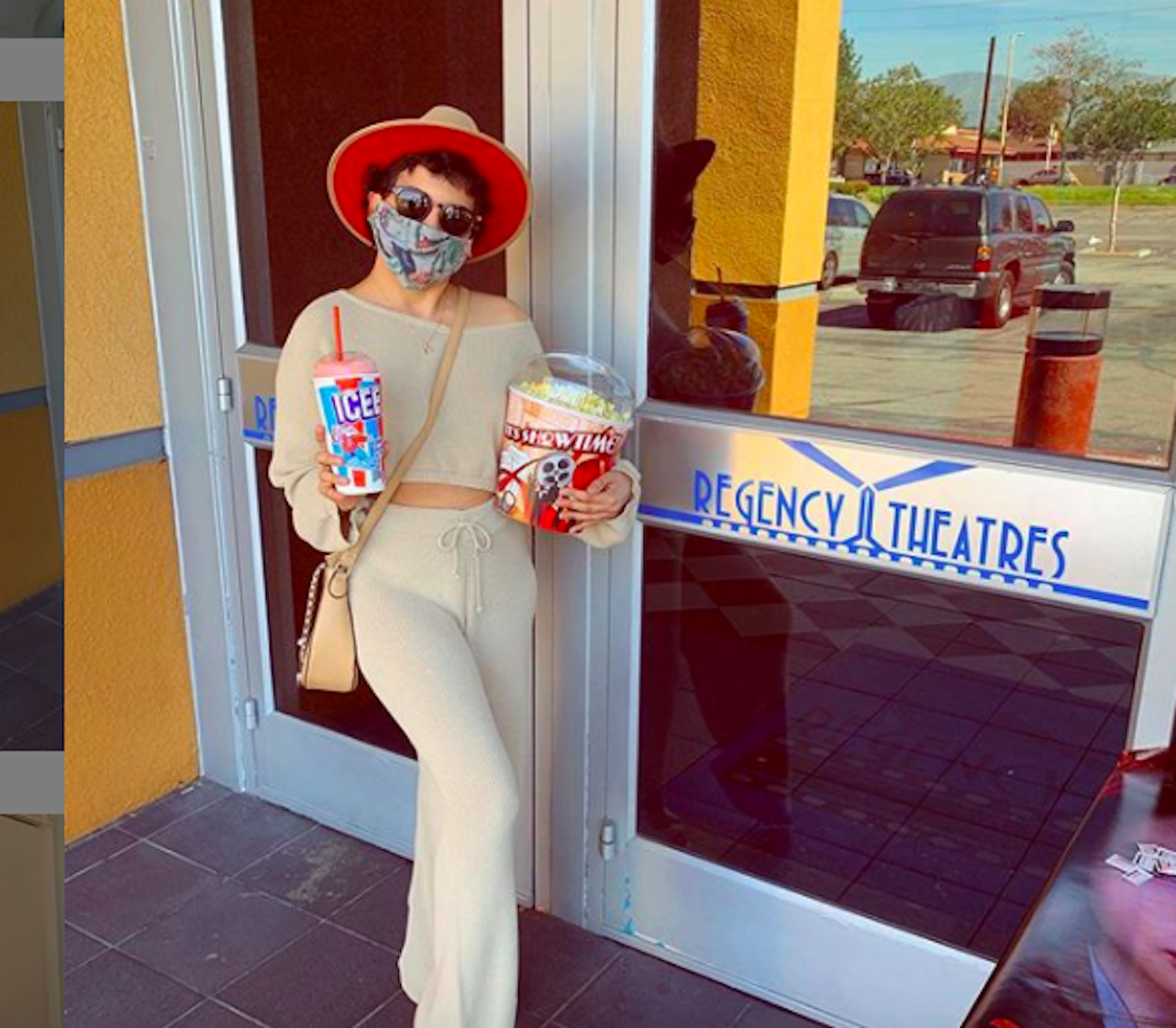 Amanda Salas picks up take-out movie popcorn to support her local theatre. 
Salas made a triumphant return to work in January, working the red carpet at the Academy Awards.
But she was soon forced to work from home when the pandemic posed a threat, given her compromised immune system. LA viewers have been following her changing hairstyles with fascination, ever since.
Coping With Chemo Hair Loss
"You know, we all look at ourselves in the mirror, at least when we're brushing our teeth," says medical social worker, Laurie Ostacher. "And to see a bald head is really really difficult for most of us."
Hair loss delivers a hit to a woman's self-esteem, and serves as a constant reminder of their medical status. "Our classic image of a cancer patient is someone who does not have any hair," Ostacher says.
Acknowledge The Grief: Then Own It
"I try and help [patients] to really acknowledge the tremendous grief that comes along with a cancer diagnosis," says Ostacher. "You've lost your status as an otherwise healthy person." Losing your hair is another blow.
RELATED VIDEO: Making Peace With Hair Loss
Like Salas, many patients decide to lean into the experience, with an attitude of, 'I'm up for the fight and this is my battle scar.'
Learn more about SurvivorNet's rigorous medical review process.
---