Young People and Colon Cancer
"Country Ever After" star Criscilla Anderson shared a heartfelt social media post of the support she receives from friends during her cancer treatment.
"Country Ever After" star Criscilla Anderson is battling stage 4 colon cancer, and her friends left messages of positivity for her to read on her mirror.
Throughout her treatment process, she has been candid with fans about her struggles, but also her determination to move on from the disease.
Colon cancer, or colorectal cancer, is a type of cancer that affects your large intestine (colon) or the end of your intestine (rectum). It is the third-most common cancer in the U.S.
The most common sites for late-stage colon cancer that's metastasized, or spread are the liver, lungs, and peritoneum (the lining in your abdomen).
"Country Ever After" TV star Criscilla Anderson, who has been battling stage 4 colon cancer, knows that chemo days can be tough — luckily her beloved friend left her sweet messages to lift her spirits.
Criscilla Anderson, 43, is married to country singer Coffey Anderson, and she's no stranger to the spotlight as a dancer and star of their reality show. She's also been open about her stage 4 colon cancer diagnosis, which came in 2018.
Read More
She underwent years of treatment and by the fall of 2021, Criscilla shared that scans found no evidence of the disease. However, early last year, the cancer returned, which meant restarting treatment.
View this post on Instagram

Stage 4 colon cancer means that the cancer has spread from the colon to other organs. Treatment options vary depending on the patient, but chemotherapy, surgery, or a combination of therapies may be recommended by your doctor.
Criscilla is once again undergoing chemotherapy to continue fighting her cancer and shrink the tumors. As many cancer warriors know all too well, chemotherapy side effects can be one of the hardest parts of the cancer journey. Chemo affects everyone differently, but side effects can include nausea, hair loss, and fatigue among other symptoms.
Needless to say, on chemo day, Criscilla's motivation to keep fighting received an extra boost. Her friend put messages of positivity and words of affirmation on her mirror to read.
"I have hope in you," one message read.
"God cares for his creations…Jesus loves you, this I know…Healing, Peace, and Joy," other messages taped to her mirror said.
And that's support and resilience that SurvivorNet loves to see.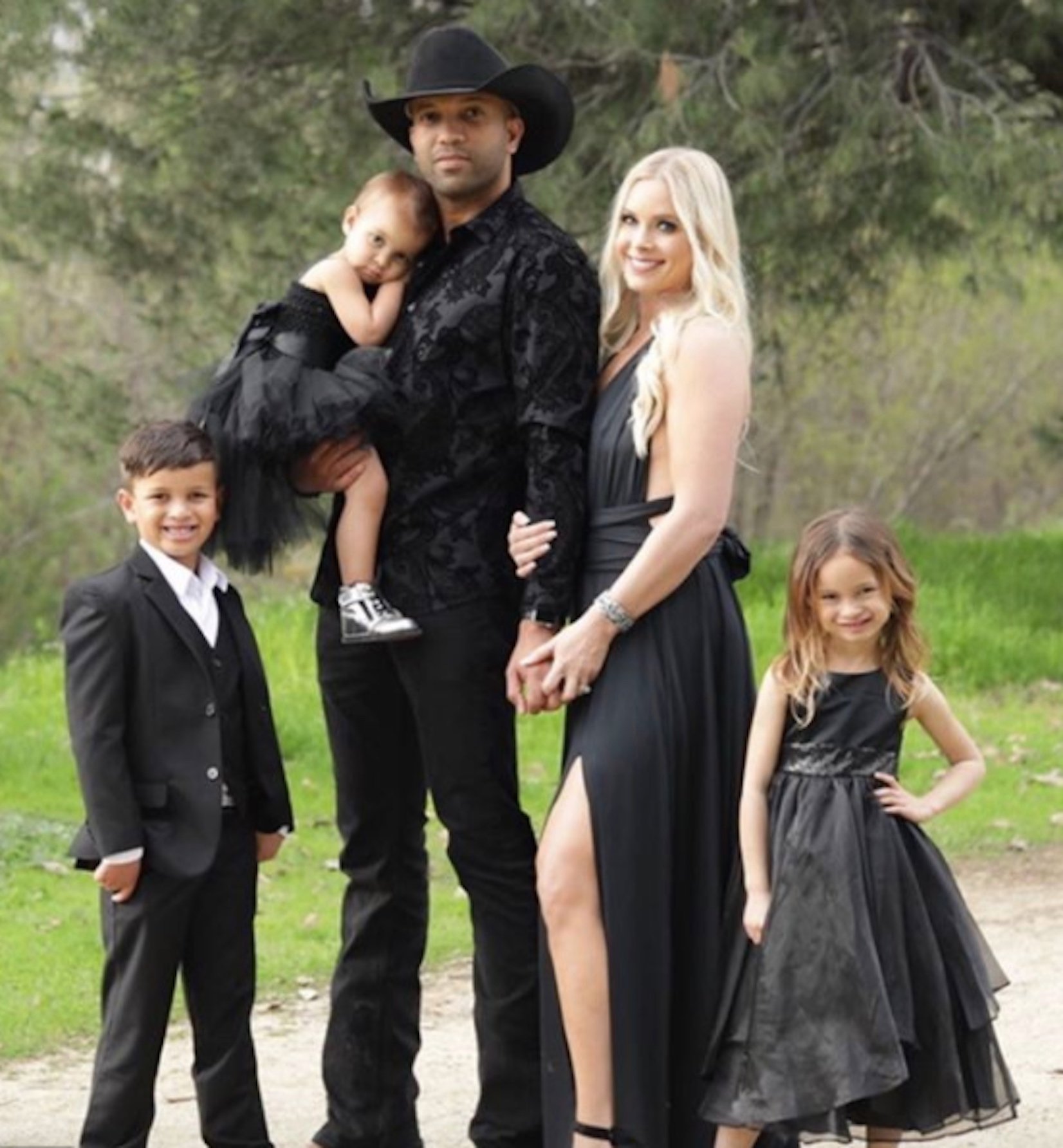 Her husband, Coffey, has also been inspired by his wife's resilience.
"I applaud you for NOT giving up, never stopping, or throwing in the towel," he said in a social media post.
Understanding Colon Cancer
Colon cancer, or colorectal cancer, is a type of cancer that affects your large intestine (colon) or the end of your intestine (rectum). It is the third-most common cancer in the United States, excluding skin cancers, according to the American Cancer Society.
The cancer starts when abnormal lumps called polyps grow in the colon or rectum. If you don't have these polyps removed, they can sometimes change into cancer.  It takes up to 10 years for a colon polyp to become full-blown cancer, according to SurvivorNet experts.
Colon Cancer Symptoms and Risk Factors
People older than 50 years old are still at the greatest risk of developing colon cancer, with this age group making up about 90% of the cases.
Other risk factors for developing colon cancer include:
Having inflammatory bowel disease.
Having a family history of colon cancer.
Not exercising very often.
Eating a diet high in meat.
Being overweight or obese.
Using excessive alcohol and tobacco.
Colon cancer symptoms and warning signs include:
Change in bowel movement
Bloody stool
Diarrhea, constipation, or feeling the bowel does not empty completely
Unexplained weight loss
Constant abdominal pain or cramps
If you notice symptoms or changes in your body, it's important to discuss them with your doctor promptly.
Colon Cancer Appearing More in Younger People
Although the average age people are diagnosed with colon cancer is 68 for men and 72 for women, according to the American Cancer Society, Criscilla Anderson's colon cancer diagnosis is part of a growing and concerning trend of more young people being diagnosed with colon cancer.
The National Cancer Institute reports that since the 1990s colorectal cancer cases have been rising among adults younger than 50. Research published in CA: A Cancer Journal for Clinicians found the proportion of cases in people younger than 55 years old "increased from 11% in 1995 to 20% in 2019."
"We know rates are increasing in young people, but it's alarming to see how rapidly the whole patient population is shifting younger, despite shrinking numbers in the overall population," cancer epidemiologist and lead study author Rebecca Siegel said.
Researchers are still trying to determine why younger people are being diagnosed in greater numbers. Some experts point to risk factors which include obesity, physical inactivity, and smoking as a possible explanation for the increase.
Andrea Dwyer from the Colorado School of Public Health suggests in addition to young people's lifestyles, the foods they eat could play a role in increased colon cancer diagnosis.
"We don't know for sure why we are seeing earlier onset and death from colon cancer,"  Dr. Heather Yeo, a surgical oncologist who specializes in colorectal cancers at Weill Cornell Medicine, told SurvivorNet. "It is likely a combination of factors, including diet and genetics as well as access to care and some environmental factors."
Treating Late-Stage Colon Cancer
The most common sites for late-stage colon cancer that's metastasized or spread are the liver, lungs, and peritoneum (the lining in your abdomen). Each case is very different, and therefore, the treatment options are different for each patient.
In an earlier interview, NYU Langone Perlmutter Cancer Center's Dr. Paul Oberstein explains the goals of treatment for stage 4 colon cancer. He says that reducing the amount of cancer in the body and controlling it is the primary aim of treatment at this stage.
WATCH: Chemotherapy After Colon Cancer Recurs
"When someone comes in with cancer that has spread outside the colon, it's called stage 4 colon cancer or metastatic colon cancer," says Dr. Oberstein.
"The primary goal of therapy, and we discuss this in great detail with patients and their families, is to manage the cancer, is to try to control the cancer, to turn it into what we call a chronic disease, so to prevent it from growing, spreading, and causing problems."
He also says that treatment options are complicated and will depend on someone's unique circumstances. For stage 4 colon cancer, treatment options can include surgery, chemotherapy, and immunotherapy treatments.
How a Positive Mindset Impacts Cancer Battle
The support Criscilla Anderson receives from her husband and friends undoubtedly helps her maintain a positive attitude, which our SurvivorNet experts say makes a difference.
"A positive attitude is really important," says Dr. Zuri Murrell, a colorectal surgeon at Cedars-Sinai Medical Center in Los Angeles.
"My patients who thrive, even with stage four cancer, from the time that they, about a month after they're diagnosed, I kind of am pretty good at seeing who is going to be OK," Dr. Murrell said.
Learn more about SurvivorNet's rigorous medical review process.
---