Completing Chemo
Pretty Little Liars' Ashley Benson celebrates her mother completing chemotherapy.
Benson's mother, Shannon, shares appreciation for her fellow cancer warriors.
Families tell SurvivorNet that taking on cancer as a team has helped patients through treatment.
Pretty Little Liars' 
Ashley Benson shared some good family news, and we couldn't be happier for them. They've reached an incredible milestone together by taking on cancer as a team.
Benson, 30, shares a video of her mother, Shannon Benson, ringing the bell at a hospital, announcing that she has completed chemotherapy for an unknown cancer. Before this, the Benson has remained extremely quiet about her mother's battle with cancer, but now she's sharing an achievement worth celebrating.
Read More
Related: Kate Winslet Lost Her Mother To Ovarian Cancer — Now She's Spreading Awareness About The Disease
"So happy for my mom finishing her last day of chemo. I love you @shannbenson," Benson writes.
Benson's other family members, her sister and mother, also took to social media to share this very special occasion with fans. On her Instagram story, Shannon shares a few videos of her ringing the bell along with a touching message appreciating all her fellow cancer warriors.
Related: Joy & Loss for CNN's Anderson Cooper– His New Baby & Touching Tribute To Mother Who Passed Away From Stomach Cancer
"To finally ring this bell is not only a blessing but music to my ears," Shannon wrote. "I know many others who've rung the bell and those still waiting to ring the bell, in celebration of their last day of chemo."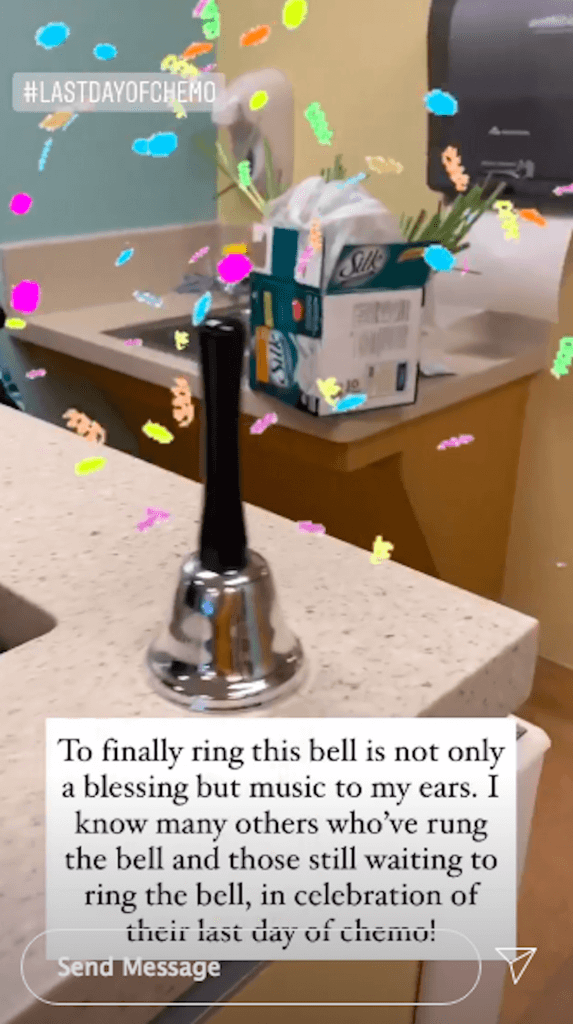 Taking on Cancer as a Family
Talking to your family members about a cancer diagnosis isn't always easy, especially when you have young children. However, some survivors have been able to take on cancer as a team thanks to their families' support.
Erica Stolper was only seven-years-old when mother, Melissa Berry, was diagnosed with triple-negative breast cancer. Even though the two struggled coping with the diagnosis, Melissa decided to turn a usually difficult experience into a bonding moment. Since she was starting chemotherapy, Melissa knew she would eventually lose her hair. Since Erica dreamed of being a hairdresser at the time, she asked her daughter if she wanted to shave her head.
Related: 'I Wanted to Keep Things with My Kids as Normal as Possible' – Lisa Schaible Survivor Story
"She looks at me [and] goes, 'do you want to shave my head?' It was like a dream come true," Erica tells SurvivorNet. "It was a big bonding moment that I think we had, because it was the first step that she really took into her whole journey. It was cool to be a part of with her."
Mother-daughter duo Erica Stolper and Melissa Berry turned Melissa's breast cancer diagnosis into a bonding experience
Learn more about SurvivorNet's rigorous medical review process.