Battling Prostate Cancer
Princess Diana's former butler Paul Burrell revealed "life-changing" news on Monday- he's been diagnosed with prostate cancer. Now the 64-year-old dad of two hoping his cancer battle will help raise awareness for the disease.
"I don't think men are particularly good at going to the doctor. They need nudging. So push them out the door, make them go," he told Lorraine Kelly.
Prostate cancer treatments include surgery, hormone therapy, radiation, and chemotherapy.
PSA tests are the screening method used to screen for prostate cancer. These tests look for PSA in the bloodstream, which could indicate the presence of prostate cancer.
People who have a family history of prostate cancer – or other cancers – should begin screening for prostate cancer earlier than the average person. The current recommendation is to begin screening at age 50 if you have an average risk of prostate cancer.
Princess Diana's former butler, 64-year-old Paul Burrell, revealed emotional news to Scottish journalist Lorraine Kelly, 63, on her ITV daytime program Lorraine on Monday.
Prior to the dad of two's big reveal, Kelly informed her audience, "Paul Burrell will be here with life-changing news. He'll be sharing his cancer news for the first time in the hope that he'll help others."
Read More
Burrell—who joined Charles and Diana's household in 1987, worked as the princess' butler until she passed away in 1997, and released a memoir in 2003 titled A Royal Duty—said he'd received his cancer diagnosis last summer after a medical checkup, which included a "full MOT," for a TV program he was doing. It was then he underwent a
PSA test,
a simple blood test that's used to screen for prostate cancer and also to track a patient's response to treatment. PSA, or protein-specific antigen, is the name of a protein secreted by the prostate gland. Men have a small amount of PSA in their blood all the time but large amounts may signal that something is brewing. When cancer cells grow, PSA spills into the blood.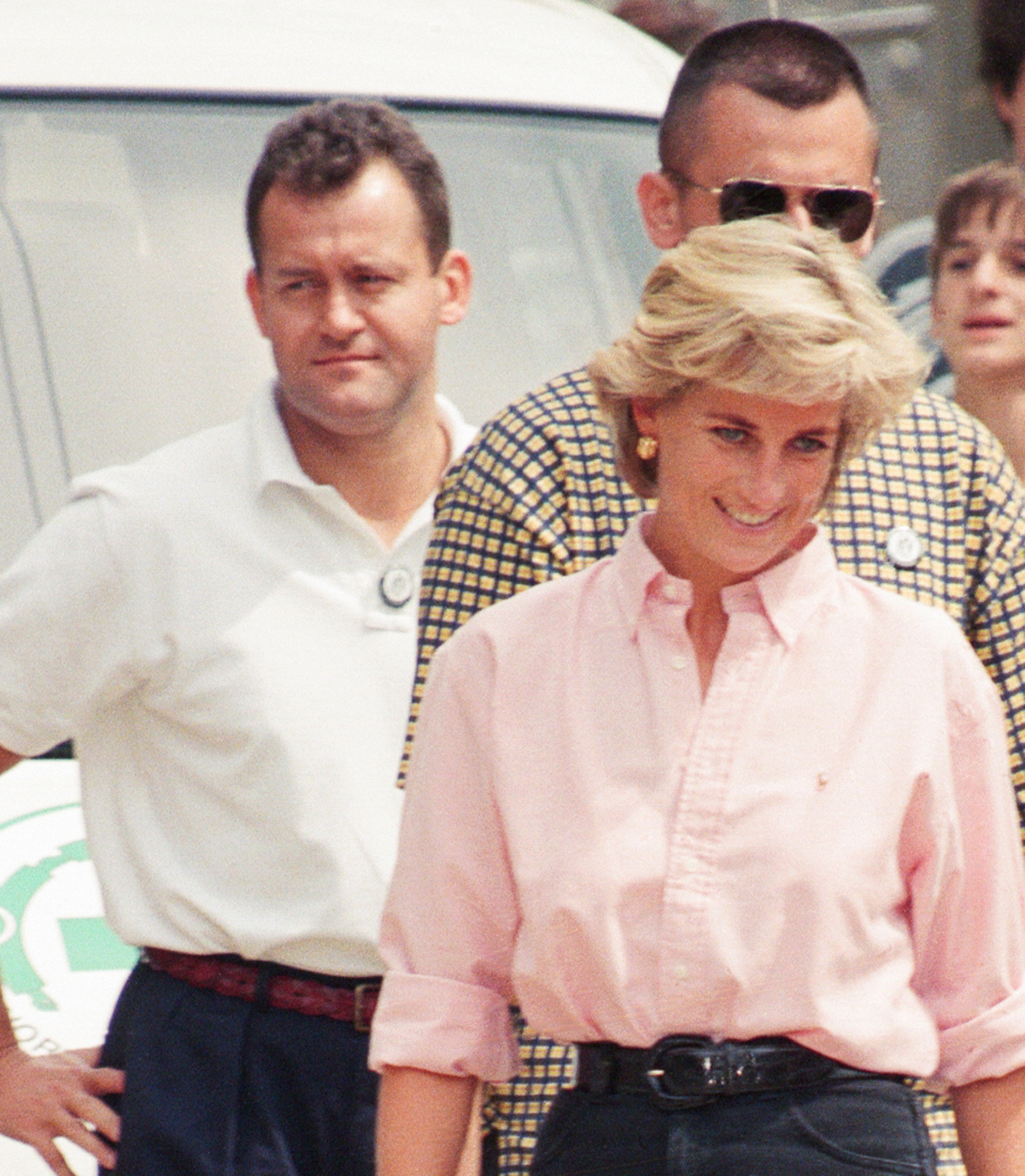 Burrell's doctor ultimately found his PSA test to show "fairly unusual" levels in his blood and advised him to undergo an MRI scan, which revealed a "shadow" on his prostate.
"I'm on hormone therapy at the moment and it's robbing me of my testosterone," Burrel, who admitted to feeling "so tired" amid the treatment, told Kelly. "So my beard isn't growing as it should and I'm tired and I'm emotional and I get hot flushes."
He continued, "I'm on an emotional educational rollercoaster, ups and downs, and not knowing where I'm going to be the next minute. Having the biopsy itself and finding the cancer…wrapping Christmas presents up this year and thinking, 'Am I going to do this next year? Am I going to be here?"
When he told his two sons, Alexander and Nicholas, about his diagnosis, Burrell recounted them saying, "Dad, we need to spend more time with you."
Now, Burrell, who considers himself lucky for catching the disease urging, hopes to inspire other men over 50 years old to ask their doctor for a "simple" PSA test, saying men "need nudging" to get checked.
"Get them to go and have this simple blood test. I don't think men are particularly good at going to the doctor. They need nudging. So push them out the door, make them go," he said.
Touching on Queen Elizabeth II's passing in September 2022, Burrell praised the longest-reigning British monarch as being his "surrogate mother."
"She taught me about life on a daily basis. She encouraged me to get married, to have children," he explained, noting that they had a special "bond."
Prostate Cancer Overview
Prostate cancer is the most common cancer in men. It starts in the walnut-shaped prostate gland, which is located between the rectum and bladder and produces the fluid that nourishes sperm. In the United States, most prostate cancer is caught with screening examinations. Prostate cancer can behave differently from one man to another.
Sometimes, it is called "low-risk" and can be slow-growing and treatment might not be necessary. In other men, the cancer may grow faster or be more aggressive and will require treatment. Because this cancer can behave so differently from one person to the next screening and treatment decisions are individualized for each person.
According to the expert physicians that SurvivorNet spoke with, if you are diagnosed with prostate cancer there is reason for hope as there are many options to successfully treat the cancer. Over the past decade, surgical and radiation options have leaped forward in reducing side effects of treatment while still delivering excellent cure rates. For men diagnosed with advanced-stage disease, there are many new options that can treat your cancer and allow you to maintain an excellent quality of life. Overall, if you have arrived at this page because you or a loved one has been diagnosed with prostate cancer remember there is hope and we at SurvivorNet are here to help!
What Increases Your Risk for Prostate Cancer?
Certain factors make you more likely to develop prostate cancer. These include your:
Age
Race
Family history
Genetics
However, just because you have these risks doesn't mean you're destined to get this cancer. Having any of these risks should just make you more aware and vigilant for possible symptoms. Although these factors have been associated with prostate cancer, doctors still do not know what causes the majority of cases and this remains an area of active research. Many of these factors such as age, race, and genetics are not things you can change and are called non-modifiable risk factors. The best strategy to reduce your risk is to maintain an overall healthy lifestyle.
Black men tend to get this cancer more often, develop it at a younger age, and have more aggressive forms of the disease than do men of other races. Asian-American and Hispanic/Latino men are less likely to get prostate cancer. Researchers don't know the reason for these racial disparities.
Genes matter, too. If you know you have an inherited gene mutation that increases your risk, or you have close male relatives (father, brother) who've developed this cancer, you may need to start screening at an earlier age.
Dr. James Brooks, Chief Of Urologic Oncology At Stanford Medicine, Explains Why Men Who Have A Close Family Member With Prostate Cancer Should Get Screened
Obesity might increase prostate cancer risk, and where you gain the weight matters. Belly fat in particular is associated with an increased risk for prostate cancer in general, and for more aggressive cancers.
A few strategies might help you avoid prostate cancer, including:
Eating a diet that's rich in fruits and vegetables
Cutting back on simple sugars and fat
Exercising regularly
Quitting smoking
How Do Doctors Stage Prostate Cancer?
Once your doctor has established that you do have prostate cancer, the next step is to learn its stage. The stage tells how far the cancer has spread, and knowing it can help your doctor decide on the right treatment for you.
The staging system doctors typically used for prostate cancer is called TNM, and it's based on five factors:
The extent of the main tumor
Whether it has spread to any lymph nodes
Whether it has spread (metastasized) to other parts of your body
Your PSA level at the time of diagnosis
The grade (based on your Gleason score), which is how aggressively your cancer is likely to behave
Prostate cancer has four stages, each of which is broken down further with a letter based on its extent.
What Are Your Treatment Options?
After your treating team has all of the information (PSA, Gleason Score, prostate exam, and the results of any imaging scans), your doctor will use it to categorize your cancer into one of several groups, called risk groups (Low risk, Intermediate risk, and High risk).
There are several subgroups within these categories that your doctor may mention. Which risk group your cancer falls into will determine what treatment options are available to you. Men with low-risk and very low-risk disease may be candidates for active surveillance, while men with high-risk disease may be treated with radiation therapy and androgen deprivation therapy (hormonal therapy).
In addition to your risk group, your doctor will also consider other factors, including age, overall health, life expectancy, and goals for treatment. A combination of all of this information will allow your treating team to discuss all of the options that are available for treating your specific cancer.
Common treatment options for men with prostate cancer include:
Surgery
Radiation therapy
Active surveillance
Combination radiation therapy with hormonal therapy
Surgery followed by radiation therapy
The reality is that most treatments are effective at curing the cancer. However, they each have different side effects that your doctors should discuss with you. We encourage and recommend that if you are diagnosed with prostate cancer, you get an opinion from a urologist (surgeon) and a radiation oncologist to hear all of your options before choosing a treatment. We also recommend you get a second opinion from another institution. Given the many treatment choices, doctors at some centers may do things quite differently than others.
We believe it is important to understand all of your options and hearing from other doctors at different institutions is helpful. The good news is that we have a lot of great options to treat men with this cancer. It can sometimes be overwhelming to pick what is best for you.
Knowing Whether Or Not To Treat Prostate Cancer Isn't An Easy Decision, Says Dr. Geoffrey Sonn 
Surgery
Surgery is an option for men with any risk group of prostate cancer that hasn't spread outside of the prostate gland. Typically, the type of surgery used is called a radical prostatectomy. The surgeon removes the entire prostate, along with some tissue around it, including the seminal vesicles that release fluid into the semen. Your doctor can perform this through a traditional open procedure with one large incision, or through several small incisions, called laparoscopic surgery.
Surgery has side effects including erectile dysfunction and urinary incontinence. The risk for these depends on the type of surgical approach and factors specific to your cancer. Sometimes, men who have surgery will need radiation therapy after surgery if the surgeon could not remove all of the prostate, your PSA does not become undetectable or you have a high risk genetic profile if the tissue is sent for testing. Men with High Risk and Very High Risk prostate cancer are more likely to require radiation after surgery than men with lower risk disease.
Radiation Therapy
Radiation, like surgery, is an option for men with any risk group. It uses high-energy x-rays to treat cancer. You might get this treatment alone if your cancer is still early stage and confined to your prostate gland, together with hormone therapy if your cancer is more advanced or has spread outside your prostate, or to relieve symptoms like bone pain and control cancer that has spread more widely. You can get radiation in a few different ways.
External beam radiation therapy (EBRT) aims the radiation at your body from a machine. You'll usually get this treatment five days a week for several weeks. Newer techniques including stereotactic body radiotherapy (SBRT) aim more focused beams of radiation at the tumor, to spare surrounding healthy tissues, and may allow treatment in a shorter time. Like surgery, radiation also has side effects. EBRT like surgery can also cause erectile dysfunction although it is much less likely to cause issues with urinary incontinence. However, it can cause issues with bowel function and urine flow.
Brachytherapy implants small seeds containing radiation directly into your prostate. This type of radiation works best in men with smaller prostates. If your prostate is very large, your doctor might give you hormone therapy first to shrink it. You'll get brachytherapy in a hospital, while under anesthesia. Usually, the seeds are permanent and continue to release small doses of radiation, ensuring that the cancer is treated. Some centers now use a form of brachytherapy that does not require permanent seeds. In this procedure, the radiation is put into the prostate and removed while the patient is under anesthesia. Brachytherapy also has side effects including erectile dysfunction and issues with urine flow.
Nerve-Sparing Surgery Could Help Preserve Sexual Function, Says Weill Cornell Urologic Oncologist, Dr. Jim Hu
Androgen Deprivation Therapy
Androgens are male hormones that fuel the growth of prostate cancer. Androgen deprivation therapy (ADT), also known as hormone therapy, reduces levels of these hormones your body makes, to slow the cancer's growth. You might get this treatment if your cancer has spread or comes back after treatment, or to shrink the tumor before surgery. You'll get this treatment as injections, implants placed under your skin, or pills. ADT can cause fat gain, muscle loss, fatigue, and hot flashes in some men.
Active Surveillance
Often prostate cancer grows very slowly. And some men, especially those who are older, may not need aggressive treatment. Active surveillance means the doctor watches the cancer carefully, with a PSA blood test every 6 months and a digital rectal exam about once a year. You may also get prostate biopsies and imaging tests every 1 to 3 years. Depending on the results of these tests, your doctor may decide to start you on treatment. We want to stress that Active surveillance is NOT watchful waiting. Active surveillance is a treatment and as the name implies is active! About one-third to half of men who choose active surveillance will eventually require definitive treatment such as surgery or radiation therapy.
Surgery and Radiation Therapy
Radiation therapy can be used after surgery, to get rid of any cancer cells that were left behind. Getting radiation along with surgery is called adjuvant therapy. This is sometimes used when the surgeon is unable to remove all of the cancer, tests after surgery show that the cancer is high risk, or the PSA is at detectable levels after surgery.
Do Your Own Research on Prostate Cancer Treatment
As more prostate cancer treatments become available, different companies naturally claim their technology is the best – but some procedures yield the same benefits and side effects.
"The first thing I tell patients is there is no rush to make a decision," says Dr. Patrick Swift, a radiation oncologist and Clinical Professor of Radiation Oncology at Stanford. "There is time to gather the information."
Treating prostate cancer is truly an area of medicine and oncology where leading doctors will give very different answers, which usually depend on their specialty. It's important to do your research and ensure the treatment being recommended for you is appropriate for your specific case.
Your Own Opinion on Surgery vs. Radiation Matters
Contributing: SurvivorNet Staff
Learn more about SurvivorNet's rigorous medical review process.
---