Queer Eye star Bobby Berk announced earlier this week that his father has been diagnosed with cancer for a fourth time — and claims that contaminated well-water at his childhood home in Missouri is to blame for the new diagnosis. When it comes to cancer, it's really difficult to prove any one environmental factor is responsible for causing the disease, but Berk provided a handful of reasons for why he suspects a specific energy corporation is to blame.
"My father was diagnosed with cancer for the 4th time this week," Berk, 38, wrote on Twitter. "@Conoco @ConocoPhillips contaminated the well-water of my childhood home with propane, butane, and methane that they irresponsibly stored in underground caverns."
Read More
ConocoPhillips is an energy corporation, which owns and operates Conoco gas stations, with its headquarters in Houston, Texas.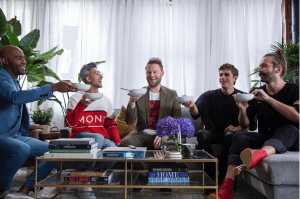 Along with his announcement that his father had been diagnosed with cancer again, Berk included a photo of him as a child wearing a Conoco hard-hat. He wrote a Twitter thread explaining why he believes the company is to blame.
RELATED: BREAKING DOWN THE NEW EVIDENCE OF WEEDKILLER AND CANCER RISK
"Can I know for sure that this is the cause of my fathers cancer?," Berk continued. "No, but it very well could be, and it makes me scared for me and the rest of my families [sic] future health. PS… this hard-hat was one of the many ways they tried to buy us off to keep us quiet. They may have manipulated my parents into signing an NDA, but I sure as hell didn't. The amount of people from that area I've watched die of cancer over the years is staggering. Far far higher than the normal rate."
Berk added some additional details about the water on Instagram. "We drank it for years without knowing as it gradually seeped in and we became nose numb to it. It wasn't until a friend came over, took a drink of water and instantly spit it out that we knew," he wrote. "At that time there was so much in it that we could actually light a glass of our water on fire."
Berk is not the first person to accuse Conoco (which only became ConocoPhillips in 2002 after a merger of two companies) of causing illness through water contamination. Conoco Inc. paid $23 million in 1990 to buy 400 homes and compensate residents who said its refinery in Ponca City, Oklahoma, was giving them cancer. And in 2015, an investigation in California found that ConocoPhillips failed to properly maintain underground gasoline storage tanks. It was reported that more than 560 gas stations owned by ConocoPhillips were violating waste laws in some way.
The company also agreed to a settlement of $39 million for groundwater contamination charges brought by the state of New Jersey in May 2017. And In May of 2019, the oil giant was hit with another suit from Oklahoma by residents claiming the company contaminated their land to the point where they can no longer grow anything in their soil.
What Do We Know About Carcinogens In Water?
Berk did not share what kind of cancer his father has, nor how he is being treated. And unfortunately, proving any one environmental factor unilaterally caused someone's cancer is incredibly difficult.
On the American Cancer Society's list of known carcinogens (substances that cause cancer), propane, butane, and methane are not listed. However, classifying any substance as a carcinogen takes a lot of time and research. Because it's unethical to expose human beings to potentially harmful substances, scientists have to use lab tests on cell cultures and animals, as well as epidemiology studies in human populations, which can take many, many years. Even after a long-term epidemiology study, sometimes researchers don't get clear answers.
It's also possible that other substances — aside from the propane, butane, and methane cited by Berk — that are listed as known carcinogens were also in the water at the TV star's childhood home. For example, in the 1990 Conoco agreement in Oklahoma, residents claimed that a substance called banzene, which is a carcinogen, was seeping into their homes.
Learn more about SurvivorNet's rigorous medical review process.