A Classic Hollywood Star
Late actress Agnes Moorehead lost her life 47 years ago today to uterine cancer at 67 years old.
Moorehead was a private star and believed that as an actress, her job was to give off a sense of mystery.
A leading expert explains one of the early symptoms to look out for with uterine, or endometrial, cancer: abnormal bleeding.
Late actress Agnes Moorehead lost her life 47 years ago today to uterine cancer. She died at 67 years old at Methodist Hospital in Rochester, Minn.
Her mother, who died in 1990 at 106, was her sole survivor. Agnes had no close family.
Read More
Known mostly for her role of Endora the witch, the mother of Samantha (Elizabeth Montgomery's character) on the hit '60s show
Bewitched
, the stage and screen star embodied Old Hollywood through and through.
"I think an artist should be kept separated to maintain glamour and a kind of mystery," she once said. "Otherwise it's like having three meals a day. Pretty dull. I don't believe in the girl‐next‐door image. What the actor has to sell to the public is fantasy, a magic kind of ingredient that should not be analyzed."
Related: Remembering Beloved 'Bewitched' Star Elizabeth Montgomery Who Died from Colorectal Cancer at 62
She was a strong woman known for playing a variety of strong roles, including on Broadway in shows such as Gigi and All the King's Men.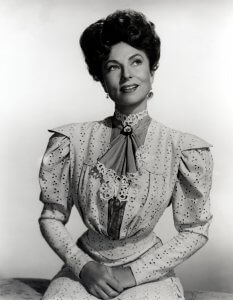 Moorehead's Upbringing
The Massachusetts native was born to a Presbyterian minister, John Henderson Moorehead, and his wife Mary Mildred McCauley.
She went to schools in the midwest, racking up English and literature degrees from University of Wisconsin and Bradley University in Illinois. She also taught drama before attending the American Academy of Dramatic Arts in 1928-1929.
When Broadway shows dwindled due to the Depression era, Moorehead found a voice in radio, just as nearly every star now has their own podcast. One of her now-classic radio performances was in "Sorry, Wrong Number," where she played a wife/victim.
Moorehead was twice-divorced to actors Jack G. Lee and Robert Gist, and had fostered a son, Sean, with Lee. (It is unclear if the actress ever adopted him, the Los Angeles Times noted that she had no children in an article at the time of her death, but The New York Times mentioned an adopted son.) Later in life, she spent time at her 320-acre farm, which was passed down from her east coast family.
A Cancer Theory
Details of Moorehead's battle with cancer are unknown, as she was so private, but there is a theory that working on the 1956 film The Conqueror could have affected her health. The movie was filmed near an active nuclear test site in Utah, which was contaminated by nuclear fallout. Producer Howard Hughes had been reassured that it was safe. Interestingly, 91 of the 220 cast and crew members developed a form of cancer over the next thirty years, including legendary actor John Wayne, who died from stomach cancer.
Related: Did Michael Landon Really Get Pancreatic Cancer from the 'Little House On The Prairie' Location? 
Moorehead had requested at the time of her death that no information be released, according to a hospital spokesperson. Living true to her quote of maintaining "mystery" until the end.
Understanding Uterine Cancer
Uterine cancer and endometrial cancer are the same thing. It's a cancer that begins in the lining of the uterus.
Dr. Diana English, a gynecological oncologist from Stanford Medicine, explains more about the disease to SurvivorNet.
"I think one of the challenges with uterine cancer is that it can also happen in younger patients that have certain conditions that might predispose them to cancer," she says. "And these patients might not be thinking about this, their primary care providers might not be speaking to them about this."
Related: Woman with Uterine Cancer, 39, Mistakenly Diagnosed with Gluten Intolerance & Told to Eat More Yogurt
Common risk factors for uterine cancer include hypertension, diabetes and polycystic ovarian syndrome.
"This is a syndrome that's marked by anovulation, or the absence of regular periods, that tends to happen in premenopausal patients," Dr. English explains. "And some of these patients are obese, some of these patients have signs and symptoms of hyperandrogenism or elevated male sex hormones, and Lynch Syndrome."
Related: Uterine Cancer Survivor Fran Drescher, 63, Encourages People to 'Overcome' and Seize the Opportunity to 'Grow'
Abnormal bleeding is usually a warning sign, "which might include intermenstrual bleeding, or bleeding in between periods, or for postmenopausal patients, it will be postmenopausal bleeding."
Patients who have—or have had—these types of symptoms must present them to their doctor so they can undergo further evaluation.
The Risks and Symptoms of Uterine Cancer
'I Push Forward,' Actress Meagan Good Had a Uterine Cancer Scare Years Ago
Learn more about SurvivorNet's rigorous medical review process.