By Chris Woodyard
Merlin Olsen was feared on the gridiron and loved in front of the camera.
Read More
Despite a massive stature — 6-foot, five-inches tall and 270 pounds — that allowed him to menace opposing quarterbacks, Olsen was able to transition to a post-NFL career that took him to TV prominence with roles in heartwarming western dramas like
Little House on the Prairie
and
Father Murphy
.
Olsen died in 2010 in Duarte, California at the age of 69 due to mesothelioma. This rare type of lung cancer comes in the form of a tumor that is caused by exposure to asbestos (a silicate mineral). This tumor can appear in the lungs, stomach, heart or other organs. According to the American Cancer Society, about 3,000 new cases are diagnosed each year.
Related: 7 Lung Cancer Symptoms to Know; This Disease Can Be Tricky to Catch Early & Doesn't Just Affect Smokers
Born in Utah in 1940, Olsen played 15 seasons for the Los Angeles Rams. He was the leader of the "Fearsome Foursome," the Rams' defensive line that was considered one of the best in the NFL. He was rookie of the year in 1962 and was named to 14 Pro Bowls. Olsen was inducted into the NFL Hall of Fame in 1982 and also worked as a TV football commentator, according to his Hall of Fame biography.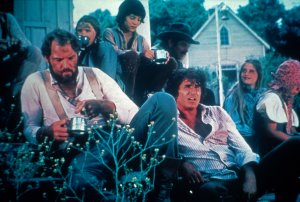 Yet even in the years he was active as a defensive tackle, Olsen was gradually moving into the entertainment business. He racked up a series of guest appearances on television shows as varied as Petticoat Junction, Kung Fu and CHiPs, his IMDb profile shows.
TV audiences, however, knew Olsen best for the roles in played after he hung up his cleats. In Little House on the Prairie, the now-gentle giant played a character named Jonathan Garvey. Then he landed the lead role on another frontier series, Father Murphy, which ran on NBC from 1981 to 1983.
Months before his death, Utah State University announced that the its football field would the named in Olsen's honor. He had earned a bachelor's degree with honors at the university.
SurvivorNet breaks down asbestos' link to cancer
New Treatment Options
Treatments for mesothelioma have been slow over the years, but now there are a few options for those facing the disease. In October 2020, the Food and Drug Administration (FDA) approved a new first-line mesothelioma treatment called Opdivo-Yervoy Drug Therapy, which combines two immunotherapy drugs Opdivo (nivolumab) and Yervoy (ipilimumab) to help destroy cancerous cells. While evaluating results of this therapy, researchers found that these two drugs may be able to limit tumor growth by increasing the function of patients' T-cells.
Related: New Hope For Lung Cancer Patients — FDA Approves Drug Combination Opdivo And Yervoy For First Course Treatment
In a clinical trial, patients diagnosed with mesothelioma were divided into two groups where one set of patients received only chemotherapy while the others received the combination of drugs. According to results, patients who received by Opdivo and Yervoy survived an average of 18.1 months after diagnosis while the patients who received chemotherapy alone survived only 14.1 months.
NovoCure's System
In 2019, the FDA approved NovoCure's NovoTTF-100L System, which is a wearable medical device about the size of a backpack that uses electric fields to disrupt solid tumor cancer cell division. This development marked the first treatment to be approved for mesothelioma in the last 15 years.
Before the NovoTTF-100L approval, the only FDA-approved therapy for patients with these types of mesothelioma was a combination of chemotherapy drugs called pemetrexed and cisplatin. The new NovoCure system will also have to be used in combination with chemotherapy. While testing this treatment, researchers found that median survival rate for people treated with the new system plus chemotherapy was 18.2 months. However, it's important to note that only 80 people participated in the trial.
Related: Remembering Steve McQueen– "The King of Cool"– Who Died From Mesothelioma- Too Little Progress
"Typically, mesothelioma patients who cannot have surgery receive palliative care to mitigate their symptoms," Mary Hesdorffer, executive director of the Mesothelioma Applied Research Foundation, previously told SurvivorNet. "NovoTTF-100L provides unresectable (malignant pleural mesothelioma) patients with a treatment option that may improve survival. We are encouraged by the FDA approval and hope it is just the beginning of innovation in the treatment of this aggressive disease."
Learn more about SurvivorNet's rigorous medical review process.