Remembering Patrick Swayze
Iconic actor and dancer Patrick Swayze was born August 18, 1952.
Swayze was diagnosed with pancreatic cancer in March 2008, and passed away in September 2009, at age 57.
Early detection of pancreatic cancer can mean broader treatment options and a better prognosis.
Anyone who went to a movie theater in the 80s or 90s likely saw Patrick Swayze lighting up the silver screen on more than one occasion; the iconic actor would be 69 this month if he were still alive. Swayze passed away in 2009 after a battle with pancreatic cancer.
Related: Remembering Revolutionary Jazz Musician John Coltrane Who Passed from Liver Cancer 54 Years Ago;
Read More
Swayze was known for his starring roles in films that stand the test of time, like
Ghost, Roadhouse
,
Point Break
, and of course, 
The Outsiders. 
But he's perhaps best remembered for his role as Johnny in 1987's Dirty Dancing alongside actress Jennifer Grey. Swayze, a trained ballet dancer, captivated the hearts of many when he uttered that famous line: "Nobody puts Baby in the corner," and whisked her away to dancing adventures.
The Houston, Texas, native was married to wife Lisa Niemi for over 30 years.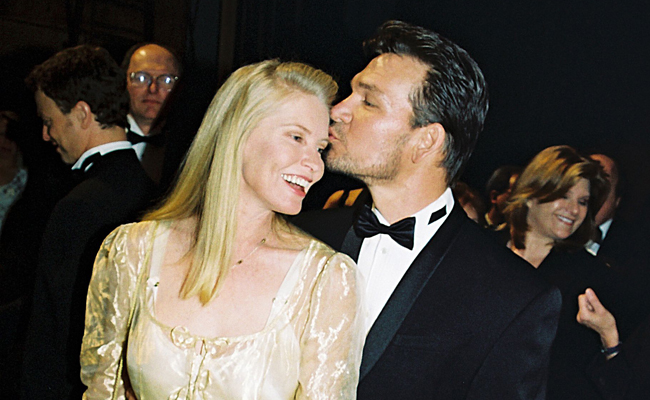 Swayze's Cancer Battle
Swayze was first diagnosed with pancreatic cancer in March 2008, and he later passed away at the too-young age of 57, after fighting the disease for over a year. Swayze died in September 2009.
The actor first began experiencing symptoms of pancreatic cancer in December 2007, but he didn't realize it at the time – he thought he was just having digestive issues. Swayze wrote in his 2009 memoir, The Time of My Life, how he thought the bloated feeling would just go away on its own.
Related: 3 Key Pancreatic Cancer Red Flags to Look Out For; Some Were Present in Alex Trebek & Patrick Swayze
"I had been having some digestive trouble," he wrote. "Mostly acid reflux and a kind of bloated feeling, for a few weeks. I've had a sensitive stomach my whole life, so I hadn't thought much of it, but lately, I just couldn't shake the constant discomfort."
MD Anderson's Pancreatic Cancer Moon Shot
Detecting Pancreatic Cancer
Early detection of pancreatic cancer can mean broader treatment options and a better prognosis. In an earlier interview, Dr. Anirban Maitra, the co-leader of the Pancreatic Cancer Moon Shot at MD Anderson Cancer Center, explains how this disease often manifests.
Dr. Maitra says, "So the pancreas is an organ in your belly. And this is where pancreatic cancer arises. Because the pancreas is inside the abdomen, it often doesn't have symptoms that would tell you that something is wrong with your pancreas. By the time individuals walk into the clinic with symptoms like jaundice, weight loss, back pain, or diabetes, it's often very late in the stage of the disease."
"Each year in the United States, about 53,000 patients get pancreatic cancer," he says. "And unfortunately, most will die from this disease within a few months to a year or so from the diagnosis. And the reason for that is that most individuals, about 80%, will actually present with what we called advanced disease, which means that the cancer has either spread beyond the pancreas or into other organs like the liver, and so you cannot take it out with surgeries. Only about 20% of individuals will actually be candidates for surgery."
Detecting Pancreatic Cancer Early Is Crucial
Learn more about SurvivorNet's rigorous medical review process.