Howard Cosell's Health Struggles
Howard Cosell, one of the first television sports anchors, died 26 years ago at 77 years old.
The "revolutionary" announcer's health declined after a 1991 lung cancer diagnosis after losing his wife the prior year, and the controversial journalist suffered from multiple health issues.
A leading expert tells SurvivorNet the crucial questions to ask following a lung cancer diagnosis.
One of the first television sports anchors Howard Cosell died 26 years ago at 77 years old.
The ABC Monday Night Football broadcaster died of a heart embolism, which is a blockage in one of the arteries, at a New York hospital near his apartment. His health sharply declined following a 1991 lung cancer diagnosis, and the controversial journalist suffered from multiple strokes, diabetes, heart disease and Parkinson's disease, a brain disorder.
Read More
Related: Remembering the Late ABC News Anchor Peter Jennings Who Was Diagnosed with Lung Cancer 16 Years Ago
Boxer Muhammad Ali, an interview subject-turned-friend, offered his condolences and kind words about Cosell after the news of his death.
"Howard Cosell was a good man, and he lived a good life," Ali said in a statement. "I have been interviewed by many people, but I have enjoyed the interviews by Howard Cosell the best. He always put on a good show. I hope to meet him one day in the hereafter. I can hear Howard Cosell now saying, 'Muhammad, you are not the man you used to be.' I pray that he is in God's hands."
Prior to his "revolutionary" sports career of "telling it like it is," Cosell studied law at New York University and was admitted to the New York Bar in 1941, then went on to become a major in the U.S. Army Transportation Corps during World War II.
While he was in the service, he married Mary Edith "Emmy" Abrams in 1944. She died in 1990 of a reported heart attack, but she had also suffered from lung cancer. The couple had two children, Hilary Cosell and Jill Cosell, who both were featured in the 1999 HBO documentary about their father, Howard Cosell: Telling It Like It Is.
When Cosell opened up shop as an attorney in NYC, he represented the Little League of New York, which led to his first broadcasting job in 1953 with ABC. A program manager asked him to host a Saturday morning radio show "that featured Little Leaguers asking questions of major leaguers," according to the Washington Post.
Cosell's Lung Cancer Diagnosis
Right after the death of Cosell's wife, his health started to go downhill and he was diagnosed with lung cancer the following year. He had referred to Emmy as "my life," and many fans wondered if losing her had affected his health. He was also a known cigar-smoker.
He had had surgery to remove the tumor.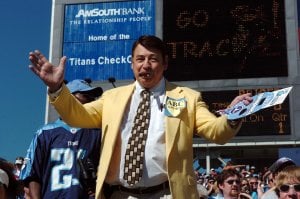 In an interview with Buffalo News after he left ABC, he shared that his wife had battled lung cancer, and the last thing that he cared about was Monday Night Football. "I've changed," he had said quietly. "I have a whole new set of values. I'm going to be 71 years old. My wife, Emmy, had surgery for lung cancer. I've had six surgeries in my family in the past two years."
Related: Honestly Didn't Think I Was Going to Get Through It,' Says Singer Tom Jones, 80, on Losing Wife to Lung Cancer
When you first get diagnosed with lung cancer, or any other type of cancer, the news can be unfathomable. Sometimes it's hard to focus because your mind is running in so many directions with so many questions and concerns. That's why it's important to know the right questions to ask to make sure you stay on top of your health for what's ahead in the coming weeks and months.
Dr. Patrick Forde, a thoracic oncologist at Johns Hopkins Medicine, tells SurvivorNet about the first steps typically taken after a lung cancer diagnosis.
Related: A New Option for Some People With Lung Cancer: What the Approval of Lorlatinib Means for Patients
"First, your medical team will stage the cancer with imaging, a CT scan usually and sometimes an MRI and MRI scan of the brain," he says. "Then they need to get a sample of the tumor biopsy on which they perform some routine tests, the most important of which is a  PD-L1 test, which helps direct the use of immunotherapy, but also more complicated testing looking for gene mutations in the tumor."
Related: Lung Cancer Screening Has Come a Long Way, But Only 10% of Eligible People Take Advantage
There are two main types of lung cancer, non-small cell lung cancer, which is about 85% of lung cancers, and small cell lung cancer, which is about 15%. "Within that non-small cell category, there's a subtype called non-squamous adenocarcinoma, and that's the group of patients for whom genetic testing is very important on the tumor," he explains. "Genetic testing is looking for mutations in the DNA, in the tumor, which are not present in your normal DNA."
Dr. Forde gives an overview of the most important questions to ask after a lung cancer diagnosis:
Ask about the type of lung cancer.
Ask about the stage of the cancer.
If the cancer is metastatic or stage 4, ask about the genetic mutation results and also the PD-L1 testing.
The PD-L1 test is a "simple test" that involves staining a sample of the tumor with a marker for PD-L1. The lab gives the tumor a  percent expression score ranging from from zero where none of the cells have PD-L1 expression and up to 100 percent where all of the cells have PD-L1 expression.
"The likelihood of the tumor responding to immunotherapy depends to a degree on the level of expression," Dr. Forde says. A tumor with 90% expression PD-L1 on the surface is more likely to respond than one that has no expression.
Dr. Forde says that non-smokers should make sure genetic testing is performed before going directly on immunotherapy.
What Happens When You've Been Newly Diagnosed With Lung Cancer
Former & Current Heavy Smokers Should Get Lung Cancer Screenings Using CT Scan, Says Leading Expert
Learn more about SurvivorNet's rigorous medical review process.