Retired SoCal Firefighter Credits High-Tech Scan for Pinpointing Recurrent Prostate Cancer
Tom Hendrix, a retired firefighter in Southern California says new imaging technology caught his aggressive and recurrent prostate cancer.
A PSMA PET scan, or prostate specific membrane antigen scan, pinpointed exactly where the prostate cancer was centered in his body.
The scan detects malignant cells in the prostate, allowing doctors to see traces of cancer to be removed.
General screening is simple and consists of a prostate-specific antigen (PSA) blood test and a digital rectal exam to feel the prostate gland.
A former firefighter in Southern California says new imaging technology caught his aggressive and recurrent prostate cancer, pinpointing exactly where it was in his body.
"There's no reason to wait until it gets more serious. Let's catch it at an early stage so it can be treated," said retired Colton California Fire Chief Thomas Hendrix, 74, in an interview with Los Angeles TV station KABC.
Read More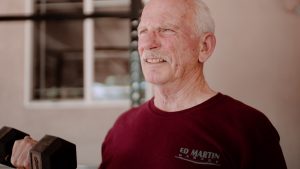 He had the benefit of a new imaging method called a PSMA PET scan, allowing doctors to pinpoint prostate cancer long before it becomes an even more serious threat.
Hendrix's prostate cancer fight began eight years ago when doctors diagnosed his disease and immediately started a treatment plan.
"Initially, it was just surgery, and the surgery went quite well and it looked like things were fine," Hendrix said.
Six months later, Hendrix's antigen levels started to rise again, with doctors recommending 35 rounds of radiation therapy.
That treatment appeared to work, until a few years later.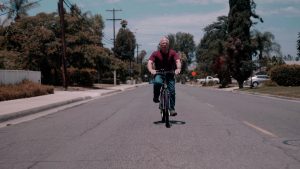 "His PSA was going up to suggest that there was more prostate cancer," revealed Hendrix's urologist Dr. Herbert Ruckle with Loma Linda University Health.
The cancer was back, and Dr. Ruckle wanted a more precise picture to know exactly where the prostate cancer was centered.
Related: 'It's a Gut Punch': TODAY Anchor Al Roker Shares the Complex Emotions that Came with His Prostate Cancer Diagnosis
Enter the PSMA, or prostate specific membrane antigen scan.
It only attaches to prostate cancer using a radiotracer that binds to the prostate specific membrane antigen to detect malignant cells, allowing doctors to see traces of cancer.
The Food and Drug Administration approved the PSMA pet scan technology in late 2020.
"If you can localize the cancer many times, you can do a more specific treatment that is easier on the patient," Dr. Ruckle said.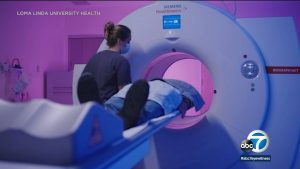 Hendrix was one of Dr. Ruckle's first patients to test the new PSMA imaging technology that when compared to other techniques, it can detect cancer in its earliest stages.
"Many months earlier. We're talking months and in some patients, even it can be as much as a year or more earlier," Dr. Ruckle said.
The scan revealed a pea-sized tumor in Hendrix' abdomen that doctors were able to successfully extract.
"After the removal of that nodule, my PSA dropped down to undetectable," said Hendrix.
For now, PSMA PET scans are used for patients like Hendrix, whose doctors were looking for the earliest signs of recurrence.
But in the future, Dr. Ruckle predicts the scans may be used for a more targeted treatment of prostate cancer overall.
"You attach a therapeutic molecule and send it to the prostate cancer to actually attack the prostate cancer in that way," he said.
Hendrix retired from the Colton Fire Department in 2012 after 38 years with the department.
He was dedicated to putting out fires in his professional life.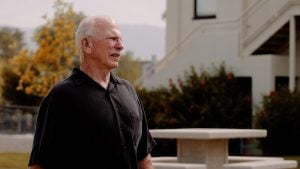 Personally, he says the PSMA pet scan did the same thing for his cancer treatment, and he wants other men – not just firefighters – to know about the technology before it's too late.
"I think firefighters tend to be aggressive," he said.
Checking For Prostate Cancer
There comes a time in every man's life when he has to consider screening for prostate cancer.
So where to even begin? The guidelines for screening depend largely on your risk for the disease—and that's based on several factors including family history, genetics, age, and race.
Screening is simple and consists of a prostate-specific antigen (PSA) blood test and a digital rectal exam to feel the prostate gland.
Related: Emmy Winner Ben Stiller, 56, Says A PSA Test Saved His Life When He Was Diagnosed With Prostate Cancer At 48
"It's slightly uncomfortable but painless, and takes less than 30 seconds," says Dr. Edwin Posadas, Director of Translational Oncology and the Medical Director of the Urologic Oncology Program at Cedars-Sinai Medical Center.
"The amount of information that is gained from that is tremendous, and it can be a life-and-death type decision that is made," adds Dr. Posadas, who has detected prostate cancer in patients via a rectal exam alone.
When Should I Get Tested for Prostate Cancer?
Men are notoriously bad about their health and so we are here to tell you, if you are male and between the ages of 55 and 70, or have a family history of cancer, make an appointment to go talk to your doctor about getting screened for this disease.
Dr. Yung Lyou, a medical oncologist at City of Hope, tells SurvivorNet,  "Unfortunately, prostate cancer is the No. 1 most diagnosed cancer amongst men in the U.S. Early-stage prostate cancer patients can often achieve a 'cure' or chronic remission with localized treatments such as surgery or concurrent hormone and radiation treatment," he says.
"However, when the disease becomes metastatic, it is often not curable and this can happen if patients delay diagnosis and treatment. Cancer doesn't wait for anyone or anything even during a pandemic, so it is important to undergo prostate cancer screening if your doctor recommends it."
Treating Prostate Cancer
Removing the prostate and prostate cancer cells is known as a radical prostatectomy. This type of surgery is typically recommended for men who have localized prostate cancer, meaning it has not spread outside the prostate.
Related: John Tesh, 69, Reveals Private Cancer Battle, Says Prostatectomy and Chemo Saved His Life After Disease Recurrence During the Pandemic
A radical prostatectomy is not recommended for people with compound health issues, such as also having heart disease.
Another option includes targeted radiation.
There are currently two forms of targeted radiation used to treat prostate cancer.
External beam radiation therapy (EBRT) treats patients with early-stage prostate cancer. Beams of radiation focus on the prostate gland from a machine outside the body in treatments generally administered five days a week for four-to-six weeks. The process lasts just a few minutes each time and is painless.
A 2019 study released by researchers at the University of Pennsylvania's Penn Medicine found that the process known as hypofractionation had great success in prostate cancer patients. Hypofractionation is a form of EBRT that delivers large doses of radiation and requires fewer treatment sessions than traditional radiotherapy.
Brachytherapy is a form of internal radiation where small radioactive pellets that are the size of a corn kernel are placed directly in the prostate. It is also for use in individuals with early-stage prostate cancer and, in some cases, may be used in addition to EMRT if a patient is at a higher risk of having cancer grow outside the prostate.
Imaging of Prostate-Specific Membrane Antigen
The FDA has approved two drugs for positron emission tomography (PET) imaging of prostate-specific membrane antigen (PSMA) positive lesions in men with prostate cancer over the past year.
In December, the agency approved Gallium 68 PSMA-11 (Ga 68 PSMA-11) followed by Pylarify (piflufolastat F 18) in May for use in individuals with suspected prostate cancer metastasis who are potentially curable by surgery or other therapy.
Doctors inject these treatments that then bind to PSMA. This makes it easier to identify the presence of PSMA-positive prostate cancer lesions in the body's tissues during PET imaging, allowing for more precise surgery and treatment.
High-Dose Radiation: Benefits May Outweigh Risks
Hormone Therapy
The male hormone androgen fuels the growth of prostate cancer. Hormone therapies work to deprive cancer cells of these building blocks by reducing the production of androgens.
G(GnRH) antagonists are drugs that block the pituitary gland from making hormones that stimulate testosterone production.
Relugolix is a Gonadotropin-releasing hormone (GnRH) approved by the FDA in December 2020. GnRH antagonists work by blocking the pituitary gland from releasing the hormones that fuel the production of testosterone.
Prostate cancer stops responding to hormone therapy over time, which is known as metastatic castration-resistant prostate cancer. At that stage, oncologists may prescribe antiandrogen drugs to try and prevent androgen from binding to androgen receptors on prostate cancer cells to slow or stop growth.
Abiraterone (Zytiga), apalutamide (Erleada), and enzalutamide (Xtandi) are three examples of FDA-approved antiandrogen drugs that have improved the survival of men with metastatic castrate-sensitive prostate cancer when added to standard hormone therapy.
How Does Androgen Deprivation Therapy Help Shrink Prostate Cancer Tumors?
Learn more about SurvivorNet's rigorous medical review process.
---