Robin Roberts & Jill Biden Meet to Discuss Cancer Awareness
GMA's Robin Roberts interviewed First Lady Dr. Jill Biden and the two spoke of the need for cancer screenings, education, and research for treatments, as well as equality in cancer care.
Robin was diagnosed with breast cancer in 2007 after detecting a lump during a self-exam.
Screen for breast cancer by getting annual mammograms; also, perform self-exams at home regularly to check for lumps.
Good Morning America
's Robin Roberts is a champion for cancer awareness and now she's chatting with First Lady Jill Biden about making progress in research, education, and screening around this disease; the two women had an in-depth, sit-down interview on ABC.
Read More
Dr. Biden shares with Robin that she knows the turmoil that often goes hand-in-hand with a cancer diagnosis. "I know what it's like to sit in that chemotherapy room with your loved one, holding his or her hand, and just helping them to get through it. And it's important," she says.
Dr. Biden tells Robin she had four friends diagnosed with breast cancer around the same time. She says to Robin, a breast cancer survivor, "Unfortunately, we lost one of those friends, and I was so upset. I thought, 'What can I do? There has to be something'."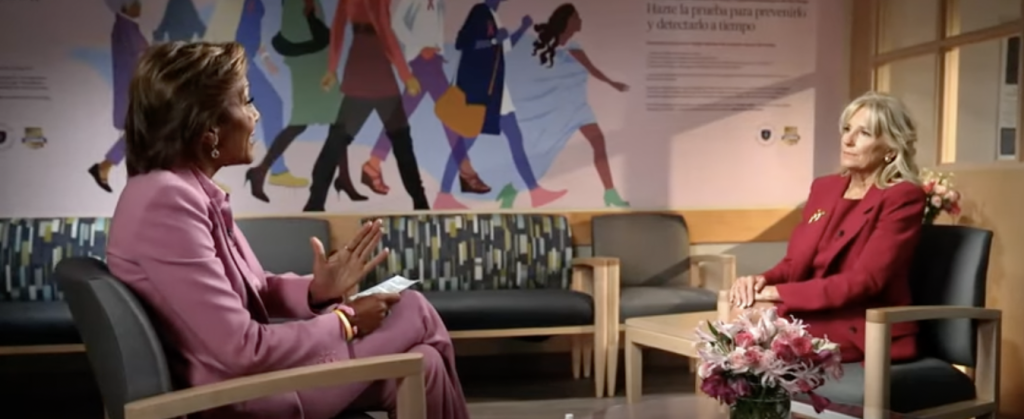 FLOTUS shares with Robin that she went into schools in Delaware and spoke about breast health, early detection, and good health habits. "Not only that, then they went home and sort of spread the word. When your kids say it, you do it, you know?"
The two women also discussed the racial inequality around cancer care and screenings. "We know that in communities of color, in communities where there's less access to health care, we have barriers to overcome in terms of getting that population in for cancer screening," says Dr. Biden. "And so when you add a pandemic onto that, those disparities only grow further."
She tells Robin, "It's the responsibility of the federal government to make sure that we have access, that all communities have access. Whether that's urban, whether that's rural, so that's one of the things that we plan to do."
Ultimately Dr. Biden's message was one of early detection and screening.
"The next thing you have to do today is call your doc and get in there and get your screenings," Biden said. "If you go get that mammogram and they catch it early, you have a fighting chance."
 

View this post on Instagram

 
Robin's Breast Cancer Journey
In 2007, Robin was diagnosed with breast cancer, and she went through her cancer battle publicly, raising awareness around breast cancer in the process. The GMA host also had to have a bone marrow transplant to treat her MDS, which is a rare type of blood cancer.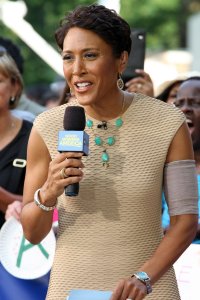 Roberts discovered her breast cancer at work. She was preparing for a news story about the need for early detection for breast cancer, and she performed a self-check at home. While doing an exam on herself, Roberts discovered a lump.
Related: Getting to Know Your Breasts with Self-Exams
She treated her breast cancer with surgery. Breast cancer can also be treated with radiation and chemotherapy. When discussing surgical options to treat breast cancer, Dr. Ann Partridge, an oncologist at the Dana-Farber Cancer Institute, says in an earlier interview how she evaluates the treatment path.
She says, "So when I talk to a woman who comes to me and she has breast cancer, I evaluate what the standard options for treatment for her are, which typically include cutting out the cancer – which is either a lumpectomy if you can get it all with just a little scooping around of the area that's abnormal or a mastectomy for some women meaning taking the full breast because sometimes these lesions can be very extensive in the breast. And I'll talk to a woman about that and I'll say these are two main options or the big fork in the road."
When Should You Consider a Mastectomy?
The Importance of Mammograms & Cancer Screenings
Screening for cancer is highly important, especially if you have a history of cancer in your family. Speak with family members and get to know your family's health history. Is there colon cancer in the family? Or breast cancer? Or ovarian cancer?
Related: These 3 Sisters Were Each Diagnosed with Breast Cancer; Doctors Said It Was a Coincidence; Why It's Important to Know Your Family History
Talk openly and transparently about cancers that run in your family so you can be proactive about screenings for different cancers. Information is power, and if, for example, you know that your grandfather had colon cancer, you can start getting your colonoscopies – which look for colon cancer – earlier than the average person.
Related: 'Colon Cancer Has a PR Problem': 'Today' Anchor Craig Melvin Urges Black Americans to Learn Their Family History, Talk About It
When it comes to breast cancer, mammograms save lives. As Robin Roberts discovered, early detection is critically important and it can mean broader treatment options as well. Women ages 45 to 54 with an average risk of breast cancer should get mammograms annually.
For women with an elevated risk of breast cancer – this means they either have a history of breast cancer in the family, or they have the BRCA1 or BRCA2 gene mutation – they should begin screening even earlier, before age 45.
While getting a mammogram, ask about desnse breasts, which may obscure cancer. The technician will be able to do determine whether or not you have dense breasts.
When Should I Get a Mammogram?
Learn more about SurvivorNet's rigorous medical review process.