Complications with Chemotherapy
GMA anchor Robin Roberts, 61, a breast cancer survivor, has been opening up about her partner's breast cancer cancer battle.
Amber Laign, 47, has been having complications with chemotherapy treatment, but Roberts assures fans that the prognosis still looks very good.
These complications with chemotherapy can often happen, as your body needs to be strong enough for infusions, which is why medical professionals check your blood before each treatment.
Watching a loved one go through a cancer battle, as countless people know, can be brutal.
GMA
co-anchor and breast cancer survivor Robin Roberts, 61, is now having to watch her partner of 17 years, Amber Laign, suffer from battling the same disease. "Sweet Amber," as the broadcaster lovingly calls her, was diagnosed late last year at age 47.
Roberts has been opening up about the tough time, which has understandably opened up some old wounds. "She's had some complications with the chemotherapy," the veteran NYC TV host told Entertainment Tonight. "They're working it out. We're gonna figure it out. The prognosis is still very good."
Read More
Meanwhile, Roberts is doing what she does best, and trying to keep her longtime love feeling positive through the difficult setbacks. These complications with chemotherapy can often happen, as your body needs to be strong enough for infusions, which is why medical professionals check your blood before each treatment. It can be very scary, as many patients are dependent on the drugs that kill the cancer cells, but is very common. Most often, your body just needs a temporary break to recover from the prior weeks.
"I was struggling and then I was thinking, 'Robin, you have this book. You're talking to people about their valleys and how to get out of it and so, why don't you just actually listen to your own words?'" Roberts said of her own book, Brighter by the Day, actually helping her through this time.
Related: Sports Reporter Finds Support as She Undergoes Treatment for Breast Cancer; Finding the Support You Need During Cancer 
Roberts turned the "Why me?" to the 'Why not me?' "I can handle this," she quickly reminded herself. "I have the strength. I've been through this. I can help Amber."
 

View this post on Instagram

 
Robin's Role as Caregiver
The unsung heroes of the medical world are caregivers. When a loved one is diagnosed with cancer, or another serious illness, and they can't care for themselves, as a loved one, it may be your job to step into that role of caregiver.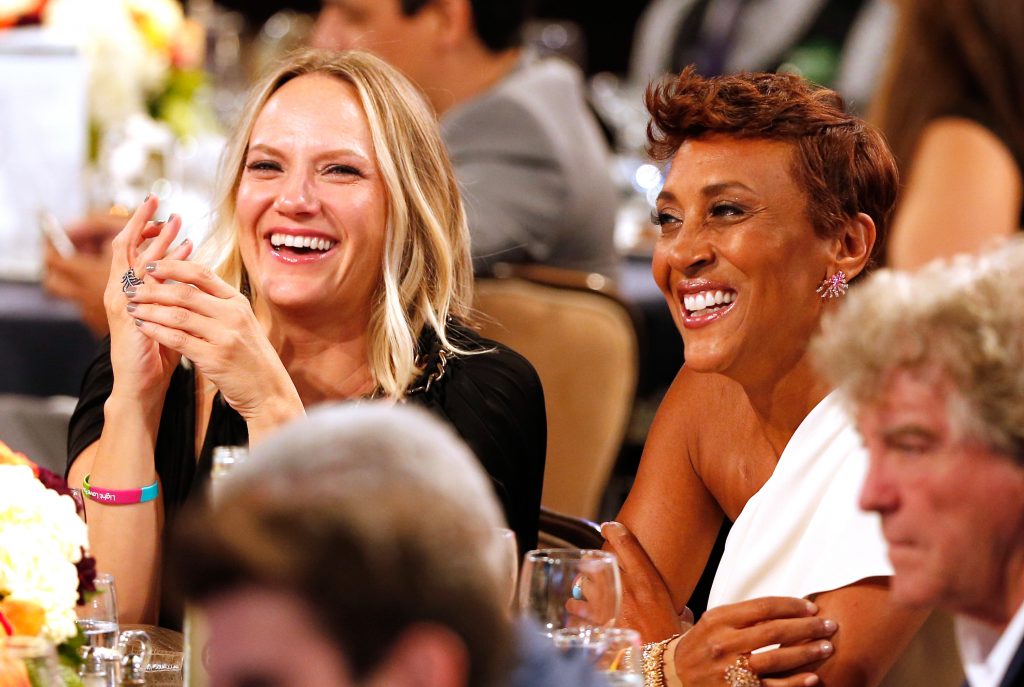 Watching someone you love go through cancer is difficult enough as it is, so if you add being a caregiver on top of that, it's possible you may have mixed emotions, Tom Evans, pastor of the Brick Presbyterian Church in New York City, tells SurvivorNet.
'A Sacred And Blessed Calling' Managing Life As a Caregiver
As wonderful as it is for Roberts to be able to be there for her partner, no one can be a caregiver 24/7. Pastor Evans has some words of advice to all in the role of caregiver out there: "Just remember that you can't care for someone else properly unless you're strong. So don't hesitate to find those times."
Related: Actor Kristen Bell Honors Cancer Caregivers: 'I Know What it's Like'
"It'll break anybody," he adds. Just like everyone else, as a caregiver, you're entitled to your emotions.
"So, you need to find time out where you're not doing that and where others are helping you," he adds, "and that in those frustrations and that anger, take time to find someone to express that to, whether it's a friend, whether it's a pastor, whether it's a neighbor, because as you work that out of your system, you'll be better, able to be there for them."
Robin's Cancer Battles
Robin Roberts was diagnosed with breast cancer in 2007 after discovering a lump. Ironically, she made this discovery while prepping for a news segment on performing self-checks, which shows just how important they are to perform at home.
Related: Getting to Know Your Breasts with Self-Exams
"At first I thought, 'This can't be. I am a young, healthy woman,'" Roberts said, which tends to echo through many women's heads following a diagnosis.
The journalist's early detection was a critical factor in her survival. She treated her breast cancer with surgery, one of several treatment options for this disease, which can also be treated with radiation, chemotherapy, hormone therapy and immunotherapy.
In addition to battling breast cancer, Roberts had  MDS, which stands for myelodysplastic syndrome—a rare type of blood cancer where abnormal cells form in the body's bone marrow.  Roberts had to undergo a bone marrow transplant.
Related: What's the Standard Treatment for MDS (Myelodysplastic Syndrome)?
Chemotherapy for breast cancer could have likely contributed to Roberts' secondary cancer. Although it is rare, it is one of the risks of treatment. MDS caused by cancer treatment is called "secondary MDS" or "treatment-related MDS."
Although risks and complications can happen with treatment, many patients feel that is is highly better than the alternative—and that the benefits outweigh potential side effect and future outcomes. So, while treatment may feel like your ultimate foe while going through it, just keep reminding yourself that there is light at the end of the tunnel, it is most likely only a temporary situation, and never give up hope.
Learn more about SurvivorNet's rigorous medical review process.