Robin Roberts Prays To Jesus That 'I'm Going To Be Positive... And Get Rid Of Anything That's Weighing Me Down:' She's Been Standing By Her Partner 'Sweet Amber,' As She Battles Cancer
Robin Roberts returns to the set of Good Morning America with a super positive attitude after spending time in "happy place" as partner Amber Laign underwent breast cancer treatment.
Robin and Amber have been together through many highs and lows over their relationship—including each of their battles with breast cancer. Robin received her breast cancer diagnosis in 2007 after finding a lump while, ironically, preparing a news segment on performing self-checks.
It's important to celebrate life's important milestones, especially when completing phases of cancer treatment. If you can't get away to your own happy place, book something local in town or toast with an intimate group of loved ones out at a special dinner. You deserve it!
Robin Roberts, 61, says "good morning" to her #GlamFam! The broadcast star welcomes in the new month of August with a well wish to all of her fans via Instagram.
View this post on Instagram
Read More
Roberts has returned to the set of
Good Morning America
after spending time in her "happy place" with her longtime partner, Amber Laign, after Amber completed radiation therapy for breast cancer. Roberts also shared a blessing on Instagram from her dressing room early last Monday morning, tagging it as #MondayMotivation.
View this post on Instagram
She's vowing to stay positive. This is something she's been known for, especially since recovering from breast cancer herself.
Supporters were excited to have her back after Amber, 47, "rang the bell" in New York for finishing radiation and decamped with Robin for a fun and relaxing trip, likely to Key West in Florida. One fan said: "I'm glad you and Amber had a wonderful refreshing break celebrating the end of her cancer treatment in Key West!"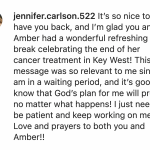 The GMA co-anchor recently posted videos of her partner of 16 years, who is typically very private, ringing the bell after finishing radiation. After all, who doesn't want to shout from the mountaintops when they finish cancer treatment?
"Sweet Amber completing radiation, a very important phase of her treatment! We both thank you for all your well wishes and prayers," Robin, who is also a survivor, captioned her Instagram video of an exuberant Amber. "Proud of her and all fellow Thrivers for your grit and grace during a challenging time."
Related: Robin Roberts, 61, Says Partner 'Sweet Amber' Laign, 47, Had 'Challenging Week' Fighting Breast Cancer, Thanks Fans For Supporting Robin's Time Off
Robin showed Amber "doing her happy dance" on another endearing video post on Twitter and is "dressed and ready to spend time" in "our "happy place," presumably their Connecticut home that Robin is always gushing over.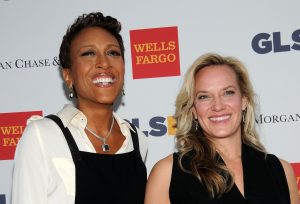 For all the other cancer warriors out there celebrating similar milestones, if you don't have a second home or the budget to vacation right now, book a "staycation" at a local hotel or treat yourself to a spa day. Get your house cleaned. Go out and buy yourself a new dress or special piece of jewelry to commemorate the special day. Whatever it is that feels like a special splurge for you, do it! You deserve it.
Related: 'Better Than Christmas Morning!': Actress Miranda McKeon, 19, Rings the Bell as She Finishes Chemotherapy for Breast Cancer, Surgery & Radiation to Follow
Appropriately, the journalist had started out talking about things you go through that may make you "bitter and frustrated," but reminds her viewers that you need to trust and have faith. "Father, thank you. Thank you that no matter what I go through, you are good and you love me." For the believers … indeed!
When Someone You Love is Facing Cancer—Be Patient
Robin & Amber's Battles
Robin and Amber have been together through many highs and lows over their nearly 17-year relationship—including each of their battles with breast cancer.
Robin received her breast cancer diagnosis in 2007. Ironically, she was diagnosed after finding a lump in her breast during her preparation for a news segment on performing self-checks. Thankfully, she was cancer-free after surgery.
But in February, Robin shared that Amber now has to face breast cancer as well. And in an interview from just the other day, she gave an important update regarding her partner's cancer journey.
Monitoring After Treatment for Breast Cancer
"She's had some complications with the chemotherapy," Robin previously told Entertainment Tonight. "They're working it out. We're gonna figure it out. The prognosis is still very good."
Complications with chemotherapy are not uncommon, but they can be scary. So, Roberts did everything in her power to support her loved one during this difficult setback.
"I didn't realize how much I had blocked out during my journey, and it was because of sweet Amber—because she protected me and navigated for me," Roberts said in a previous interview with Ellen Degeneres when she appeared on her show. "So, I'm doing the same thing for her."
Paying It Forward—Dr. Beverly Zavaleta Shares Her Chemo Experience to Help Others Living Through It
Learn more about SurvivorNet's rigorous medical review process.