Friends As Support Through Cancer
Actress Shannen Doherty, 52, who has been battling breast cancer for years, is leaning on her friends for support through her cancer battle and now divorce.
Doherty was first diagnosed with breast cancer in 2015 after finding a lump in her breast that turned out to be cancerous.
In February 2020, her breast cancer returned and spread to other parts of her body. Treatments for breast cancer include chemotherapy, radiation, and surgery.
Now, as Doherty is dealing with divorce from her husband of 11 years, Kurt Iswarienko, her friends are still by her side.
Experts say having people in your corner can be one of the most helpful resources to fight through treatment.
Shortly before 52-year-old actress Shannen Doherty's divorce announcement went public, one of her best friends, Sarah Michelle Gellar, 46, showed some support for her cherished pal, who is facing this latest challenge while battling advanced breast cancer.
"Buffy the Vampire Slayer" actress Gellar, who has been by her friend's side throughout her cancer battle, confirmed she will always be there for her bestie just one day before the news broke that Doherty had filed for divorce from her husband, Kurt Iswarienko.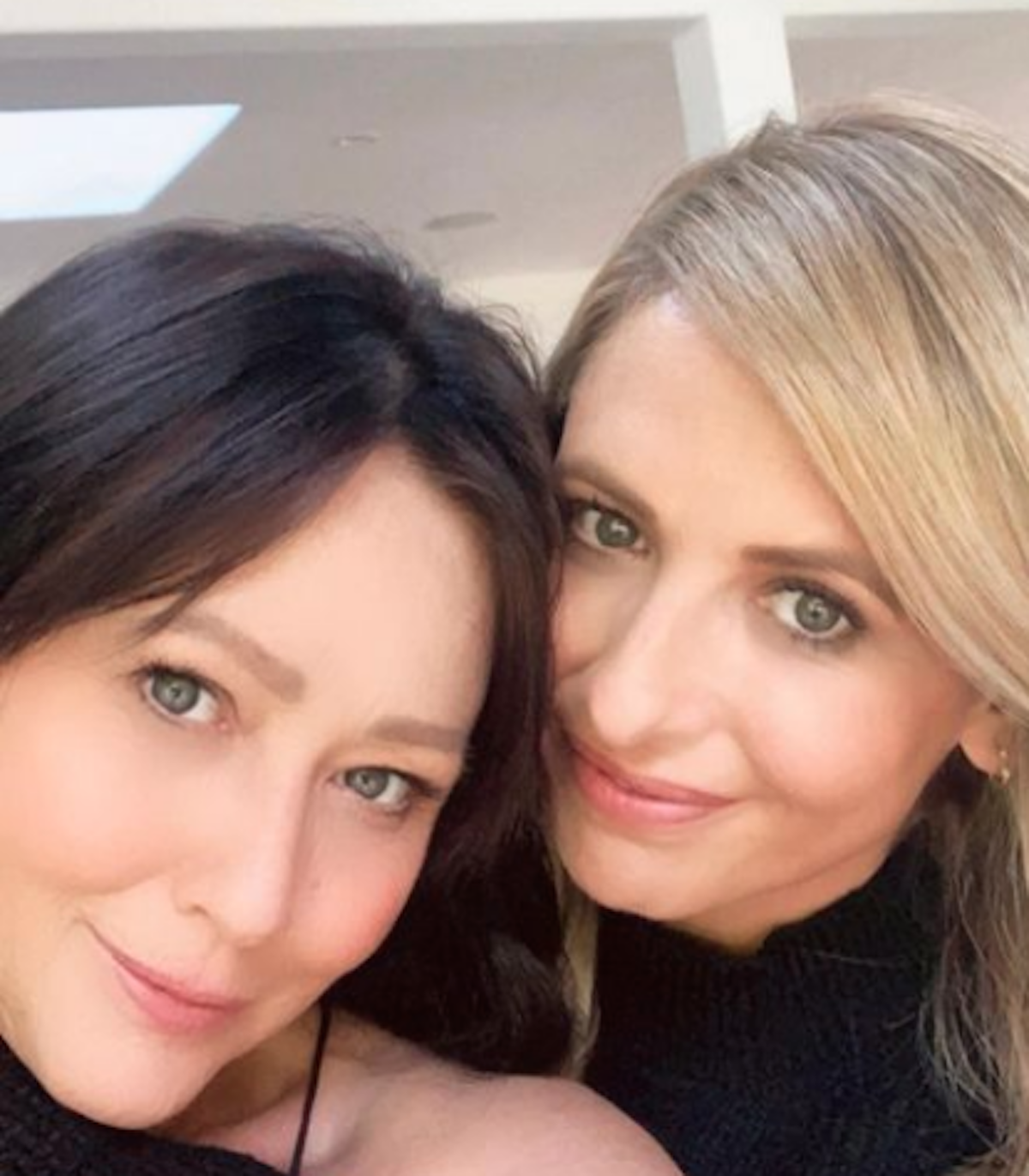 Read More
She was responding to Doherty, best known for her role as Brenda Walsh in "Beverly Hills, 90210," who
posted a word image reading
, "The only people who deserve to be in your life are the ones who treat you with love, kindness, and total respect." The post prompted Gellar to write, "I guess you will be in my life forever then." Doherty and Gellar often share photos of each other on their social media pages doing activities like spending time in the sun, cooking, and drinking together.
A few years back, Gellar, who has also been a supportive friend to Selma Blair as she battles multiple sclerosis (MS), gushed about how much Doherty means to her in a heartfelt Instagram post of the two of them sitting by a pool with drinks in hand.
Gellar captioned the post, which was reshared by Doherty, "Today I want to raise a toast to @theshando Everybody deserves to have a friend like Shannen…I'm just lucky that I get to claim her. This has been a hard month for me, and even with everything on her plate, she takes care of me like no other. I feel so lucky, and just wanted to send some insta love her way. I love you S."
Thankfully, Doherty has her friends to support her through another hardship other than cancer — divorce after being married for 11 years.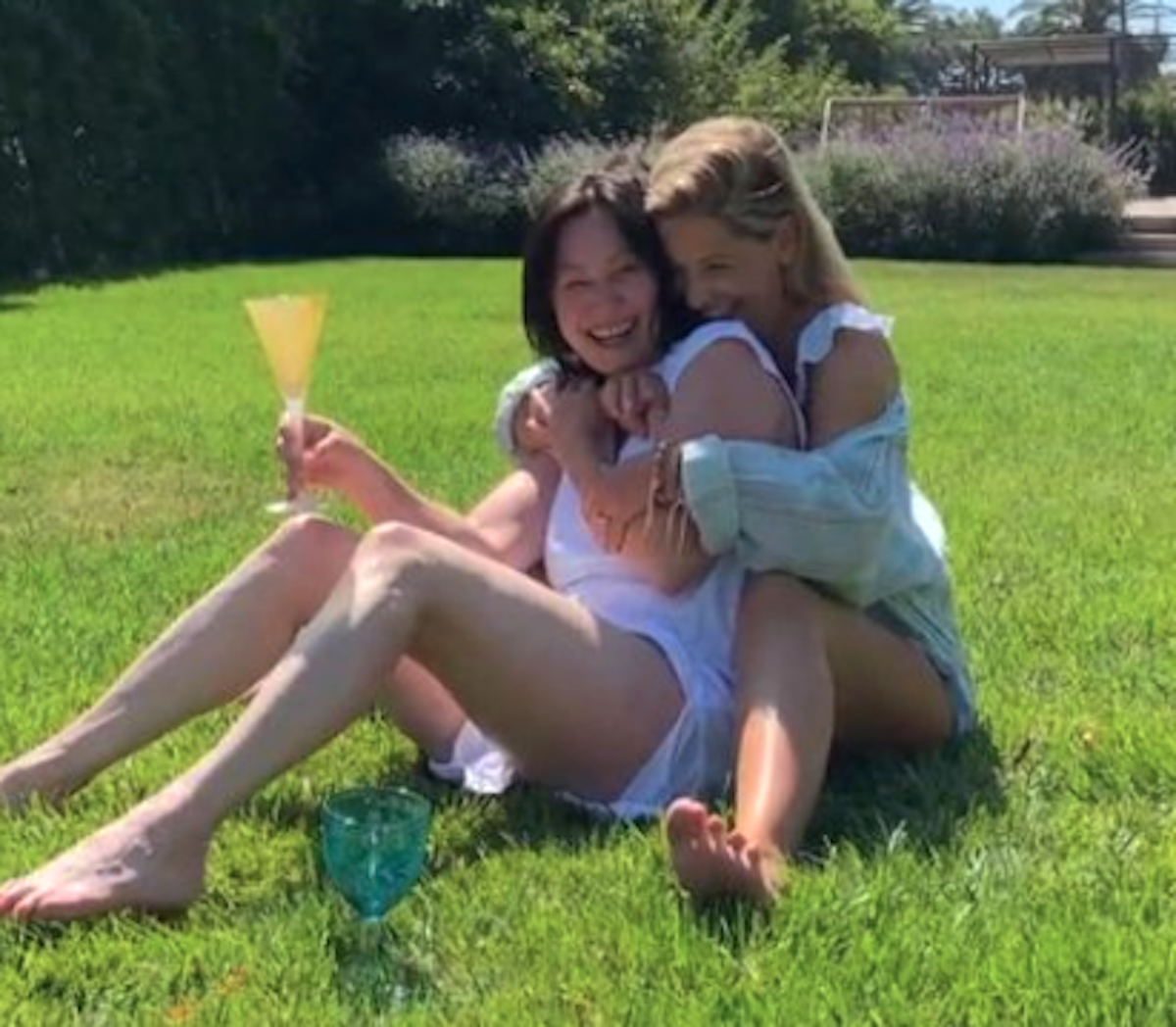 Actress Rose McGowan also commented on Doherty's post, which appeared to be hinting at her divorce, saying "love to you sister forever."
Singer and actress Kristin Chenoweth also wrote, "Amen amen amen," while author Roma Downey commented, "We love you Shannen."
On Saturday, Doherty's publicist Leslie Sloane revealed the actress has filed for divorce from Iswarienko, a celebrity photographer whom she wed in October 2011.
Sloane told TODAY.com, "Divorce is the last thing Shannen wanted. Unfortunately, she felt she was left with no other option."
Additionally, the Doherty's representative said Iswarienko's agent is "intimately involved" with the divorce.
According to paperwork obtained by TMZ, Doherty filed for divorce in Los Angeles Superior Court last Monday, but the pair previously separated in January 2023.
Doherty was previously married to American poker player Rick Salomon from 2002 until 2003, which followed her marriage to actor Ashley Hamilton, which also lasted one year, from 1993 to 1994.
Sisterhood of Support
Despite Doherty's recent divorce filing, the actress is grateful to have the ultimate sisterhood of support, who has lifted her up during cancer treatment and any other tough times in life.
Friends make such a difference and the three legendary best friends, Doherty, Gellar, and Blair have been open about their support for each other throughout the years.
Learning About Stage Four Breast Cancer
Gellar, who starred in "Cruel Intentions" with Blair, stood by Doherty from the beginning when she was first diagnosed with breast cancer in 2015. And she showed her unwavering support for Blair during her battle against MS too.
"Watching Selma's been the hardest thing of my life," she said in an October 2019 interview with Parade.
"I think as hard and difficult as it was to watch Shannon battle cancer, I think that we have a greater understanding of what cancer is, what the treatment looks like, what prognosis looks like," she explained.
But with MS she said, "Every case is different. Every experience is different. And so I think that's been harder to watch."
In an earlier interview with US Weekly Geller stressed the importance that even during cancer, life goes on for patients in treatment, saying, "This girl has had this diagnosis. She shot an entire season of a television show. She looked beautiful. She worked 16-hour days. I think people have to remember that life is tough, but Shannen's a lot tougher."
"Cancer is not something that defines her …   It has its ups and its downs, but I think that it's made the world see the side of Shannen that I've always known."
Finding Your Support System Amid Cancer
Having people in your corner is something many cancer survivors claim is the most helpful resource to fight through treatment. But don't take our word for it, listen to the experts.
"Studies have found consistently that loneliness is a significant risk factor for physical and mental illnesses and the trajectory of recovery," licensed clinical psychologist Dr. Marianna Strongin previously wrote in a column for SurvivorNet.
"Therefore, it will be important that you surround yourself with individuals who care and support you throughout your treatment."
MORE: How to Talk to a Friend With Cancer: Don't Say Stupid Stuff
But, on the other end of the spectrum, it can be difficult to know how to support a friend after they've received their cancer diagnosis.
"People often don't know how to handle a friend who has had a diagnosis," breast cancer survivor Catherine Gigante-Brown previously told SurvivorNet.
"My advice to them is basically just yourself. The person has not changed just because they have cancer. It's important to be there for them and not ignore them just because you might not know what to say."
Your Support System Matters — Jill Kargman on Getting Through Cancer With Support from Friends 
Gigante-Brown suggests asking what you can do for the person. Even simple things like bringing them a meal or doing their laundry could make a big difference. And as far as topics of conversation go, her advice is simple: "Don't say stupid things."
"Don't burden us with stories about your Great Aunt Harriet who had breast cancer," she said. "And then you say, 'Oh how's she doing?' And then they'll say, 'Oh, she died.' We don't need to hear the horror stories."
Meanwhile, breast cancer survivor Vera Trifunovich was able to find her own sisterhood while battling the diagnosis, which included her beloved Zumba classes and local support groups.
In many cases, support groups can be a cleansing place for people to go to in order to express their emotions to others who are enduring similar experiences, and so Vera reached out to women facing the same journey she was.
RELATED: Giuliana Rancic & Sofia Vergara Among Cancer Survivors Joining The #WomenSupportingWomen Challenge; They Truly Know The Importance Of Support
"Throughout my treatment, the only thing that helped me was talking to other women that had gone through what I had gone through," Vera previously told SurvivorNet.
Cancer Survivor Vera Trifunovich Says Her Sisterhood Of Support Helped Amid Treatment
Inspired by the support she received, Vera decided to create her own community to help other women. From there, Bare Breasted Against Breast Cancer was born— a nonprofit organization dedicated to empowering women facing cancer.
"What mattered to me was hearing how many stories there are out there," Vera said. "And learning from all of these other women. Because that's what it really all boils down to, we are a sisterhood."
As for Beverly Reeves, who battled ovarian cancer, she previously explained to SurvivorNet how important friendship and community support are when battling cancer. She said, "If I had one piece of advice for someone who had just been diagnosed with ovarian cancer, it would be to get a strong support group together."
'Faith, Family, and Friends' Helped Beverly Reeves Get Through Ovarian Cancer Treatment
"Get your close friends," Reeves added. "If you're connected to a faith community, get your faith community. Get your family. Let them know what's going on and let them help you. And sometimes that's the most difficult thing to do, but just know that they are there. If they love you, they're there to help you."
Contributing: SurvivorNet Staff
Learn more about SurvivorNet's rigorous medical review process.
---