Friends as Support Through Doherty's Cancer
Actress Shannen Doherty, 50, is battling breast cancer and she leans on her friends for support through her cancer battle.
Doherty was first diagnosed with breast cancer in 2015 after finding a lump in her breast which turned out to be cancerous.
In February 2020, her breast cancer returned and had spread to other parts of her body. Treatments for breast cancer include chemotherapy, radiation, and surgery.
Friends are so important to breast cancer warrior and actress Shannen Doherty, 50, who regularly speaks about how she leans on her friends for love and support through her cancer battle.
She means both human and pet friends, too. Doherty is a doting "dog mom" to her pup, Bowie, and regularly features Bowie on her social media. She also has shown on social media how she relies on her partner, husband, and photographer Kurt Iswarienko, for support through cancer.
Read More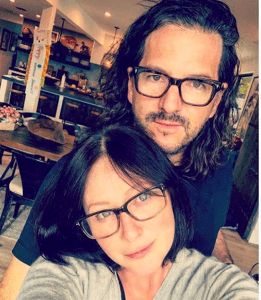 In a new post featuring two of her friends, actress Roma Downey and Malibu real estate agent Chris Cortazzo, 64, the 90210 actress writes, "I love these humans so much. They bring me light in darkness, they engage in critical conversations without holding back. They are filled with faith and that lifts me up and motivates me."
(Downey, 61, who starred in the faith-themed hit TV series "Touched By An Angel" and is married to super-producer Mark Burnett, 61, her third husband, is known as a person of faith in Hollywood.)
 

View this post on Instagram

 
Shannen's Breast Cancer Battle
Doherty was first diagnosed with breast cancer in 2015 after finding a lump in her breast which turned out to be cancerous. She had hormone therapy to fight her cancer, but it was ineffective and the cancer had spread to her lymph nodes. Doherty underwent a single mastectomy and also had chemotherapy and radiation. After going into remission, she announced in February 2020 that her cancer returned, and this time it had spread to other parts of her body.
Surgery, like the kind Doherty had (a single mastectomy), is a common treatment path for many people fighting breast cancer. In an earlier interview, an oncologist at the Dana-Farber Cancer Institute explains the path to surgery.
She says, "So when I talk to a woman who comes to me and she has breast cancer, I evaluate what the standard options for treatment for her are, which typically include cutting out the cancer– which is either a lumpectomy if you can get it all with just a little scooping around of the area that's abnormal or a mastectomy for some women meaning taking the full breast because sometimes these lesions can be very extensive in the breast."
When Should You Consider a Mastectomy?
Screening for Cancer in the Breast
Mammograms are the screening tool for detecting breast cancer and early signs of cancer in the breast tissue. When it comes to breast cancer, mammograms save lives. Early detection is critically important and it can mean broader treatment options as well. Women ages 45 to 54 with an average risk of breast cancer should get mammograms annually.
For women with an elevated risk of breast cancer – this means they either have a history of breast cancer in the family, or they have the BRCA1 or BRCA2 gene mutation – they should begin screening even earlier, before age 45.
While getting a mammogram, ask about dense breasts, which may obscure cancer. The technician will be able to do determine whether or not you have dense breasts.
Friends Through Cancer As a Support System
Support through cancer is critical; support can be found in friends, as Doherty knows, and also in family members, a partner or spouse, and professional support, like a therapist.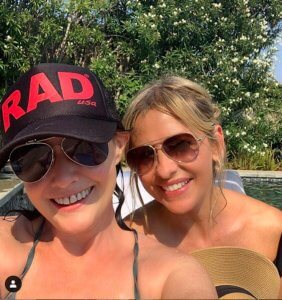 Beverly Reeves, who battled ovarian cancer, explained to SurvivorNet in an earlier interview how important friendship and community support are when battling cancer. She says, "If I had one piece of advice for someone who had just been diagnosed with ovarian cancer, it would be to get a strong support group together."
"Get your close friends. If you're connected to a faith community, get your faith community. Get your family. Let them know what's going on and let them help you. And sometimes that's the most difficult thing to do, but just know that they are there. If they love you, they're there to help you."
'Faith, Family, and Friends' Helped Beverly Reeves Get Through Ovarian Cancer Treatment
Learn more about SurvivorNet's rigorous medical review process.