Sharon Stone Thriving after Her Stroke
Actress Sharon Stone is living her best life following a stroke in 2001; she's a great example of how possible it is to thrive after a health battle.
In her new memoir out this year, The Beauty of Living Twice, the 63-year-old actress writes about her near-death experience after the stroke; her recovery took nearly 7 years.
Staying positive during and after a health crisis is important; gratitude and optimism can go a long way when fighting an illness.
Actress Sharon Stone, 63, knows what it's like to bounce back after a health battle (she had a life-threatening stroke in 2001); for twenty years after – and counting – she's continuing to win at life, and looked radiant at
The Tragedy of Macbeth
film premiere this week.
Related: "Have You Gotten Yours, Ladies?" Sharon Stone's Hospital Bed Photo Reminding Us to Get Our Mammograms Is Spot-On
Read More
The Joel Coen-directed film has an all-star cast, including Denzel Washington and Frances McDormand, among many others. Stone looked dazzling in a floor-length leopard print dress, with a bold red lipstick, and pink hoop earrings. Her short, cropped blond hair made her look the part of Hollywood royalty, which she most certainly is. Stone has been in the industry for decades and fans most associated her with her role in
Basic Instinct.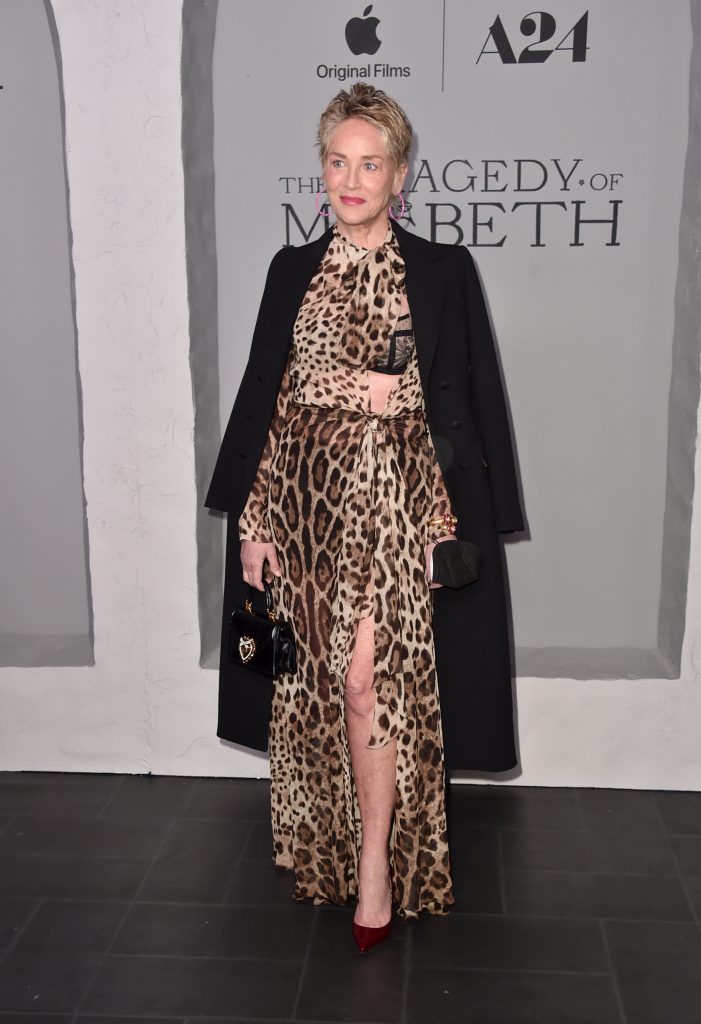 Stone's Stroke in 2001
Stone suffered a cerebral hemorrhage stroke in 2001, and doctors said she could have died. It took her nearly 7 years to recover, and she lost years of work and income due to her health battle. "I had to remortgage my house. I lost everything I had. I lost my place in the business. I was like the hottest movie star, you know?" she tells Variety. "It was like Miss Princess Diana and I were so famous, and she died and I had a stroke. And we were forgotten."
In an interview with TODAY, Stone says of being in the hospital and feeling close to death after her stroke, "The room was so silent," she says. "When the room is so silent and no one's running around trying to fix you, that's when you realize how near death is and how serious everything is."
Related: Tina Turner, 81, Says Faith Helped Her Overcome Abuse, Intestinal Cancer, & Stroke: "There's Great Value In Never Giving Up"
The actress published a memoir earlier this year, The Beauty of Living Twice, and she writes in it about feeling close to death – having a feeling of falling, seeing people who have passed, and writing about seeing a light.
Related: Loving Mother And Wife, 50, Unable To Walk After Stroke-Like Episode That Revealed Her Intense Ear Infection Was Actually Stage IV Glioblastoma
She says, "I found out that I wasn't the only one who'd had this kind of experience. It's so profound. And I know that scientists feel that it's a scientific thing that happens. And spiritualists believe that it's a spiritual thing. Personally, I'm with (Albert) Einstein, who believed that it's both."
Today, after her recovery, Stone is thriving. "There's nothing more free than standing centered in yourself," she tells TODAY. "I tell my friends that my new mantra is, 'It's never too late to become yourself.'"
The Power of Mindset: Breaking the Cycle
Staying Positive Through a Health Battle
Sharon Stone has been living life to the fullest after her stroke; she's a working actress in a demanding industry, and she wrote and published a memoir, to name just a few – very major – achievements. We love her determination to get on with life following her stroke.
Related: Do You Have a Question About Mental Health & Cancer– Strong In Cancer — A New Column From SurvivorNet with Dr. Marianna Strongin
When faced with a health battle like a stroke or cancer, staying positive and grateful can make the world of a difference. Focus on the good in life, stay optimistic about the future, and keep fighting for your healthiest self.
Dr. Samantha Boardman, a psychiatrist and author of the new book Everyday Vitality, focuses on positive psychology to treat patients.
"It is a fundamentally different way of thinking about patients thinking about their experience," Dr. Boardman told SurvivorNet in a previous interview. "It's not just focusing on what's the matter. It's also asking them what matters to you, building upon their strengths, tapping into what's meaningful to them in their lives. And this has been, a way to reimagine how we think about mental health in general, not just trying to diminish symptoms and treat illness, but also trying to promote wellness and helping our patients find wellness within illness and strength within stress."
Her book focuses on three "springs of vitality."
How are you connecting with others? "Having meaningful interactions, having a good conversation, looking at somebody in the eye when they tell you something, just saying, tell me more when they raise an issue to show that you're interested in what they're saying, it's about being a good listener," Dr. Boardman says.
How are you contributing?  "How do you feel like you're adding value that maybe you're doing something for somebody else that feels meaningful to them?"
How are you feeling positively challenged? "Are you learning something? Are you feeling like you're expanding your mind in some direction?"
"It's not just about diminishing some of the stressors in our lives," Boardman explains. "Sometimes if I had a magic wand, I would get rid of everybody's stress, but that isn't realistic. And so what are the ways we can build these uplifts into our everyday lives?"
Learn more about SurvivorNet's rigorous medical review process.