Mom Battles Glioblastoma After Ear Infection Misdiagnosis
Sarah Witcomb, 50, spent much of the year in and out of the hospital battling what doctors initially diagnosed as an ear infection. Her headaches became so severe that she lost the ability to use her legs and arms before suffering a stroke-like episode.
That prompted her husband, Adrian, to take her to the hospital and demand more tests be run, at which point doctors discovered Witcomb had stage IV glioblastoma. She started treatment soon after and has received chemotherapy or radiation every day for the past six weeks. Her neighbor is also raising money in hopes that she can afford immunotherapy treatment.
The standard of care treatment for a GBM patient usually consists of a surgical resection followed by radiation therapy and chemotherapy. The other option is to enroll in a clinical trial.
A loving mother and wife is fighting for her life after being diagnosed with stage IV glioblastoma.
Sarah Witcomb, 50, spent much of the year in and out of the hospital battling what doctors initially diagnosed as an ear infection.
Read More
Things then got worse in late September when Witcomb began experiencing severe headaches that would leave her unable to move her legs and arms. It all culminated with a stroke-like episode, prompting her husband Adrian to demand doctors order further testing and blood work.
Those results revealed that Witcomb did not have an ear infection but a large, inoperable tumor in her brain.
Days later, Witcomb began her battle with glioblastoma.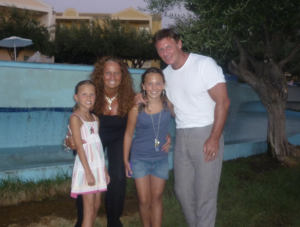 Related: Desperate Parents Fight To Save Daughter, 6, Battling Stage IV Neuroblastoma After Her Symptoms Were Dismissed As Growing Pains
She is now six weeks into that battle, which involves a grueling course of treatments administered every day.
"We're not a famous people, just a normal family who keep ourselves to ourselves. We have been absolutely overwhelmed," said her husband Adrian in an interview with the Redditch Advertiser. "She has had the kitchen sink thrown at her, radiotherapy, chemotherapy, steroids every day for six weeks."
The family is hoping to add immunotherapy treatment to the mix, which could now be a genuine possibility thanks to a neighbor and the generosity of friends and family.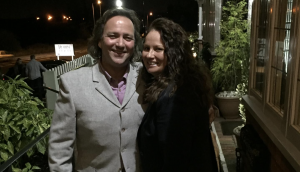 Earl Hibbert launched a GoFundMe shortly after learning about his friend and neighbor's cancer battle and is already halfway to his $40,000 goal.
"Over the last six weeks, Sarah has gone through the most brutal and ravaging rounds of combined chemotherapy and radiotherapy," writes Hibbert. "Sarah can access an additional treatment option called immunotherapy which could potentially slow the growth of the tumor; however, it 'still in clinical trials."
The entire community is now getting involved in the effort.
Witcomb's teenage daughters did their part with an interview in the local paper, sharing some touching words about their mother.
"We are all in awe of how brave she has been – she hasn't even cried and has stayed strong – mainly I think to keep us strong," 16-year-old Issobella told the Bromsgrove Standard. "Each day when she gets up, she says: 'I'm not going to let this beat me.'"
The teenager then explained that her mother had long been the caretaker for the rest of the family, putting everyone else's needs before her own.
"She is always so bubbly and full of energy – we always see her running around after everybody to make sure they're okay – she's such a wonderful mom," noted Isobel. "Now it's time for us to do something for her, and we will be grateful to anyone who can donate – however much they can give."
Related: John McCain & Joe Biden's Son, Beau, Both Died From Glioblastoma; Progress in Treating the Disease Is Slow, but Now There's a Glimmer of Hope
Battling Glioblastoma
Sarah Witcomb is now in an intense and challenging battle with glioblastoma.
But Dr. Henry Friedman, neuro-oncologist Duke Cancer Center, previously told SurvivorNet in an earlier interview there is hope.
Dr. Friedman and his Duke colleagues are investigating a new therapy that combines the modified poliovirus and immunotherapy to treat glioblastoma. "The modified poliovirus is used to treat this tumor by injecting it directly into the tumor, through a catheter. It is designed to lyse the tumor and cause the tumor cells to basically break up," he told SurvivorNet.
"I think that the modified poliovirus is going to be a game-changer in glioblastoma," explained Dr. Friedman, "but I should also say that its reach is now extending into melanoma soon to bladder cancer."
"Therapy Saved My Life": After Losing A Loved One, Don't Be Afraid To Ask For Help
Understanding the Standard of Care for GBM
The standard of care treatment for a GBM patient usually consists of a surgical resection followed by radiation therapy and chemotherapy.
A neurosurgeon will try to take out as much of the tumor as possible without causing any damage to critical brain structures. Depending on the location of a patient's tumor, sometimes the surgeon can remove the entire tumor. In contrast, in other situations, the surgeon can only remove a portion of the cancer. The goal, in both cases, is to remove the tumor in the safest way. After surgery, patients get time to heal and regain their strength, usually during four to six weeks of recovery.
The next step is to start radiation therapy and chemotherapy. Most patients who need radiation therapy will have external beam radiation therapy, which is usually given every day (Monday – Friday) for six weeks, for a total of 30 treatments. Chemotherapy consists of a drug called temozolomide (also called Temodar) that is given daily with radiation. Unlike other chemotherapies, Temodar is a pill that is taken daily and does not require an IV or port placement. After radiation, patients will get additional chemotherapy using Temodar for six months or more, depending on how they tolerate the medication.
Some physicians may also use a device called Optune, which goes on a patient's head. Several electrodes are attached to the patient's scalp to deliver an alternating electrical current. While patients do not feel this current, the Optune device improved survival and slowed tumor growth in studies. However, it's not for everyone. Patients who use Optune will need to shave their heads and wear the device for most of the day, so it's essential to discuss with your doctor whether or not it's a good fit for you.
Another standard of care option is to enroll in a clinical trial.
Related: Fighting Brain Cancer With Electric Fields — What is Optune?
Learn more about SurvivorNet's rigorous medical review process.
---