Learning About Ovarian Cancer
Sherry Pollex, the former longtime partner of NASCAR driver Martin Truex Jr. and co-founder of the Martin Truex Jr. Foundation, was praised this week as an "absolute hero" at the "Catwalk for a Cause" charity event.
Pollex, now 44, was first diagnosed with ovarian cancer in 2014 at age 35. In 2016 the cancer returned. While she beat it both times, Pollex was told in late 2020 that her cancer had returned once again.
Ovarian cancer is a type of cancer that starts in the ovaries, which are the female reproductive organs that produce eggs. Women don't often experience symptoms until it has reached later stages.
There is no screening test for ovarian cancer, but if you are experiencing symptoms, your doctor should do a workup to determine if you have cancer. This will consist of a health history check, a physical exam, and a trans-vaginal ultrasound.
Ovarian cancer warrior Sherry Pollex, 44, the former longtime partner of NASCAR driver Martin Truex Jr. and co-founder of the Martin Truex Jr. Foundation, was recognized with a round of applause this week at the foundation's signature charity event "Catwalk for a Cause."
Although Pollex, a champion for cancer survivors who has been battling ovarian cancer since 2014, was not in attendance at the event, the hosts and attendees proudly offered their support, loudly cheered her on, and praising her as an "absolute hero."
Read More
Before Pollex's standing ovation took place, one of the hosts told the crowd, "Before we get started, though, I do want to acknowledge Sherry Pollex. Unfortunately, she is not here with us this evening but she is watching tonight. "She has been such an instrumental part of this event for many, many years. She's made it what it is. Yes."
RELATED: Sherry Pollex & Her NASCAR Ex Martin Truex Jr. Still Working Together– Their New Way To Raise Money For Cancer
The other host, NBC's Rick Allen, chimed in as a photo of Pollex at a previous "Catwalk for a Cause" event appeared on the screen, saying, "An absolute hero, right there."
He continued, "Absolute hero. Standing ovation for her. She has been amazing."
At the Catwalk tonight, the crowd gave a standing ovation to recognize Sherry Pollex, who is unable to attend the annual charity event. Sherry has been posting on Instagram about the kids who are walking tonight with drivers. Livestream: https://t.co/ydk9DTUNbf

— Bob Pockrass (@bobpockrass) September 13, 2023
The co-hosts pointed out how the event first took place 13 years ago and how much it has grown, starting out with 50 guests and $7,000 raised.
"And if you fast forward to just last year, 400 guests and $7,000 raised," they continued.
The charity event features models, ranging between the ages of 3-and-a-half and 15, who are currently battling cancer, going through treatment, or are in remission.
The MJT Foundation's website explains, "Since its inception in 2010, Catwalk for a Cause has continued to grow each year while raising over 4.5 million dollars for cancer initiatives!"
The foundation's mission is "dedicated to raising awareness, boosting advocacy and raising funds for underfunded childhood and ovarian cancer initiatives."
RELATED: How Sherry Pollex, Ex of NASCAR's Martin Truex Jr., Is Doing Nearly 10 Years After Beginning Ovarian Cancer Battle: How Treatment Has Progressed
Pollex, who experienced a few years in remission only to have her cancer return last year, is also the founder of the Sherry Strong Integrative Medicine Oncology Clinic at Novant Health in Charlotte, North Carolina.
We admire Pollex for continuing to make the most out of each day despite her cancer having spread to her lung and esophagus. Meanwhile, doctors informed her that her cancer can't be removed via surgery and that it has become "platinum-resistant," meaning it no longer responds to mainstay chemotherapy drugs that are platinum-based.
Despite the challenges that lie ahead, Pollex has remained positive and strives to give back to others.
"If you really look at your life, no matter what your situation is and how bad your disease is, there's always something to be thankful for when you wake up in the morning," Pollex told Coping Magazine a few years back.
Some images from the Catwalk for a Cause, the annual Martin Truex Jr. Foundation fund-raising event where drivers walk the runway with children battling cancer. https://t.co/NoE48tg5Ze pic.twitter.com/pWkMA4kefG

— Bob Pockrass (@bobpockrass) September 14, 2023
"But even on the days when I didn't feel good through chemotherapy, I tried to find small moments of gratitude throughout the day."
Pollex has also found success in writing her blog and managing the Sherry Strong website. Through all of her hard work, though, she's learned that she "can't do it all." But she's found ways to manage her time in the best way possible.
"On those days when I feel overwhelmed, I just take a step back and remember what's really important to me and what I need to work on first," she told the magazine. "And most of the time, it's taking care of me first, and then everything else comes second."
Fighting 'Platinum Resistant' Ovarian Cancer
Pollex previously opened up to SurvivorNet, explaining how it's difficult to picture herself as a warrior when she's in "fight or flight mode."
"We get to this point when we want to live so bad, we'll do anything to survive," Pollex, who is known in the racing community for her strength and courage, said. "To me the definition of a warrior is someone who won't stop. I would hope anyone in my situation would do that."
She first learned she had Stage 3C ovarian cancer in July 2014. "That's when they found it had spread from the ovaries through the peritoneal area (space in the abdomen that contains organs). It looked like a bomb went off inside of my body. I had tumors from my ovaries all the way up to my rib cage," she recounted.
RELATED: Ovarian Cancer Survivor Stresses the Importance of Finding the Right Counselor to Support You Through Your Journey
However, Pollex, who had no history of ovarian cancer in her family, admitted that she learned to see her cancer as "a badge of honor."
Meanwhile, Pollex and her former longtime love, NASCAR driver Martin Truex Jr., recently broke up. Truex Jr. took to his Instagram to say, "I will continue supporting Sherry moving forward."
Despite the sad news and no recent updates this summer on Pollex's current health condition, we're hopeful she's continuing to remain optimistic and enjoy life as it comes.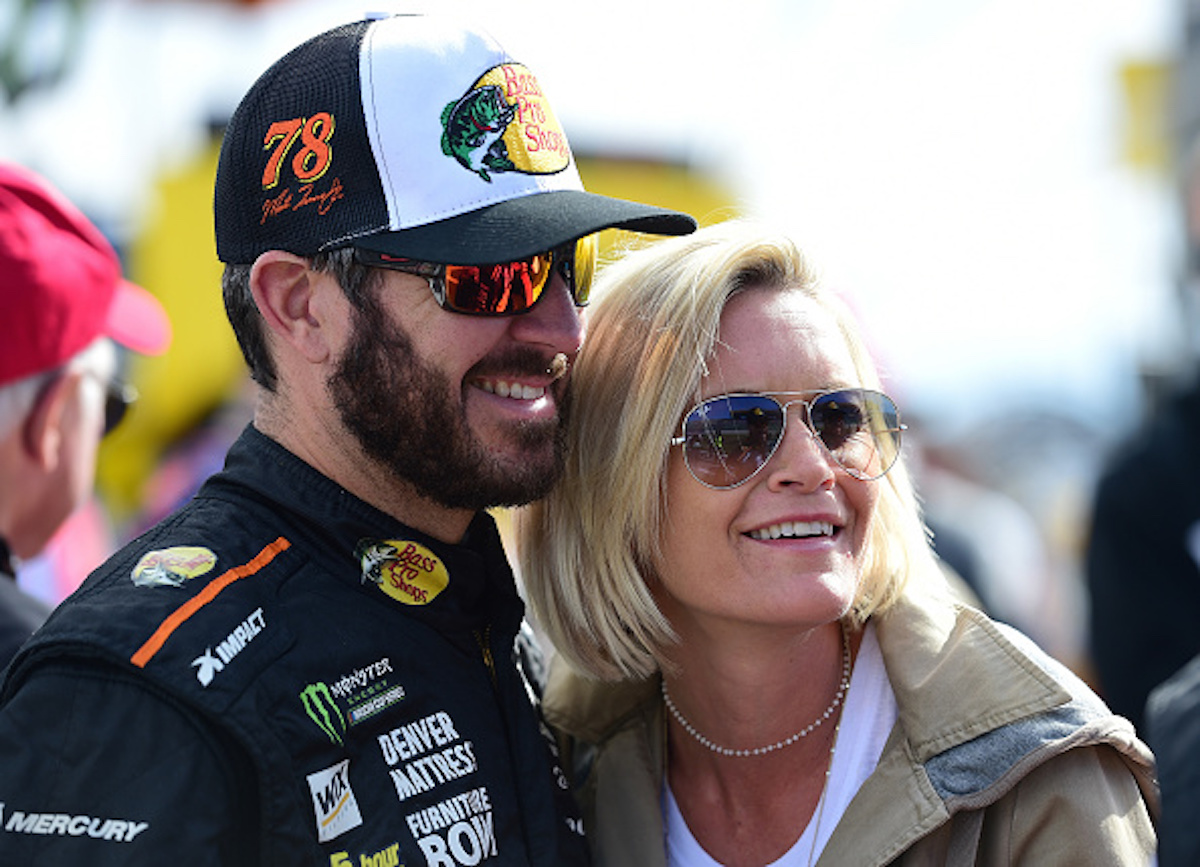 Sherry Pollex's Ovarian Cancer Journey
In 2014, at age 35, Sherry Pollex was diagnosed with stage 3C ovarian cancer, meaning the cancer had spread from her ovaries to her abdomen. Her doctors told her that her chances of survival were just 30% over the next five years, TobyChristie.com previously reported.
Now, nearly 10 years later and counting, Pollex continues to live a full life with cancer. She has entered remission a number of times. Her cancer returned in July 2022 and spread to her lung and esophagus.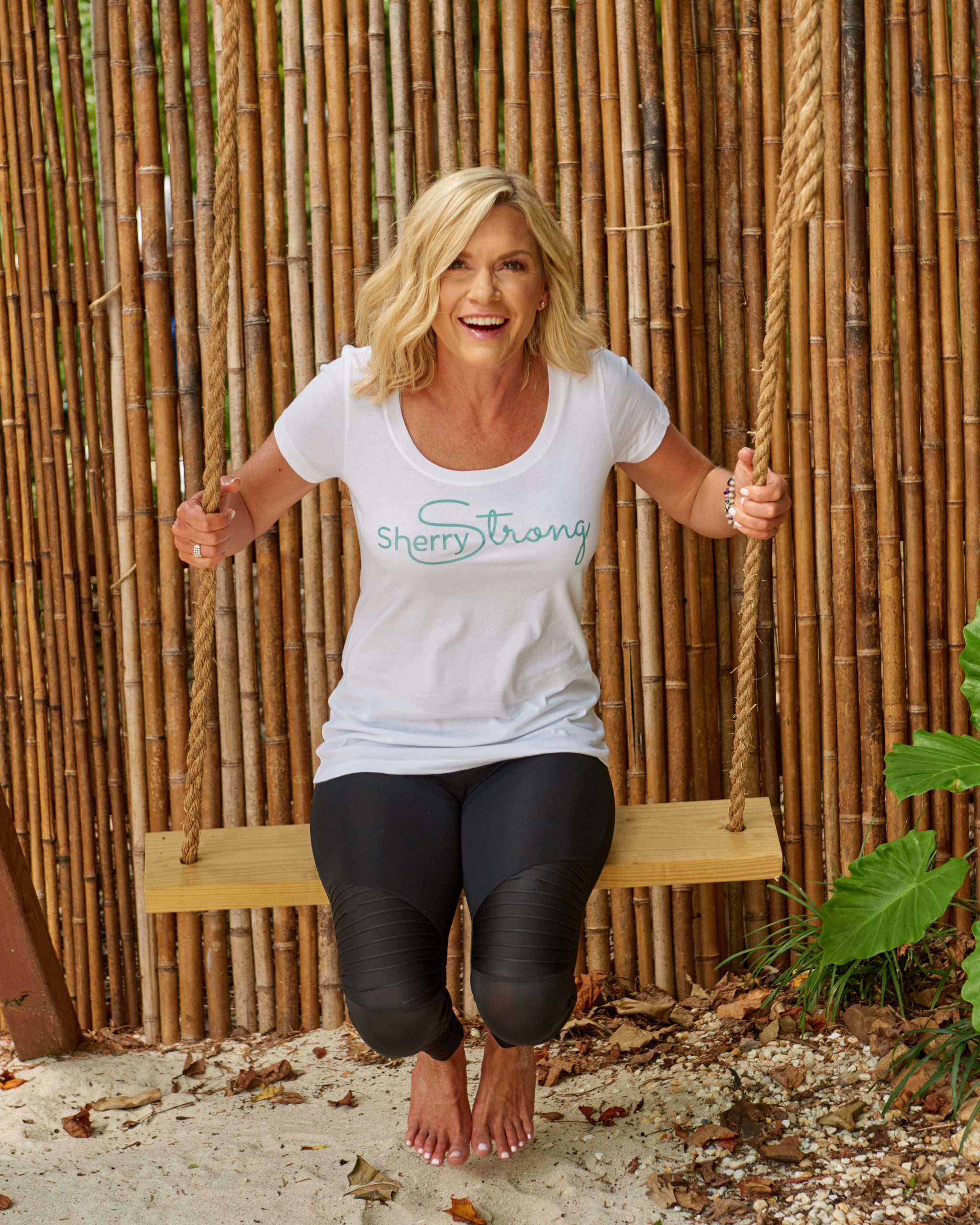 The last time Pollex underwent chemotherapy, a few months before her latest recurrence, was when she discovered her cancer was what they call platinum-resistant," so she and her medical team are determined to find other options.
Pollex previously underwent her first debulking surgery, which took eight hours, in August 2014 at Novant Health in Charlotte. Debulking is important when the cancer has spread throughout the belly. One report said she had 40-50 tumors.
However, she can't confirm that, saying instead, "If you picked up a handful of sand, it was like that, plaque-like tumors blanketing my peritoneal area. I had a radical hysterectomy, liver resection, colon resection, appendectomy, stomach scraped. It was intense. Waking up after that surgery, was like, 'Whoa. You've gotten cut from your sternum to your pubic bone.'"
Six rounds of IV chemotherapy followed, using a port near her rib cage.
"For eight hours they chemo wash you. They turn you around. Every 8 hours. That was the toughest six months of my life." And that's when she stopped recognizing herself. "You weigh 80 pounds, no hair, no eyelashes."
She recovered and had a reprieve until the cancer returned 15 months later, in her spleen and liver. Another surgery was on the horizon and six more months of chemotherapy.
How Do You Diagnose and Treat a First Relapse?
In 2017, she started taking a drug called a PARP inhibitor, which prevents cancer cells from repairing their damaged DNA and multiplying.
Pollex also got into integrative modalities and noticed another area for improvement in the cancer world.
"There's such a breakdown in our system of teaching cancer patients how to take care of themselves after we pump them full of drugs. You cannot be in the same environment you got sick in. We need to be teaching patients that," she said.
Learning About Ovarian Cancer
Ovarian cancer, like what Pollex has, is a type of cancer that starts in the ovaries, which are the female reproductive organs that produce eggs. It is often called the "cancer that whispers," as women don't often experience symptoms until it has reached later stages, says Dr. Beth Karlan, director of the Women's Cancer Program at the Cedars-Sinai Medical Center.
Ovarian Cancer: The Cancer That Whispers
Recognizing ovarian cancer warning signs is extremely important. If symptoms do present, they may include:
Feeling full earlier/decrease in appetite
Feeling bloated
Changes in bowel habits
Pain in the pelvis
Urinary symptoms, such as an urgent need to go
Extreme fatigue
Abdominal swelling
Pain during sex
Dr. Karlan tells SurvivorNet that she and many other doctors urge women to be vigilant of changes to their bodies and get the tests and screenings they need. Due to many of these symptoms being associated with women's menstrual cycles, it may be necessary to be insistent with doctors who may want to write off symptoms.
RELATED: Ovarian Cancer: If You Feel Something, Get Tested
In her conversation with SurvivorNet, Dr. Karlan pointed out the average delay from the time a woman notices symptoms to the time that she is diagnosed with ovarian cancer is around 9 months.
"That's why, if you do have these symptoms, even if it's only for two weeks, but they're happening everyday and seem to be getting worse, you should call your doctor and say, 'I'm having these symptoms. I'm concerned it could be ovarian cancer. Can I have an ultrasound and a CA-125,'" Dr. Karlan said.
Contributing: SurvivorNet Staff
Learn more about SurvivorNet's rigorous medical review process.
---