A single mother struggling to beat multiple myeloma after being misdiagnosed with arthritis is running out of treatment options.
Nicole Harris started to experience symptoms such as increasingly intense back pain two years ago, which eventually left her unable to perform even the most basic of tasks.
Read More
"At that time I couldn't walk. I couldn't bathe myself. I couldn't do anything," Harris tells
CBS 4
.
The pain eventually forced her to seek treatment at which time doctors performed blood work and did a bone marrow biopsy.
Those tests revealed Harris, 49, had multiple myeloma and not arthritis.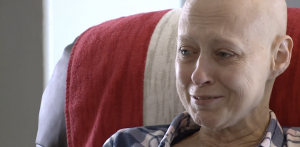 Related: Single Mom Of Four Told Her Constant Itching Was Due To Pregnancy Is Battling Lymphoma After Doctors Discover Softball-Sized Tumor
As the lone caretaker for three children, Harris worried about how she can balance her cancer battle and child care while affording her treatment.
"They told me if I was going to have cancer, this is the one to have because it's very treatable," recalls Harris. "That gave me a lot of hope then, it wasn't going to be this bad."
Harris soon began her treatment plan of chemo and a stem cell transplant.
It failed.
She then did eight rounds of chemo.
It failed.
Finally, she managed to qualify for a trial at MD Anderson Cancer Center in Houston.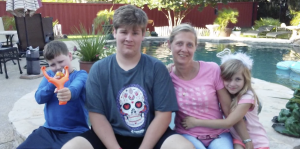 Related: Single Mom And Caregiver To Adult Daughter With Down Syndrome Diagnosed With Multiple Myeloma After Her Children Notice She Is Shrinking
The problem is that Harris is a Louisiana resident, which means Medicaid will not pay the $40,000 for her to have this surgery because it is out of state. And Harris has been unable to work cleaning houses while she is receiving treatment.
"There's no way I could come up with that kind of money," explains Harris. "I mean I'm sitting here with a treatment that could give me years right in my grasp, and I couldn't have it."
Then, just as it seemed as though all hope was lost, Harris learned that a facility in New Orleans would be conducting the same clinical trial she could not afford in Texas.
The trial just days away there is now a new, and likely insurmountable problem.
Harris' plasma cell numbers have dropped too low for her to qualify for the trial.
Related: Single Mom Discovers Breast Cancer Lump During Wedding Dress Fitting Six Days Before Ceremony And Beats Disease Twice Before Terminal Diagnosis
She has multiple broken bones. Lymphedema from the build up of fluid in her hip and leg. And the chemo drug doctors want to try can't be administered until they have Medicaid approval, which they are still waiting for after two weeks.
It will also be two weeks until Harris can see a doctor but through this all her only concern is her children.
"That is the hardest part. It's very hard. It breaks my heart. I feel like I'm failing them," says Harris.
Diagnosing Multiple Myeloma
Multiple myeloma is caused by an overproduction of plasma cells, a specific immune cell found in the bone marrow. It is a hematologic cancer, like leukemia and lymphoma, which are notoriously difficult to diagnose.
"The reason is because sometimes the symptoms are non-specific," Dr. Nina Shah, hematologist at UCSF Health previously explained to SurvivorNet.
The symptoms of multiple myeloma are general and subtle, which means that many individuals are misdiagnosed like Nicole Harris and that most physicians will not immediately check for cancer.
Some of the most common symptoms and signs of multiple myeloma include:
Anemia–Low levels of circulating red blood cells caused by the overproduction of plasma cells. These cancerous cells, known as myelomas, hinder the production and decrease the effectiveness of other immune cells, such as red blood cells. The anemia can cause weakness, fatigue, dizziness, shortness of breath, and problems with blood clotting.
Bone fractures–Patients are more susceptible to fractures than the general population and may experience repeated breaks in their bones. This is because the myeloma cells release abnormal proteins into the body that activate the cells that break down bones and deactivate the cells that build up bones. If the bones of the spine become involved, injury to the spinal cord can cause pain and numbness in the arms and legs.
Kidney failure–Abnormal proteins found in the blood or urine which are produced by myeloma cells may cause kidney damage and eventually failure.
Urinary issues–The damage to the kidney can also cause problems with urination.
Confusion–Confusion is caused by high levels of calcium in the blood, a condition called hypercalcemia. This occurs because damage to bones causes calcium to be released into the bloodstream.
Recurrent infection–Multiple myeloma compromises the immune system because cancerous plasma cells can crowd out and impair the function of healthy immune cells. In some cases, recurrent infections may be the first apparent symptom of multiple myeloma. The most common infection is pneumonia.
"Patients presenting with any of those symptoms, we tend to work up very quickly for multiple myeloma," explained Dr. Shah.
Individuals who have any of these symptoms should talk to their physician and request testing.
What Increases Risk Of Multiple Myeloma?
Nicole Harris' multiple myeloma diagnosis was a surprise to the single mother, who had none of the risk factors that make an individual more likely to be diagnosed with the disease.
Many diagnosed with the rare cancer do not exhibit any risk factors, but individuals who do should be on the lookout if they begin to experience symptoms.
These risk factors include:
Age-Individuals in their 60s are more likely to be diagnosed with multiple myeloma, although it is possible to get diagnosed earlier in life like single mom Harris.
Family history-Those with a sibling, parent, or close relative with multiple myeloma are at an increased risk of being diagnosed with the disease in their lifetime.
Gender-More men are diagnosed with multiple myeloma than women, but only by a narrow margin.
Race-African Americans tend to have higher rates of this disease and Asian Americans are least likely to get multiple myeloma.
Monoclonal gammopathy of undetermined significance (MGUS)-Individuals who have too much monoclonal protein in the bone marrow and blood are at higher risk. MGUS is rare, and the risk that it will turn into multiple myeloma is only one percent each year.
"You should not be too concerned even if you have a family member with myeloma or MGUS, you have a slightly increased risk but that is still very, very low, and there's no reason to screen for MGUS or multiple myeloma," Dr. Jens Hillengass, chief of myeloma, Roswell Park Comprehensive Cancer Center, explained to SurvivorNet.
Learn more about SurvivorNet's rigorous medical review process.
---