Sometimes during a woman's cancer journey, unwanted advice from outsiders, however well-meaning, can cloud the path to recovery. Even more challenging is when this advice borders on criticism. When a cancer voyager faces these obstacles, fellow survivors will often urge her to focus on the positive, screen out the noise and stay on the path to recovery.
TV star Beth Chapman, wife of Duane "Dog the Bounty Hunter" and an acclaimed bounty hunter in her own right, has decided to focus on her optimism and block out negativity and busybody behavior during her unfortunate family feud with her stepdaughter, which has distracted from her cancer battle.
Read More
On
Thursday
and Friday, we told you how Beth has expressed hurt and sorrow over her stepdaughter allegedly not wishing her well for mother's day; not inviting her to the graduation of Dog's granddaughter; and supposedly blocking her and Dog on social media platforms. And as the disagreement between stepmother and stepdaughter drags on in the very public forum of Twitter, Beth is standing up to trolls who are criticizing how she's addressing the disagreement with stepdaughter Lyssa.
"I'm just blocking and deleting today," she said of cutting off social media trolls who criticize and harass her despite the fact that she's a cancer survivor currently in, as she's put it, the fight of her life. "I take no s— remember that! This feed is not for your opinions it's for mine! Got it," a defiant Beth, 51, wrote.
Im just blocking and deleting today. I take no shit remember that ! This feed is not for your opinions it's for mine ! Got it

— Beth Chapman (@MrsdogC) May 24, 2019
She was responding to a troll who crashed a Twitter comment field and suggested that Beth's social media airing of family dirty laundry was not constructive.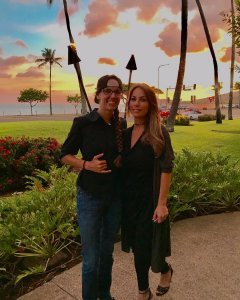 A user named Ashley had made the insensitive comment that "her posting their personal problems online just fuels the fire and creates an even bigger fire. I get she's just trying to reach out to [Beth's stepdaughter] baby Lyssa but it's obvious she doesn't want to be reached this way. It just makes it worse," said "Ashley".
To which Beth responded: "Ashley maybe you don't get that it's none of your business and your opinion is not wanted or needed here I'm 52 years old and I been her mom a long ass time I obviously know far more than you so sit down and shut up or get off my page !"
To recap the family issues at hand: after Beth's public statement of distress over stepdaughter Lyssa, 31, not sending her Mothers Day wishes, not inviting her to the graduation of Lyssa's daughter Abbie, and blocking Beth and Dog on social media, Lyssa had responded publicly saying all this was not true.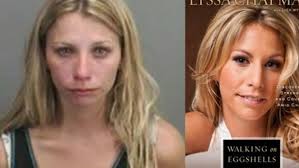 In fact, Lyssa argued, she HAD wished Beth a Happy Mother's day, did not block her on  social media, and hadn't invited Beth and Dog to the graduation because she knew they were already planning at that time to be gone from the islands of Hawaii, where the graduation was taking place.
"I spoke to Dad yesterday," she said, on Thursday, of her alleged interaction with her father Dog.
And in an icy coda her rebuttal, Lyssa added that "If your intent was to hurt me or Abbie with lies….Don't worry. You didn't. I am so excited, happy and proud there is nothing you can do to dull my or Abbie's shine. As we both know you never intended to be home in Hawaii this week and I'm sorry you feel some type of way. You want to talk, you got my number."
But Beth, despite her cancer struggles, wouldn't back down. She believes the Mothers Day message Lyssa says she sent was actually from Beth's other grandchild, not Lyssa. And so she responded promptly to Lyssa on Friday morning that "Maddie texted grandma you did nothing as usual we didn't know when Abbie's grad was, yes we would have been there! your not off the hook Lyssa you Invite your parents regardless I bet Leigh's parents we're invited. we could have been home in time you chose not to even tell us."
(Maddie is Lyssa's other daughter, by a different man than Abbie. Leigh is presumably Leiana Everson, Lyssa's current romantic partner)
Maddie texted grandma you did nothing as usual we didn't know when Abbie's grad was, yes we would have been there! your not off the hook Lyssa you Invite your parents regardless I bet Leigh's parents we're invited. we could have been home in time you chose not to even tell us https://t.co/gzhMW2km1p

— Beth Chapman (@MrsdogC) May 24, 2019
On Saturday, Beth's many social media fans were quick to defend her and celebrate her announced decision to focus on the positive in the face of her cancer battle.
"Purge away Beth. Negativity is a snack for cancer. My s/o is stage 4 urothelioma so we "'try to keep drama minimal'," wrote one woman.
Trolls "think @MrsdogC should dote on their every whim & whine but dont care that she has her own health she NEEDS to take care of!! TRUE FANS understand that!!" wrote another woman fan.
Lyssa, known as Baby Lyssa, is Beth's stepdaughter and the ninth of Duane's 12 children (Lyssa's mother is Duane's third wife, Lyssa Rae Brittain). The graduating granddaughter in question is Lyssa's first daughter Abbie, who was born when Lyssa was only 15. The 24-year-old father was arrested for statutory rape. Lyssa would later go on to marry and divorce a different man. She is now engaged to a woman with whom she operates a tanning salon in Hawaii.
When it comes to Beth, she has been very open about her cancer battle this time around — and the ups and downs of facing cancer in the public eye. She was diagnosed with cancer for a second time in late 2018. And even though she's been open about the journey she is on over the past few months, it's unclear what kind of treatment she is currently undergoing. On Mother's Day, in Beth's first public speaking appearance since she was diagnosed again, Beth told congregants at the Source Church in Bradenton, Florida, that she is not undergoing chemotherapy  — and that she's really putting her faith in God as she battles the disease. "This is the ultimate test of faith," Beth said during the event. "It is the evidence of things hoped for, and it is the substance of things not known. And although chemotherapy is not my bag, people, sorry, that's not for me. So for me, this is the ultimate test of faith."
For a long time, chemotherapy was considered the standard of care for people with stage 4 lung cancer — but times have changed over the past decade or so. Precision medicine, or matching treatment to the biology and characteristics of a specific tumor, has made major headway when it comes to treating advanced lung cancer. Targeted therapy seeks out very specific cancer cells and leaves the healthy cells alone. Chemotherapy tends to cause a lot of collateral damage because it kills all fast-growing cells — both healthy and cancerous.
Still, it's unclear if Beth is using targeted therapy or some other form of cancer treatment. We do know that she's still completely committed to continuing her life's work — bounty hunting. Dog and Beth have been filming their new reality show "Dog's Most Wanted," which will air on WGN America — though an official release date has not been announced yet.
As for Lyssa, she too has turned away from the controversy and is focusing on positivity, hope and love for those she's lost. This weekend, as well as celebrating Abbey's graduation, she also posted a poignant photo of her sister "BK" whom she lost in 2006.
Dog's daughter, Barbara Katy Chapman, died in a car wreck at age 23 on the eve of his wedding to Beth.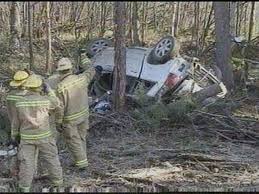 A stolen SUV carrying Barbara and another person hit went off the road and hit some trees near Barbara's Fairbanks, Alaska home. After consulting with a minister, Dog and Beth proceeded with the nuptials despite the tragedy. They announced Barbara's death during the wedding.
Beth, too, is expressing feelings of resilience, endurance and faith in the face of her cancer. This weekend she posted an inspiring religious quote from the New Testament: "I can do all things through Christ who strengthens me", accompanied by a block quote about refusing to quit and a picture of a male lion and his cub.
View this post on Instagram
Beth has long been open about her deep Christian faith and how she's leaning on Jesus Christ during her cancer battle.
Learn more about SurvivorNet's rigorous medical review process.