Cancer Checkups
Erin Andrews was diagnosed with cervical cancer in 2016, but she underwent successful surgeries for treatment. Unfortunately, though, she has struggled with fertility ever since.
Early detection of cervical cancer is crucial to both survival rates and fertility options, so regular Pap tests are key.
Andrews recently posted that she had her 5 year cancer checkup. The lingering fear of a cancer recurrence, often referred to as "scanxiety," is a very real thing for many cancer patients, but focusing on things you can control can help ease the anxiety.
Being in remission, unfortunately, does not mean that cancer has left your mind. There's a whole range of experiences you can have when going to cancer checkups, and cervical cancer survivor Erin Andrews recently shared that her visits help her gain "perspective" every time.
Erin Andrews has achieved her childhood dream by fighting her way to the top of the male-dominated sportscasting world. The 43-year-old cancer survivor has also become a successful TV personality, podcaster and clothing-line designer. Nothing seems to slow her down, but thinking back on her past has really helped her appreciate where she is today.
Read More
RELATED: Sportscaster Erin Andrews Appears Stronger Than Ever 4 Years After Beating Cervical Cancer, Promotes Her Line Of Fan Gear for Women
In an Instagram story, Andrews shared a revealing update about her five-year cancer checkup.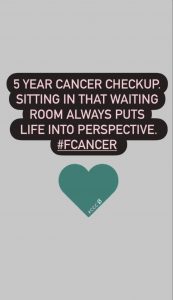 "Sitting in that waiting room always puts life into perspective," she wrote.
This visit should hopefully bring news of another cancer-free milestone, but there's a lot more to it than that. Andrews surely knows that these checkups can be as celebratory as they are anxiety-inducing and reflective.
Andrews' Cancer Journey
Andrews' cancer story began in 2016 when doctors discovered her cervical cancer during a routine pap screening – thankfully, the cancer was in an earlier stage. She then had In Vitro Fertilization (IVF) to preserve her fertility before two surgeries for treatment. But, unfortunately, she's struggled with fertility ever since.
RELATED: 'I Am Not Keeping it a Secret Anymore!' Says Sports Reporter & Cervical Cancer Survivor Erin Andrews in Powerful Essay about Fertility Difficulties
In an essay posted to Bulletin on Aug. 26, 2021, entitled "My seventh time doing IVF, I am not keeping it a secret anymore," Andrews gave more insight into the struggles she's faced as she and her husband, NHL player Jarret Stoll, try to start a family. In particular, she discussed the difficulties of IVF treatments.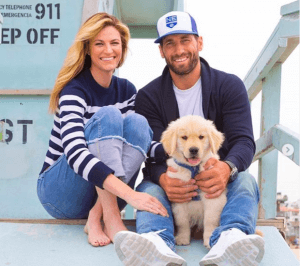 "For those familiar," she wrote, "you know it's a time-consuming and emotionally draining process. This is my 7th one, and I've been going through these treatments since I was 35 years old."
Andrews has even made time for her fertility treatment during her TV-personality schedule.
"It's really really hard, I'll say, to do it during football," Andrews said in an earlier interview for The Carl Watson Show. "I've tried smuggling in IVF needles into a big NFL game and looking at the clock when it's time to go, and you look at your security and you're like, 'I gotta go stab myself in a bathroom really fast, you mind taking me up?'"
But despite her struggles, she's been open about her cancer journey to help educate others and advocate for young women to stay up-to-date on their cancer screenings – an important message since women who are diagnosed at a later stage of cervical cancer may have to undergo more aggressive treatment.
Cervical Cancer Survivor, Hannah Park, Was Shocked After Her TikTok Video Went Viral. "I Never Expected Anything Like That to Happen at All."
"It makes the struggle not seem as difficult and it makes you feel like you're not alone," Andrews said.
Understanding Cervical Cancer
Cervical cancer begins in the cells lining the cervix – the lower part of the womb (uterus). Treatment options for cervical cancer include surgery, chemotherapy and/or radiation therapy. HPV (human papillomavirus), a sexually-transmitted virus, causes more than 70% of cervical cancer cases.
RELATED: A Woman with Stage Three Cervical Cancer Thought her Dream of Motherhood Was Over – Until She Found a Surrogate in the Operating Room
Every year in the United States, approximately 14,480 women will be diagnosed with cervical cancer. Cervical cancer screening is critically important because an earlier diagnosis can mean a better prognosis with broader treatment options. The American Cancer Society recommends that cervical cancer screening begins at age 25, and people aged 25 to 65 should have a primary HPV test, an HPV test done by itself for screening, every 5 years. If primary HPV testing is not available, however, screening may be done with either a co-test that combines an HPV test with a Papanicolaou (Pap) test every 5 years or a Pap test alone every 3 years.
RELATED: New Hope for Patients With Cervical Cancer: Adding Immunotherapy Drug to Standard Chemo Treatment Could Improve Survival Time
Should I Give My Kids the HPV Vaccine? A Leading Doctor On Why She Says "Yes!"
The most common symptoms of cervical cancer can include:
Abnormal vaginal bleeding, such as bleeding after vaginal sex, bleeding after menopause, after douching, bleeding and spotting in between periods or having heavier or longer (menstrual) periods than usual.
Unusual discharge from the vagina that may contain some blood and may occur between your periods or after menopause.
Pain during sex.
Pain in the pelvic region.
Cancer Checkups
The lingering fear of a cancer recurrence, often referred to as "scanxiety," is a very real thing. Some handle it better than others, but it's very understandable and okay to struggle with the process of going in for check ups once you're in remission. For those people who are able to turn these check-up visits into a positive, perspective-gaining event, all the power to you, but the reality is that many cancer patients report that waiting on test results is even worse than the initial cancer diagnosis.
RELATED: 'Kicking Cancer's Booty': 8-Year-Old Girl-Scout-Cookie-Selling Phenom Handling Cancer Remission Check-Ups with Ease
Unfortunately, we know that no one is truly ever "safe" when it comes to cancer, but survivors often feel less and less anxious as more time goes by. And although it can be very scary awaiting these uncontrollable results, sometimes it can help to focus on the things that are in your control.
Dr. Ken Miller from University of Maryland School of Medicine tells SurvivorNet the most important ways to stay healthy in between scans to help prevent another cancer diagnosis.
One is exercise. I'm going to want you to be doing at least two hours a week of some exercise, and walking counts.
The second is I personally recommend a low-fat diet.
Third thing is I recommend a colorful diet. So I think there's real value to fruits and vegetables.
And the fourth is trying to be close to ideal body weight.
Learn more about SurvivorNet's rigorous medical review process.
---