4 Years After Cervical Cancer, Erin Andrews Continues to Shine
Four years after being diagnosed with cervical cancer, sportscaster Erin Andrews, 42, is a mainstay on NFL commentary and women's athletic wear, a powerful example that cancer doesn't have to ruin your dreams.
Many women diagnosed with cancer worry that they won't be able to have children. Egg and embyro freezing can help your dreams of motherhood alive.
Keep up with your passions during treatment – experts say good emotional health can actually help you live a longer and better life.
Sports broadcaster Erin Andrews, 42, has thrived after beating cervical cancer in 2016, continuing to dominate the traditionally male-dominated field of sports reporting while launching her own sports apparel line exclusively for women.
Related: Cervical Cancer Survivor Erin Andrews Roars into 2020 with Drew Brees Interview
Read More
With the NFL regular season drawing to a close, Andrews appears poised to take the spotlight as she covers what will be the largest NFL playoffs in history, with 14 teams vying for a spot in the Super Bowl. She will also be the
first woman to receive the Pat Summerall Award
, a prestigious award given to a top broadcaster covering the NFL, this February.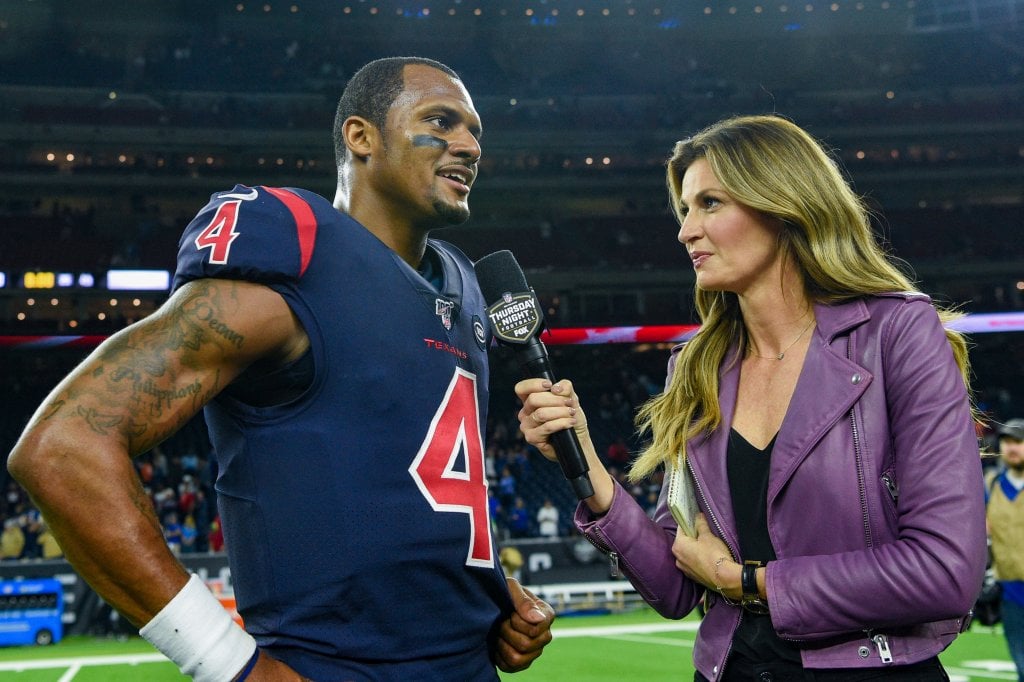 Related: Sportscaster Erin Andrews Gives Women a New Way to Love Sports — An Inspiring Cancer Survivor Story
In addition, she's achieved wild success as an entrepreneur: in 2019, she founded WEAR, a company that aims to create functional, stylish ways for women to show their team colors, in collaboration with the NFL. The company has since expanded to offer team apparel for the NBA and college football, with Andrews recently repping her alma mater, the Florida Gators.
View this post on Instagram
This success did not come without hardship (and we're not talking about her journey to break into sports reporting as a woman). In 2016, she was diagnosed with cervical cancer, and she has said she felt as if her world was crashing down.
Related: Brave Sportscaster Erin Andrews Preps For The NFL Season– Remarkably Open About Her Cancer & Fertility After Treatment
"I wasn't even engaged to my husband yet, but I got him and my parents on the phone and we all tried to figure out what our next steps would be," Andrews told InStyle in 2018. "There were quite a few tears, and I just thought, 'How can this be happening? I was totally fine a year ago—this has to be wrong.'"
Fortunately, her cancer was caught early and she was able to quickly become cancer-free after minimally invasive surgery. Erin has spoken about just how fortunate she was to catch it early and has been a vocal advocate encouraging other women to get screened.
"Even if you feel like you're healthy and you're busy, it's so important to go to the doctor."
Preserving Fertility After a Cancer Diagnosis
When Erin and her doctors agreed that surgery was the next step, she said that her fear was of not being able to start a family.
"After that first appointment … I was bawling, and wondering if I'd be able to have kids," she told InStyle in 2016. "We had to have some very real conversations."
Related: Motherhood After Chemotherapy — Yes, It's Possible; Here's What You Should Know About Fertility Preservation
For many women diagnosed with cancer, the question of whether pregnancy is still possible is at the front of their minds.
"When a women is diagnosed with cancer in her childbearing years, fertility preservation should be a part of the conversation, like it's part of the treatment plan," Dr. Jaime Knopman, Director of Fertility Preservation at CCRM NY, previously told SurvivorNet. "Everyone in their reproductive years should be advised of their options."
Related: New Cervical Cancer Screening Guidelines Recommend HPV & Pap Testing Now Start at Age 25
Surgical options like hysterectomies, which are surgical procedures which remove the uterus, can result in total infertility, but there are less invasive options that can preserve your fertility.
Dr. Jaime Knopman explains how freezing your eggs or embryos can keep your dreams of motherhood alive.
But there's reason to hope: leading oncologists say that there are many ways to preserve your fertility as you undergo cancer treatment. In the words of Dr. Terri Woodard, director of the onco-fertility program at MD Anderson Cancer Center, "It's not all doom and gloom."
The two main methods of preserving fertility are freezing your eggs and freezing fertilized embryos.
Related: Freezing Eggs or Embryos: What Should I Do?
After you finish your cancer treatment, doctors can implant these fertilized embryos into your uterus or, like Katy's case, a surrogate's uterus. If you freeze eggs, they can fertilized with sperm in vitro and then transferred.
Dr. Terri Woodard lays out the pros and cons of egg vs. embryo freezing.
These methods show incredible promise in helping you achieve your dream of having a family. One study found that women who underwent fertility preservation were twice as likely to get pregnant and deliver healthy babies.
"I'm not young, we don't know when we're gonna have a baby, we don't know if this is going to come back," Erin told Today in 2017. "One thing I love my future husband for is that our oncologist said the smart thing to do would be to have some insurance waiting — so we have frozen embryos because we've taken the steps. If we need 'em, we need 'em; and if we don't, we don't. We just wanna be smart."
The Importance of Doing What You Love
For Erin and millions of other people battling cancer, following your passions during your battle with cancer can be a critical source of normalcy and comfort during this difficult process.
Related: Do What You Love – Even if Cancer Gets in the Way of Your Dreams
Just three days after surgery, she flew to Green Bay, Wisconsin to cover a prime-time game between the Packers and Cowboys. She didn't miss a single game during the 2016-2017 season.
"That's where I feel better is on the side lines," Erin told Good Morning America in 2018. "I could actually forget about it. It is where I felt like this is me."
Taking care of your emotional health by following your passions can actually help you physically through your battle with cancer. This will help you to have a better quality of life through treatment and live longer overall.
Related: NFL Coach Ron Rivera Gushes Over Baby Shark for Kid With Cancer; Gets Special Surprise of His Own After Being Declared in Remission
"We know from good studies that emotional health is associated with survival, meaning better quality of life is associated with better outcomes," Dr. Dana Chase, a gynecologic oncologist at Arizona Oncology, previously told SurvivorNet.
"So working on your emotional health, your physical well-being, your social environment [and] your emotional well-being are important and can impact your survival. If that's related to what activities you do that bring you joy, then you should try to do more of those activities."
Dr. Chase encourages people fighting cancer to keep doing what they love.
Learn more about SurvivorNet's rigorous medical review process.