Even during a pandemic, stigma continues. Bravo Network's Andy Cohen not only survived skin cancer, but is one of a few celebrities who tested positive for Covid-19 and luckily recovered. However, in an effort to help researchers fight the virus, he shared that he was denied the opportunity to donate plasma to those battling the virus due to "antiquated" guidelines facing the gay community.
Cohen shared his experience attempting to donate plasma during a segment on his "Watch What Happens Live" show. According to Cohen, he was told that the Food and Drug Administration (FDA) requires gay men abstain from sex for three months before donating plasma, whether they are in a monogamous relationship or not. Cohen quickly points out that this rule does not apply to individuals of other sexual orientations.
Read More
Related: Bravo's Andy Cohen, Melanoma & Coronavirus Survivor, Cheers Courageous Nurses as The 'Real Housewives' of New York Hospital
"This virus is ravaging our planet," Cohen says. "The FDA says there is an urgent need for plasma from survivors. All donated blood is screened for rapid HIV, and a rapid HIV test can be done in twenty minutes or less. So why the three month rule? Why are members of my community being excluded from helping out when so many people are sick and dying? Maybe because we're valuing stigma over science? My blood could save a life but instead it's over here boiling."
The new regulations are actually considered "relaxed" compared to past restrictions. Up until April, the FDA required men abstain from sex for a year or more in order to be eligible to donate blood. In fact, Cohen isn't the only Covid-19 survivor who's frustrated with these rules.
Joseph Papa and his husband are among many Covid-19 survivors who have tried to help those battling the virus, but to no avail. Papa and his husband tested positive for the virus in early March, and once recovered, participated in a lab study for antibody tests. However, they were unable to donate blood or plasma due to the FDA's regulations.
"I would donate everyday if I could," Papa tells SurvivorNet. "But I can't."
Related: Gay Men Get More Skin Cancer– The Perils of Tanning Bed Culture
Papa also points out that many men in the LGBTQ community are taking Pre-exposure prophylaxis (PrEp) — a daily medicine taken to avoid contracting HIV and stopping it from spreading within the body. Studies have shown that since PrEp was introduced, HIV diagnoses have steadily decreased in the United States.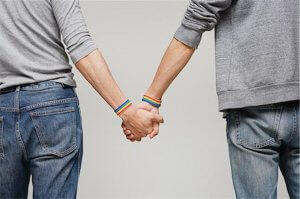 Not being able to offer assistance during this time has hit Papa and his husband especially hard. Papa says that an acquaintance reached out to him through Facebook asking whether he could donate plasma to help an elderly man who was dying from the virus. However, due to FDA regulations, he couldn't.
"It just speaks to the fact that it really is stigma over science," Papa says. "Have [patients] sign something that says 'I'd rather have this gay guy's blood than Covid-19.' It's just disheartening. That was the first direct time someone asked 'my grandfather is dying, can you help' and I had to say no. We should be the ones who are helping in whatever capacity."
Learn more about SurvivorNet's rigorous medical review process.