Mike Bayer is a life development coach who is on a mission to help people become the best version of themselves. He has worked with many A-list celebrities and makes regular appearances on national TV, including "The Talk," "The Rachel Ray Show," and recurring spots on "Dr. Phil." In a new interview, Coach Mike opens up to SurvivorNet about overcoming skin cancer and shares great advice to improve mental health during these uncertain times of social isolation.
RELATED: Mental Health Resources for Cancer Survivors During the COVID-19 Pandemic
Read More
Fourteen years ago, the 40-year old life coach noticed an unusual bump on his face and found out it was cancerous.
"My story is a lot less challenging than most," he tells SurvivorNet . "I had a skin cancer on my face and I ended up having Mohs surgery. I still have a scar left over on my right cheek. I didn't realize that maybe going to a plastic surgeon is the right route in terms of healing scars, you know?"
Bayer's mother and sister are also both breast cancer survivors. He explains that having it hit so close to home was enlightening.
"It taught me to actually listen to all the preventative health that exists out there," he explains. "I think there's levels of degrees of challenges when we're faced with different forms of cancer and the stages of it. I caught mine early on but it just taught me a lot about not doing things that potentially would put my health at risk."
Bayer adds that after the emotional roller coaster of facing the disease, he has learned to be more "supportive of others who experience challenges that are just genetic or unexpected. "
While he, as well as his mother and sister, are all now cancer free, Bayer is focusing on helping others with various issues. He opened a CAST Center in West Hollywood, California, which helps people suffering from depression, anxiety and addiction issues.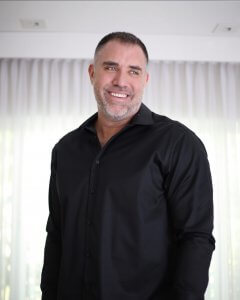 Due to the COVID-19 pandemic, Bayer has recently been forced to pivot, holding treatment meetings online via Zoom. He has also turned his podcasts into free online sessions, which are open to the public to discuss various issues people are dealing with, including episodes on resilience (which featured multiple cancer survivors), overcoming fear, finding inspiration and how to get curious about one's self during social isolation. People can sign up for Bayer's free support groups on his website.
RELATED: A Guide to Self-Soothe During the Coronavirus Pandemic
"There's so much a culture of not wanting to get COVID-19, that people are not realizing that those issues that were going on before need to get addressed," Bayer says. He also notes that there seems to be a "lack of self-care" — but the good news is, help is out there for those who need it.
"Now is such a perfect time for someone to work on their mental health," Bayer explains. "I think it's confusing right now for somebody struggling with depression or anxiety because they are like, 'Is this really about COVID-19? Or has this really been a problem for me for a long time?'"
Coach Mike's Advice: Stop Googling Symptoms
Tele-health is quickly becoming a go-to way to talk to your therapist or a doctor.
Bayer explains that trying to self-diagnose can be dangerous and could send you "down the rabbit hole." He adds that now there is now an "opportunity" to consult the "many medical professions that have gone to digital and tele-health."
"Instead of Googling symptoms you literally can have a doctor look at you and talk to you about it and I think the opportunity in all of this is it's almost changed the conversation around Googling something," Bayer points out.
He declares the days of "Googling health conditions are over."
Take Some Time Away From the News
"I feel like watching the news is like eating junk food," Bayer says. "People that have been watching the news are becoming extremely anxious and they are having a really hard time finding their purpose or refocusing."
The first step to break that cycle, he says, is to make the decision to "look at the situation differently."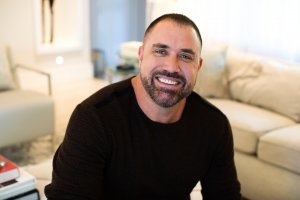 Bayer has a lot of suggestions to turn our collective downtime into a positive thing.
"I think a lot of people have an opportunity to reinvent themselves or pivot," he explains. "I think the first thing to look at is structure and routine. What is the opportunity for a healthy structure or routine?"
Bayer says, "It's awful what is happening all over the world, in terms of people dying [from COVID-19], but people in their homes, who are away from it all, are safe right now. This moment can really be an obstacle or it can be an opportunity and if we view life as an obstacle we make decisions from that point of view and then we get an outcome, which actually creates more anxiety for us."
Find Your Passion
For those struggling with what to do with your extra time while social isolating, Bayer says to ask yourself two simple questions: "What could you be doing that you haven't done because you've been so busy?" and "What makes me feel the most connected with myself and how can I do more of that during this time?"
Bayer adds, "The first step to any change you can't control is you have to truly give into acceptance. If people believe in faith, it's digging into their faith. If people believe in spirituality, it's digging into their spiritual practice. They may need to double down and go twice as hard." Sometimes it's as simple as exploring your personal development or making a list of people you care about and checking in on them. He warns against becoming a victim of these circumstances, saying, "if you become a victim, you lose your power."
It's a great time to tap back into an old hobby or to take up a new one, he says.
"Writing lists is incredibly helpful," Bayer says. "It could be a list of everything you want to get done today or it could be a list of people that you want to call today that would make you feel good. It could be making a list of the people you want to check in on to see how they're doing."
For those who are quarantined by themselves, Bayer wants you to know that you are not alone. If you are feeling isolated ask for help or reach out to a friend. There are a lot of resources out there for people that didn't exist before the COVID-19 pandemic. We're all in the same boat and together we can stay afloat.
Learn more about SurvivorNet's rigorous medical review process.
---