The cancer community expressed outrage at The Daily Mail for publishing photos of Alex Trebek outside of his L.A. home and claiming the "Jeopardy!" host looked "pale", "frail," and "almost unrecognizable" as he continues to fight stage 4 pancreatic cancer.
Fans were quick to challenge the news outlet's "gotcha" photos, taken as Trebek wheeled trash cans to the front of his Coldwater Canyon home in L.A.
Read More
RELATED: The Trebek Effect: Increase In People Looking For Pancreatic Cancer Info
"He's alive and still bravely fighting," said reader chetj. "Every man and woman fighting to live is a courageous warrior in my eyes. We love you."
Trebek recently appeared on a May 12th episode of Paula Poundstone's podcast, sounding upbeat as he described his 10-hour workdays, during "Jeopardy!" tapings.
@dailymail Shame on you for posting those spy pictures of Alex Trebek taking out the trash. Don't you have any respect for a person's privacy, particularly when they are ill?

— Harvey Levenson (@LevensonHarvey) May 28, 2020
"I don't think he looks frail at all. He looks pretty good for almost 80-years-old. I'm starting chemo next week, I just hope I look as half as good as he does," said stormtater of Fort Worth. "Here's to fighting the good fight…Cheers!"
RELATED: Alex Trebek, Stage 4 Pancreatic Cancer Survivor, Announces Forthcoming Memoir: "The Answer Is…Reflections on My Life"
"He actually looks great having stage four pancreatic cancer and 79 years old. Blessings on him!" said Mommameya of Buffalo.  Another countered in the news outlet's comment section. Maglee from CT may have put it best: "Leave the poor man alone!"
Like many celebrities facing cancer, Trebek, 79, initially considered keeping his diagnosis private. Instead, he's been open about his cancer journey, posting updates, and giving interviews to raise awareness of pancreatic cancer. This year, more than 56,000 Americans will be diagnosed with the disease, according to the Pancreatic Action Network, (PanCAN).
Hair Loss: A Positive Sign of Treatment
As those in the SurvivorNet community know, hair loss is a side effect of chemotherapy and a sign of treatment in progress. Chemotherapy drugs work by killing cancer cells—but in the process, they often kill a number of healthy cells, too, including the hair.
RELATED: "Jeopardy" Legend Alex Trebek Reveals Dramatic Hair Loss During His Brave Battle With Stage Four Pancreatic Cancer
When at home, Trebek often wears a baseball cap, but he's been open about wearing a wig during "Jeopardy!" tapings and when making public appearances.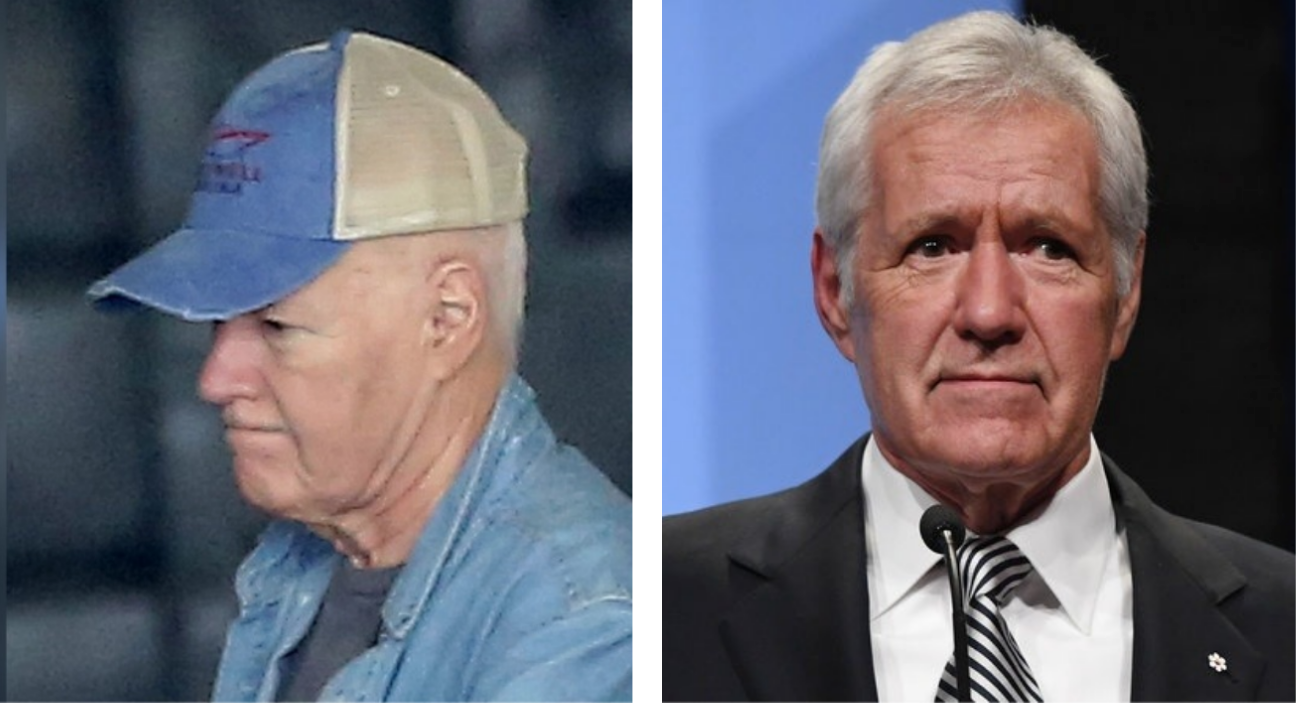 He's expressed his amusement as fans tried to guess whether he was wearing a wig for the show: "The challenge for 'Jeopardy!' viewers … is to figure out, 'Is that Alex's real hair or is that a full hairpiece?'" Trebek said.
RELATED: Inside Alex Trebek's Dramatic Cancer Hair Loss and Super-Realistic Wig
"Because they all know that when you start chemo, you lose your hair. So, which is it?" But like most patients, Trebek looks forward to its return: "Hopefully my own hair will grow back. 'Cause I like my own hair!'"
Beating the Odds
In early March, one year after his 2019 diagnosis, Trebek shared a heartwarming video update, "The one-year survival rate for stage 4 pancreatic cancer patients is 18%," he explained. "I'm very happy to report that I have just reached that marker."
While the two-year survival rate is a slim seven percent, Trebek added that he and his doctor were optimistic. In expressing hope, he included others fighting the disease in his message: 'You know something, if I — no — if we, because so many of us are involved in this same situation — if we take it just one day at a time with a positive attitude, anything is possible."
Pancreatic Cancer: The Good News
After Trebek's milestone announcement, The Pancreatic Cancer Action Network (known as PanCAN) shared new research that found pancreatic cancer patients who receive precision medicine — which is tailored to a tumor's molecular profile —  live an average of one year longer than those who do not. This is the first study to demonstrate an overall survival benefit from precision medicine in pancreatic cancer patients. Other advances:
In December, the U.S. Food and Drug Administration (FDA) issued a new approval of the targeted therapy Lynparza® (olaparib) for the treatment of germline BRCA-mutated metastatic pancreatic cancer patients – the first pancreatic cancer (adenocarcinoma)-specific approval in more than four years.
And Congress created a dedicated $6 million pancreatic cancer research program through the Department of Defense's (DoD) Congressionally Directed Medical Research Program (CDMRP). This is the first time that pancreatic cancer has had a dedicated funding program at the DoD specifically for innovative, high-impact research to accelerate discoveries of new treatments and early detection strategies.
In January, the five-year survival rate for pancreatic cancer hit 10% – the first time ever this statistic has been reported in the double digits.
Know Your Tumor To Customize Treatment
Because every pancreatic cancer patient – and every tumor – is unique, PanCAN recommends that all pancreatic cancer patients undergo testing of both their tumor tissue along with blood and saliva to identify individual treatment options for that patient. The organization offers a free Know Your Tumor precision medicine service as well as free, personalized resources on the disease.
Learn more about SurvivorNet's rigorous medical review process.
---