Jaouad Relaxes in Peaceful Cottage Amid Cancer Battle
Between Two Kingdoms author and wife of Jon Batiste, Suleika Jaouad, 34, recently shared an update with fans amid her leukemia battle. She is resting and relaxing in a beautiful cottage where she can focus on her art.
Jaouad is fighting cancer for a second time; she first battled the disease in her 20s. She has had a bone marrow transplant to treat her cancer.
Many people find solace in turning to art during the cancer journey; it can be a helpful distraction as well as an emotional outlet.
Suleika Jaouad, 34, is the bestselling author of
Between Two Kingdoms
, and she's enjoying some rest and recovery time in a gorgeous setting amid her cancer battle.
Jaouad, who is married to Grammy winner Jon Batiste, 35, recently shared a post on Instagram of her serene surroundings. We love to see her continuing to thrive through her cancer journey.
Read More
She writes, "Back in my little writing cottage and brainstorming newsletter topics. What would you be interested in hearing me riff on?"
 

View this post on Instagram

 
Jaouad also recently shared on her Instagram stories how her memoir, Between Two Kingdoms, is now officially out in twenty-one countries. It's an incredible achievement for the writer.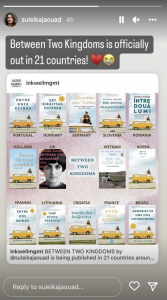 Jaouad's Leukemia Battle
Jaouad first battled leukemia in her early 20s, and again today in her early 30s. Partner Jon Batiste has supported her through her health battle. Jaouad had a bone marrow transplant for treatment for her most recent bout of cancer. A bone marrow transplant is a treatment used for some cancers, like leukemia. It replaces bone marrow with healthy cells; it is also called a "stem cell transplant."
Dr. Nina Shah, a SurvivorNet adviser and hematologist at the University of California San Francisco, explains in an earlier interview how to best understand leukemia. "One cell got really selfish and decided that it needed to take up all the resources of everybody else, and in doing so, took up space and energy from the rest of the body," Dr. Shah says.
"In general having a blood cancer means that your bone marrow is not functioning correctly," she explains. "And when your bone marrow doesn't function correctly it means that you can have something happen to you like anemia. Or you can have low platelets, which makes it possible for you to bleed easily. Or your immune system is not functioning correctly."
Speaking with Vogue magazine in an interview earlier this year, the Princeton University graduate said of her cancer, "I, today, am actually doing well. I believe I'm on day plus-32 post-transplant and I've been out of the hospital for almost exactly a week," she tells the magazine. She says she learned her illness was back in November of last year.
The New York City native says, "It's so incredibly rare, I think less than 1% of patients, according to my doctor, relapse 10 years after a bone marrow transplant. When my oncologist called me, she was in tears. Not just my world, but my partner's world and my family's world completely imploded. We had a weekend to pack up all of our things, to find temporary homes for our dogs, to find a borrowed apartment in New York City and for me to begin chemo."
Understanding the Different Types of Leukemia
Turning to Art Through Cancer
Many people, like Jaouad, turn to the arts as an emotional outlet during cancer. We love to see that she is spending some peaceful time in her writing cottage to turn to creativity during her cancer journey. Jaouad, as a writer, is likely well versed in the transformative power of the arts.
Whether you're a trained or professional artist or not, the arts can have a helpful effect during a cancer battle, or after cancer. Some people who have lost loved ones to cancer, also find healing and solace in art. James Bond actor Pierce Brosnan, 68, for example, has been vocal about using art to help heal from the grief of losing both his first wife and eldest daughter to ovarian cancer.
While going through cancer, try to find small moments of joy – be it from writing, painting, singing, dancing, or playing with your dog. Having a positive outlook and an upbeat attitude can help the cancer battle.
How I Made It Through Cancer Painting & Dreaming
Learn more about SurvivorNet's rigorous medical review process.