Helping You Cope with Colorectal Cancer
Stacey Rigby, 41, was diagnosed with bowel cancer after struggling to have a bowel movement for days. A colonoscopy helped her doctors find a four-centimeter tumor in her colon. She underwent surgery to have the tumor removed for treatment.
This kind of cancer develops in your large intestine or bowel (colon) or the end of your intestine (rectum). It starts when abnormal lumps called polyps turn cancerous.
A colonoscopy is recommended for people beginning at age 45. The procedure looks for polyps before they become cancerous. Any polyps found can be removed in the procedure.
Symptoms of bowel cancer and irritable bowel syndrome (IBD) do appear similar. However, "colorectal cancer may have additional symptoms of blood in the stool, weight loss, fatigue, and a feeling of incomplete bowel movements."
Treatments for bowel cancer can include surgery, chemotherapy, and radiation therapy. If bowel cancer is detected early, treatment can be fully effective and stop the cancer from recurring.
A brave police officer, 41, diagnosed with cancer wants others to pay close attention to their bathroom habits because she's living proof of what can happen if you don't. Stacey Rigby, who works as a police officer, said she struggled to have a bowel movement for days and admittedly ignored the blood in her stool. She chalked her unusual bathroom-related symptoms up to a new diet. However, a visit to her doctor revealed she was dealing with bowel cancer.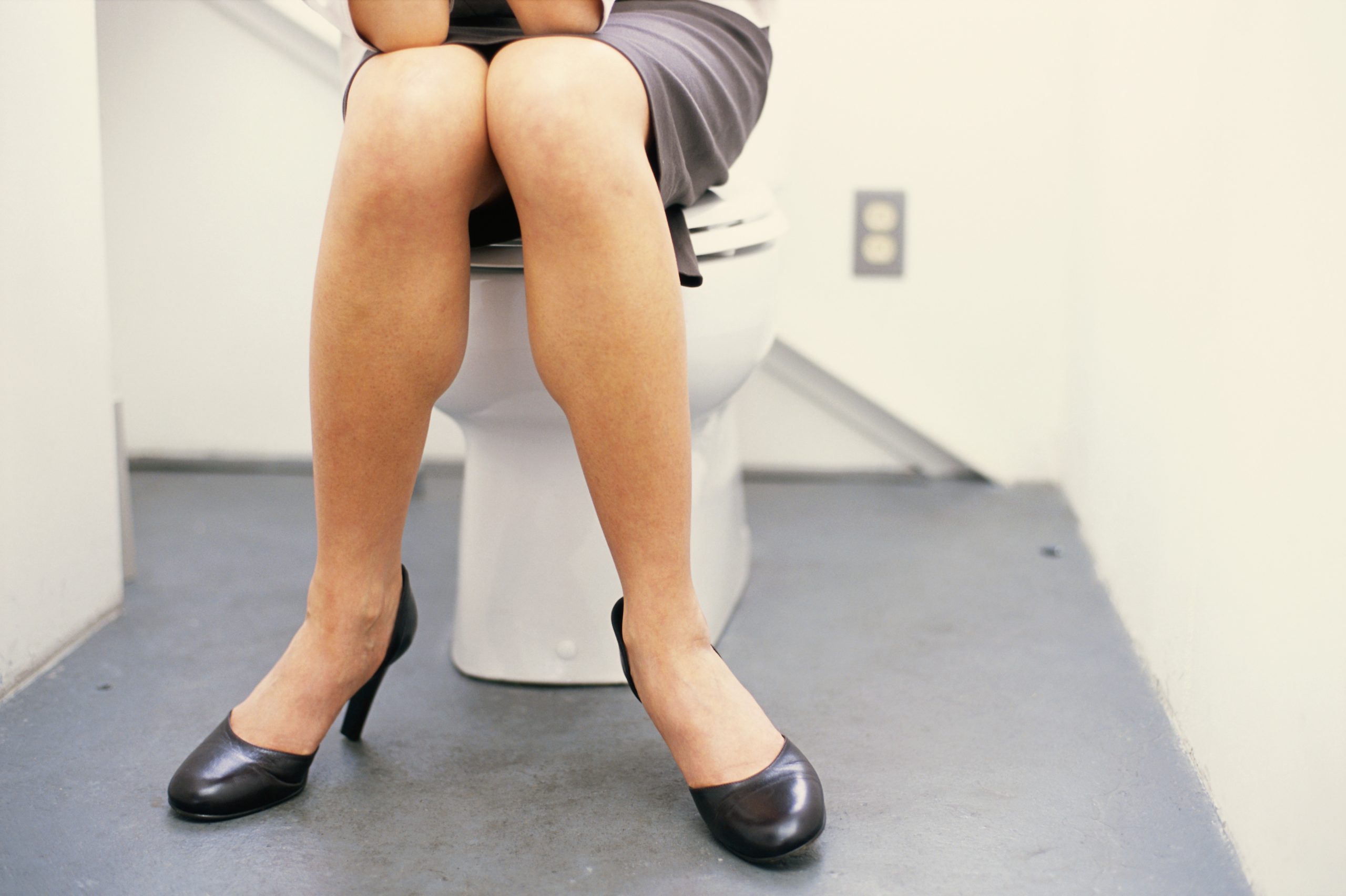 Read More
Rigby explains just before her bowel habits really caught her attention; she started a new diet and fitness regimen. "We recently joined a new gym, and I changed my diet," Rigby
explained
to U.K.-based news outlet "The Sun." Her diet consisted of omelets in the mornings for breakfast.
"I thought, 'I've not been to the toilet for a few days; have I bunged myself up with eggs?'" Rigby said.
When she finally had a bowel movement, she noticed some blood, but she assumed that stemmed from her straining a bit. During this span of time, Rigby was more fatigued than usual, but she assumed her tiredness stemmed from working long hours doing police work. After sharing her symptoms with her partner, Rigby was encouraged to contact her doctor, who performed some tests to rule out irritable bowel syndrome (IBS). IBS can cause "pain in your abdomen and changes in your bowel movements, which may be diarrhea, constipation, or both," the National Institute of Diabetes and Digestive and Kidney Disease explains.
"I was embarrassed to go to the doctor because I knew they'd want to do an examination," Rigby said. Luckily, the exam took place because doctors discovered she had a four-centimeter grade 2 tumor. She was diagnosed with bowel cancer, which came as a total shock.
RELATED: "You Shouldn't Die From Embarrassment": Colon Cancer Can Be Prevented
Bowel cancer is also commonly called colorectal cancer in the U.S. This kind of cancer develops in your large intestine or bowel (colon) or the end of your intestine (rectum). It starts when abnormal lumps called polyps turn cancerous.
Tiredness can be a symptom of colorectal cancer, along with weakness, cramps, and gas.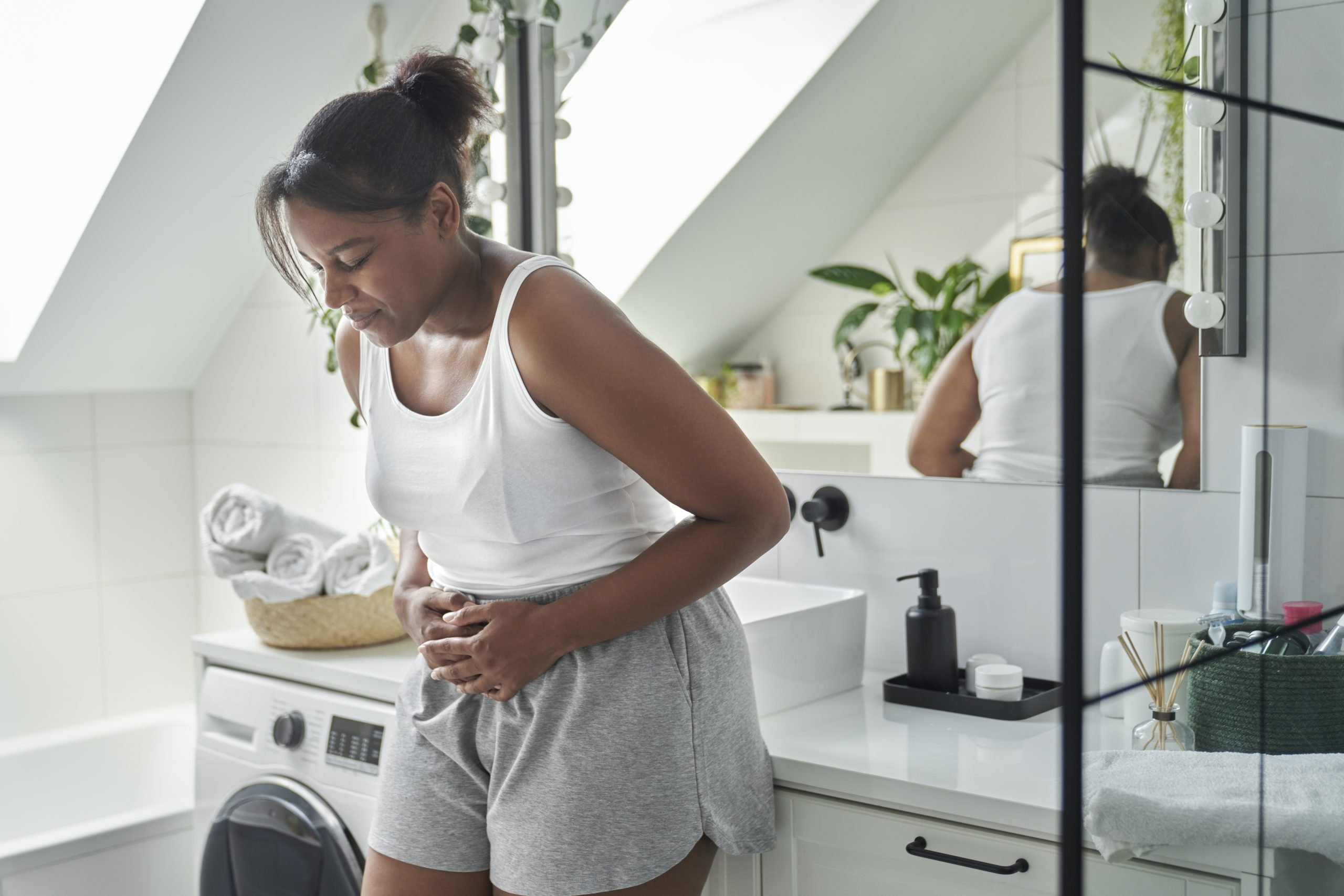 "You're questioning everything, and you think, 'God, I'm only 41,' and you have all these thoughts like 'Am I going to die? Has it spread? How long have I had it?'" Rigby said devastatingly.
She underwent a colonoscopy, which helped discover the tumor. She underwent a tough five-hour operation to remove the tumor.
Rigby is awaiting test results to learn if the cancer has spread to her lymph nodes and if she needs chemotherapy for additional treatment. Her experience has caused her to speak out and urge others to be more watchful for unsuspecting symptoms.
"People were saying, 'You're not the age to get bowel cancer, you're only 41,' but younger people are getting cancer, and it can happen to anyone…My advice would be to just listen to your body and don't be embarrassed to see a professional and get something checked out," Rigby said.
Understanding Colorectal Cancer
Colorectal cancer happens when polyps are not removed and become cancerous. It can take up to 10 years for a colon polyp to become cancerous, according to SurvivorNet experts.
Fortunately, most colorectal cancers can be prevented if you are regularly screened. SurvivorNet experts recommend a colonoscopy for colon screening.
WATCH: Busting misconceptions about colon cancer.
A colonoscopy involves using a long, thin tube attached to a camera to examine the colon and rectum. If polyps are discovered, they can be removed during the procedure. If no polyps are found, your next screening will not be needed for about ten years.
The American Gastrointestinal Association, the American Cancer Society, and the Centers for Disease Control and Prevention (CDC) recommend colon cancer screening begin at age 45. However, it would be best if you talked with your doctor to find out the best time to screen for you.
WATCH: Colon cancer screening.
Colorectal cancer is staged depending on how advanced the cancer is and if it has spread to other parts of the body.
Stage 1 cancers are those in which the tumor has only penetrated the superficial layers of the colon and hasn't gotten into the deeper layers.
Stage 2 cancers involve the deeper layers of the colon wall
Stage 3 cancers have spread to the lymph nodes around the colon
Stage 4 cancers have spread to other organs, such as the liver, lungs, or peritoneal cavity (the space in your abdomen that holds your intestines, stomach, and liver)
Colorectal cancer surgery may include removing the part of the colon where there is cancer. In these instances, a small portion of healthy tissue around the affected tissue is also removed.
Chemotherapy in colorectal cancer treatment involves using drugs designed to stop the cancer cells from dividing. According to SurvivorNet experts, chemotherapy has been very well studied and is known to improve survival for colorectal cancer patients.
Questions to Ask Your Doctor
If you are facing a colon cancer diagnosis, here are some questions you may ask your doctor.
What are my treatment options based on my diagnosis?
If I'm worried about managing the costs of cancer care, who can help me?
What support services are available to me? To my family?
Could this treatment affect my sex life? If so, how and for how long?
What are the risks and possible side effects of treatment?
Learn more about SurvivorNet's rigorous medical review process.
---