Walk Down Memory Lane
Eddie Van Halen's wife shares a sweet photo of them visiting New York in 2013 — right before Van Halen's throat cancer battle began.
Van Halen is currently fighting throat cancer, and reportedly has been traveling to Germany for over four years for radiation treatments.
The rock star was first diagnosed with tongue cancer in 2000, and was declared "cancer free" in 2002.
Eddie Van Halen's wife, Janie Liszeweski, is reminiscing on a very happy moment before her husband's cancer diagnosis. Judging by the smiles on their faces, it must have been a very special time for the two of them.
During a walk down memory lane, Liszeweski shares a photo of her and Van Halen visiting New York for a 2013 art gallery exhibit presented by Esquire magazine for their "Life of a Man" issue — which Van Halen was featured in. In the photo, Liszeweski and Van Halen pose in front of the rock star's portrait, and are all smiles.
Read More
Related: Eddie Van Halen's Wife's Positivity During His Battle With Throat Cancer Is Inspirational
"That time we went to #newyork for @esquire #artgallery #photoinstallation #lovethatsmile," Liszeweski writes.
This 2013 New York visit may mark one of the last trips the couple took together before Van Halen's throat cancer treatment. In November 2019, it was reported that Van Halen has been traveling to Germany for five years to receive radiation treatments for a throat cancer diagnosis — which was caused as a result of his 2000 battle with tongue cancer.
For his tongue cancer, Van Halen underwent surgery which removed a part of his tongue in order to get rid of the cancer cells. Even though he was declared "cancer free" in 2002 as a result of surgery, the cells ended up traveling down his throat which led to his second cancer diagnosis.
Related: Rocker Eddie Van Halen, 64, Says He Got Throat Cancer From Putting Metal Guitar Pick in His Mouth — Is That Possible?
Van Halen has kept his current battle with cancer out of the public eye over the years, and Liszeweski has said her family's business is private. Even though fans are eager to her updates on Van Halen's treatment progress, a cancer journey is a very personal experience, and the decision to keep it quiet is a decision a person needs to make. In the meantime, we're fully enjoying Liszeweski's sweet throwback photos.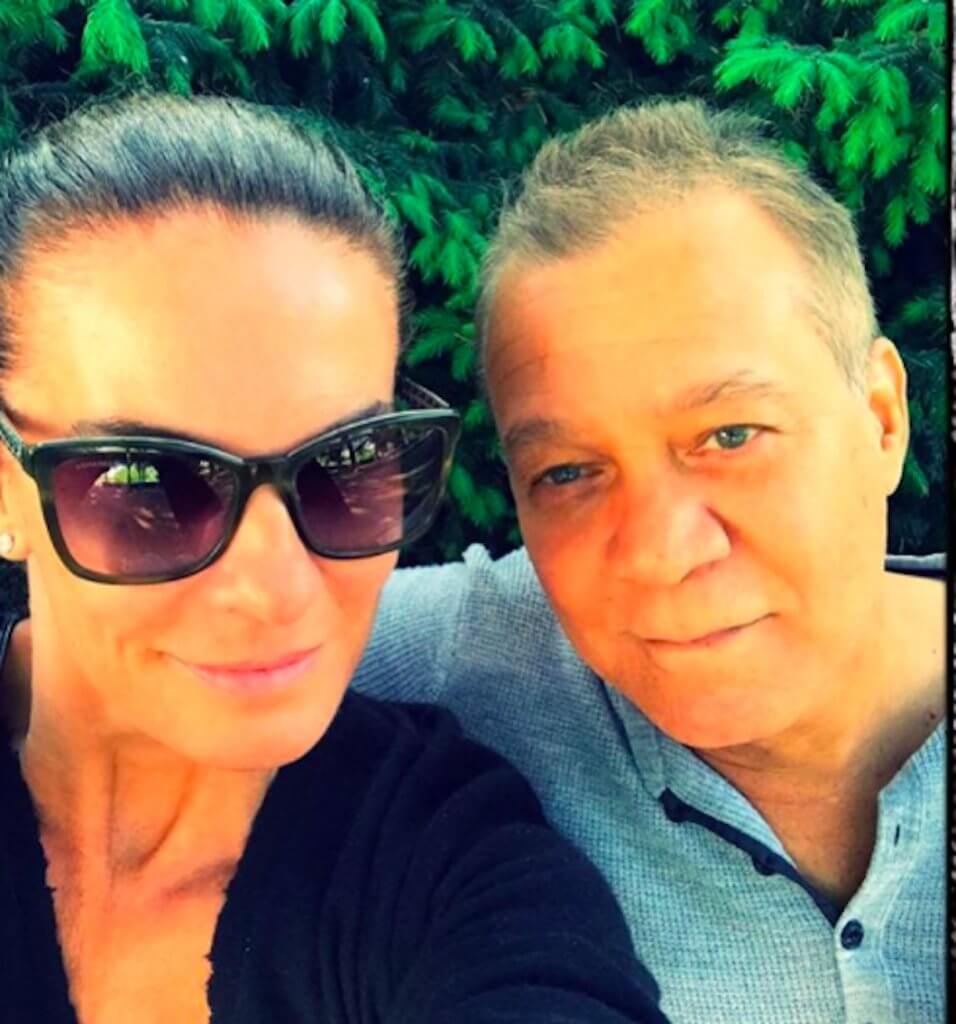 Why It's Important To Stay Positive
After a cancer diagnosis, feelings such as anger, shame, anxiety, confusion, and more are completely normal and understandable. However, studies have proven that people facing cancer can often have more successful treatment outcomes if they're able to stay positive, and this can depend largely on a solid support system.
Related: Cancer Support Groups Aren't for Everyone — We All Have Our Own Way of Coping
Support systems can come in different forms. Sometimes, people will turn to their family and friends in order to lift their spirits up and distract them while undergoing treatment. However, other times people need to find outlets to express how they're feeling, and in those cases, a therapist or support group can work wonders. Coping with a diagnosis isn't easy, and no matter the type of support system you turn to, it's important to find pockets of joy throughout the experience.
"We know, actually from good studies, that emotional health, quality of life, is associated with survival, meaning better quality of life is associated with better survival, better outcomes," Dr. Dana Chase, a gynecologic oncologist at Arizona Oncology, tells SurvivorNet. "So definitely, working on your emotional health, your physical well-being, your social environment, your emotional well-being, definitely working on those things and making them better are important and can impact your survival. If that's related to what activities you do that bring you joy, then you should try to do more of those activities."
Dr. Dana Chase explains why finding moments of joy is important during cancer treatment
Learn more about SurvivorNet's rigorous medical review process.