A Difficult Cancer to Diagnose
Mom-of-two Emma Durkin had irregular periods and pelvic pain from what she thought was menopause, but then doctors found a tumor on her ovary; it was ovarian cancer.
Slated to start chemotherapy now following her recent surgery, Emma is hopeful that they caught her cancer early enough and urges other women to pay attention to even minimal symptoms that don't go away and make sure to get checked.
Ovarian cancer is often referred to as the "cancer that whispers." It has symptoms that are very vague and are often similar to the symptoms many women experience every month with their menstrual cycle, or with menopause.
Primary school teacher Emma Durkin, 48, starting having what she thought were signs of menopause—irregular periods and pelvic pain—but later learned that they were subtle symptoms of ovarian cancer.
The mother-of-two from Newcastle, England, who is also a young grandma of three, just had surgery and will soon be starting chemotherapy treatment.
Read More
When she went in to get checked, doctors found an abscess on her right ovary via an MRI, but didn't see anything else. Four months later, this past June, she went back with pain in her left kidney, and they discovered the abscess "had wrapped around her kidney and bowel." This time, they found the tumor on her right ovary and biopsied it.
"This has been a massive shock. I wasn't expecting it, it was completely out of the blue. I had never heard of ovarian cancer," Emma admitted in a recent interview.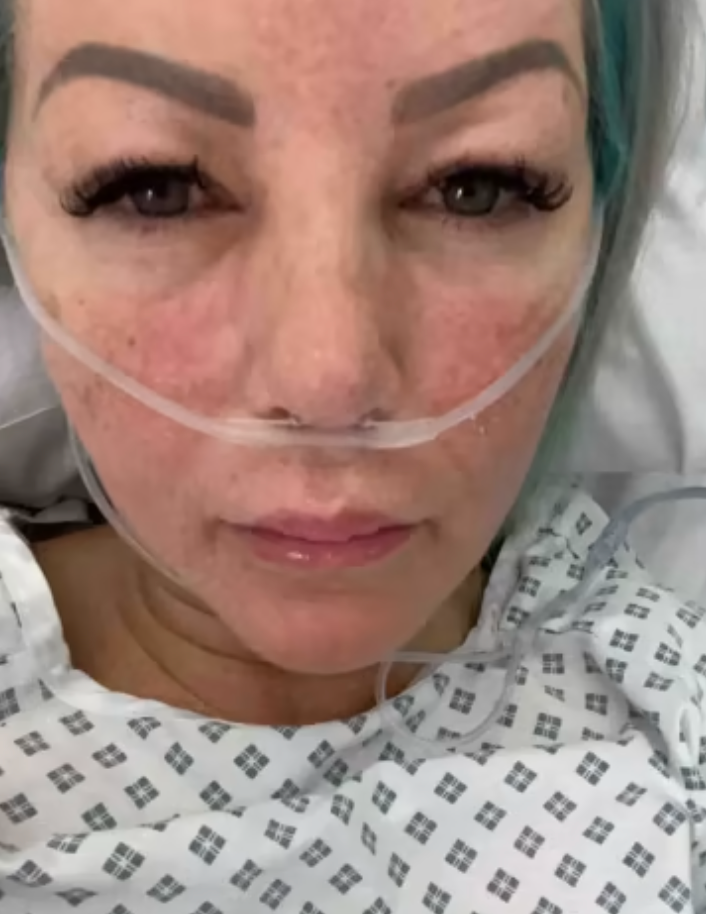 "I was always up to date with my smear tests and I thought they would pick up anything down there but they don't," she added. A pap smear is mainly how doctors can detect cervical cancer, but ovarian is much more difficult to diagnose.
"Three specialists looked at my scans and not one of them picked up the cancer," she said. "I wouldn't have known if it hadn't been for the biopsy. I would have just gone on not knowing and thinking I was going through the menopause."
Menopause can start anywhere from 45 to 55 and last for many years.
At the very least, Emma knows she is very lucky that they caught it early.
Following her initial surgery, Emma had a hysterectomy earlier this month "to remove her womb" and surgeons also removed some of her stomach muscle and lymph nodes.
Related: Woman Has Hysterectomy At Age 22 After Her 'Irritable Bowel Syndrome' Turned Out to be Ovarian Cancer
"I think everybody thinks of cancer as you being poorly with no hair. You never hear, or tend to see, the surgery side of it," she said. "I had 44 staples in my stomach and I was really sick. When I was in hospital I had almost given up, it was just horrific.
The nurses helped her immensely through this scary time. "They're worth their weight in gold."
Emma is due to have another scan in August to see how things are looking and will have further treatment regardless.
Administering Chemotherapy for Ovarian Cancer
"There are spots around my bowel but the chemotherapy will kill it," she said. "I have got six rounds of chemotherapy and I'm absolutely terrified. I'm going to be having it all the way up until New Year."
Related: 'Just Lose Some Weight': Doctors Dismissed Concerns of 'Tired, Bloated' Woman … It Turned Out She Had Ovarian Cancer
Now, as she fights through the rest of the year, she just wants to help others try to stay ahead of an ovarian cancer diagnosis by taking any minimal symptoms seriously if they don't go away.
"I just want people to be aware," she said. "It's a silent killer and it's killing women. If you have any issues to do with down below go and get them checked out. If you think something is not right get a second opinion."
Understanding Ovarian Cancer
Ovarian cancer is often referred to as the "cancer that whispers," according to Dr. Beth Karlan, Director of the Women's Cancer Program at the Cedars-Sinai Medical Center. It has symptoms that are very vague and are often similar to the symptoms many women experience every month with their menstrual cycle.
However, if you are experiencing any of the following symptoms, and they seem to be "crescendoing," or getting worse, it is worth it to see a doctor to rule out ovarian cancer:
Feeling full earlier/decrease in appetite
Feeling bloated
Changes in bowel habits
Pain in the pelvis
Urinary symptoms, such as an urgent need to go
Extreme fatigue
Abdominal swelling
Pain during sex
It's hard to connect these symptoms specifically with the ovaries because they could be caused by a whole host of other issues. That's why Dr. Karlan, as well as many other top gynecologic oncologists in the U.S., urge women to be vigilant about getting tested if they feel that something is amiss with their bodies. Because many of these symptoms are associated with women's menstrual cycles, this may mean being insistent with doctors who may want to write off symptoms.
Ovarian Cancer: 'The Cancer That Whispers'
Ovarian cancer also tends to be diagnosed in older women; roughly half are diagnosed when they are over the age of 60. Because of this, many doctors will write off symptoms as signs of menopause, as Emma did initially. Since there is no screening test for ovarian cancer so far, only about 20% of cases are diagnosed in the early stages, according to the American Cancer Society.
Related: Young Grandma, 47, Thought Her 'Period-Like Shooting Pains' Were Just Menopause: It Turned Out To Be Cancer
In her conversation with SurvivorNet, Dr. Karlan also pointed out the average delay from the time a woman notices symptoms to the time that she is diagnosed with ovarian cancer is around 9 months.
"That's why, if you do have these symptoms, even if it's only for two weeks — but they're happening everyday and seem to be getting worse, you should call your doctor and say, 'I'm having these symptoms. I'm concerned it could be ovarian cancer. Can I have an ultrasound and a CA-125,'" Dr. Karlan said.
How do you test for ovarian cancer?
There is no screening test for ovarian cancer, but if you are experiencing symptoms, your doctor should do a workup to determine if you have cancer. This will consist of:
Health history: Because ovarian cancer can be inherited, your doctor will want to do a survey of your family history to determine if genetic testing is required. This may alter the course of treatment if you do have cancer.
Physical exam: This exam will include a pelvic exam, as well as a recto-vaginal examination where doctors will look at the tissues behind the uterus.
Trans-vaginal ultrasound: This allows doctors to take a close-up look at the ovaries.
CA-125 blood test: This test acts as a barometer to show doctors how many cells are infected with cancer, and later, whether those cells are responding to treatment.
SurvivorNet has some of the most extensive resources on the net for information about ovarian cancer. Here is a link to more information regarding the different types. The more knowledgable you are about ovarian cancer and its tricky symptoms—or lack thereof—the more you can stay ahead of a potential diagnosis, and know what to communicate to your doctor if you have any concerns.
Learn more about SurvivorNet's rigorous medical review process.