Paving The Way For Others With Adolescent and Young Adult Cancer (AYA)
Makenna, a 19-year-old brain cancer warrior, has opened up about her battle with meningioma, cancer in her cervical and thoracic spine.
She is hoping to prevent delayed diagnoses and emotional trauma for others and promote healthy survivorship for anyone dealing with Adolescent and Young Adult Cancer (AYA).
Last year, an estimated 87,050 adolescents and young adults (AYAs) between the ages of 15 to 39 were estimated to be diagnosed with cancer in the United States.
This accounts for approximately 5% of all cancer diagnoses, according to the National Cancer Institute (NCI).
A California teen may have beaten cancer but the battle isn't over: she's now dealing with the physical side effects of her delayed diagnosis as well as the emotional toll of the whole jouney.Because of her fight, she's dedicating her life to help make sure other young people don't have the same experience she did.
In honor of Adolescent and Young Adult Cancer Awareness Week, 19-year-old Makenna is sharing her battle with meningioma, cancer in her cervical and thoracic spine.
Read More
Meningioma is a tumor that comes from the meninges, the membranes surrounding the brain and spinal cord,
according to Mayo Clinic
. And although meningioma is "not technically a brain tumor," it's listed in this category as it may "compress or squeeze the adjacent brain, nerves and vessels."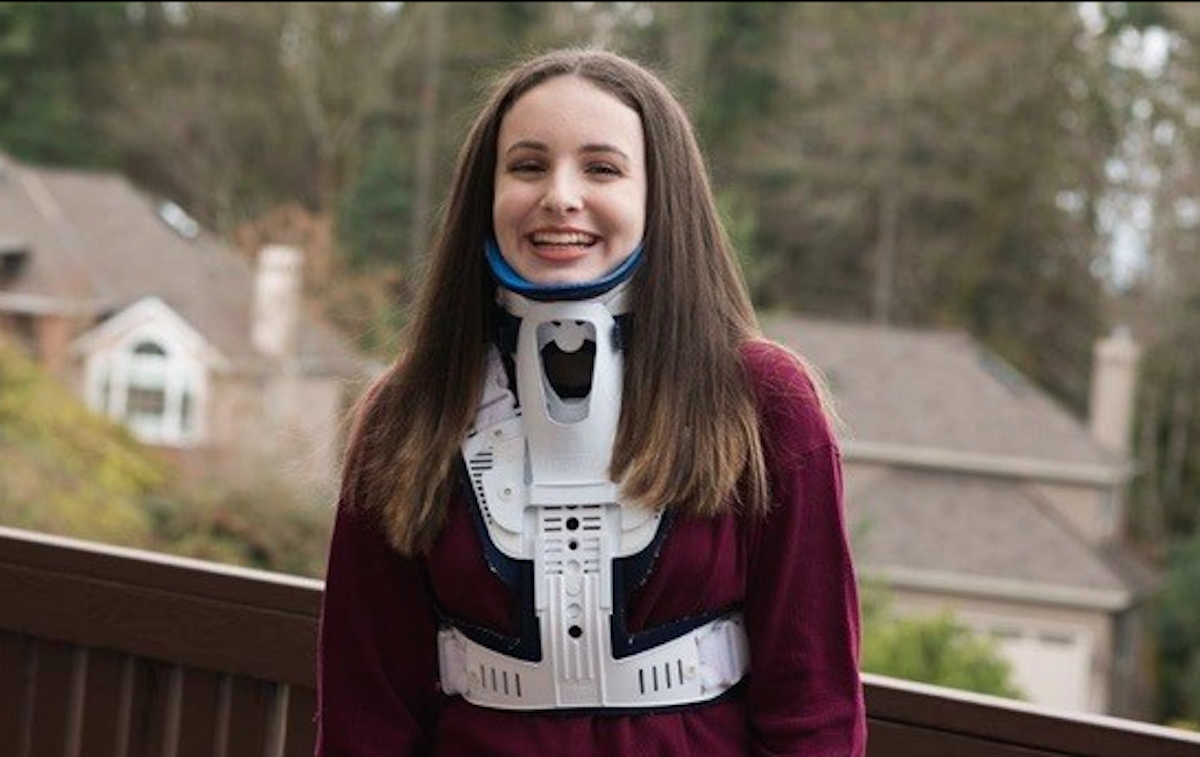 Makenna was diagnosed with meningioma back in February 2018 when she was just a freshman in high school, prompting her to undergo multiple surgeries and six weeks of radiation treatment. After receiving treatment at Seattle Children's Hospital, she was declared cancer-free just six months after her diagnosis.
Now, more than five years later, Makenna is a sophomore studying at UCLA, where she is working to obtain a major in neuroscience and a minor in biomedical research. She is hoping to prevent delayed diagnoses and emotional trauma and promote healthy survivorship for anyone dealing with adolescent and young adult cancer (AYA).
MaKenna — who is also involved in UCLA's American Cancer Society on Campus club, where she assists in the planning of Relay for Life events—told the American Cancer Society, "I am also an undergraduate researcher in a lab that focuses on exploiting multidrug resistance mechanisms to target radiation toxicity for cancer patients. In turn, I am striving to pursue a career in research to help find less invasive treatments and create better outcomes for people affected by cancer."
Noting how "grateful" she is to have survived cancer, she said the road hasn't been easy.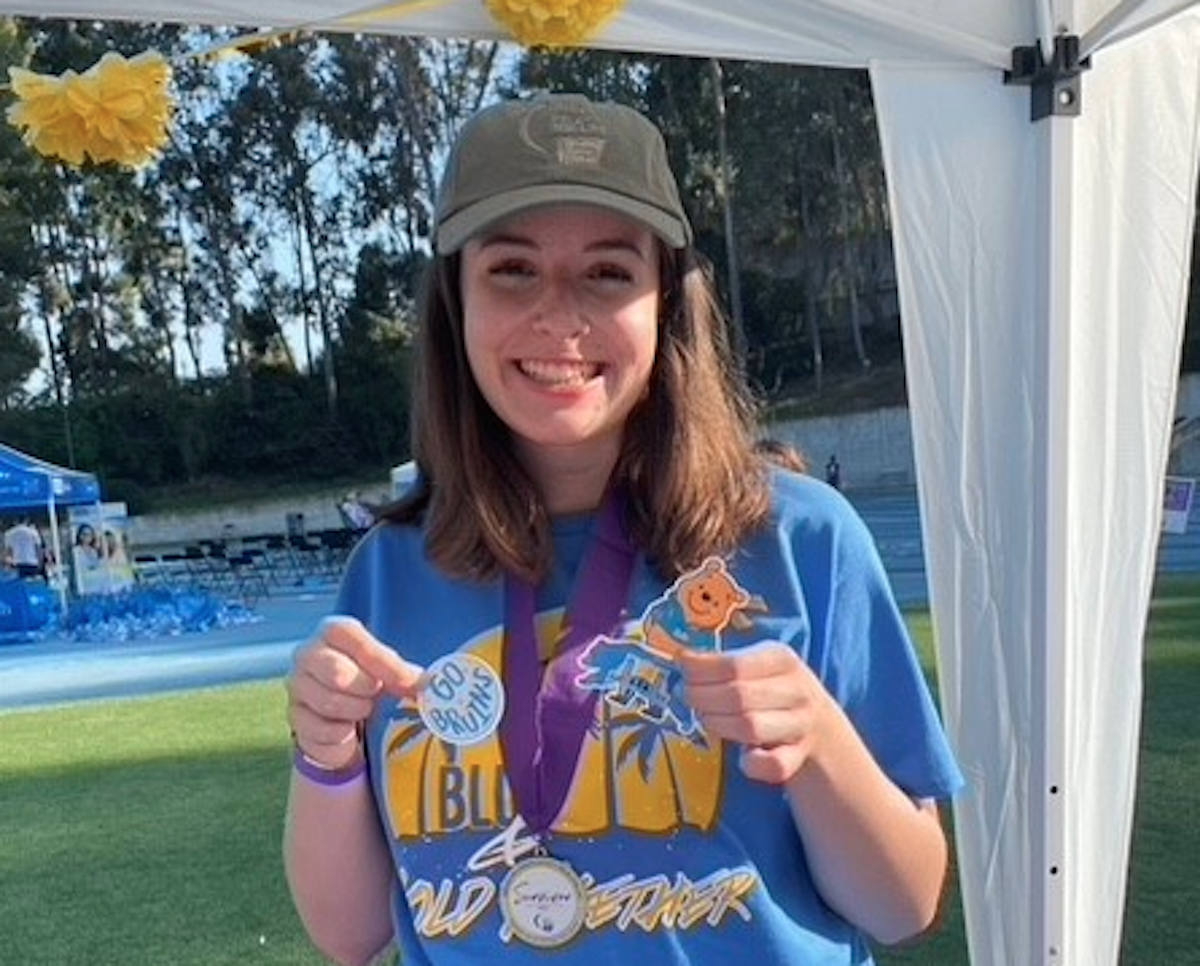 In a Facebook post by ACS, Makenna explained, "I want to shed some light on a few common obstacles AYA survivors like me deal with. For one, I was nearly left paralyzed because of my delayed diagnosis, and my situation isn't unusual. Many AYAs have delayed diagnoses because of competing priorities like school, lack of age-appropriate medical care, or simply because their cancer is rare.
RELATED: The Troubling Increase in Young People Getting Cancer; What's Behind the Rise as Overall Cancer Death Rates Fall by 33%
"Second is the emotional trauma that cancer causes— even after I was declared in remission, cancer caused me to feel isolated from my peers and experience an array of mental health issues. This is quite common within the AYA community, yet still isn't always recognized as a major problem," she continued. "Finally, survivorship. Sometimes people think that once you are cancer-free, everything goes back to normal; but that is far from the truth. Even five years out from my treatment, I still receive routine scans and often struggle to balance my health with my other responsibilities, like school. The point is, for many AYA survivors, cancer continues to affect them during their fight and for the rest of their lives."
Makenna urges anyone fighting AYA like she did to always "be kind to yourself."
"Whenever you feel that cancer has taken something away from you, find something new to replace it," she advises. "Embrace your new normal and don't be afraid to ask for help in doing so. You have a lot going for you. You are worthy and you are strong—and cancer can't derail that, no matter how hard it tries."
Understanding Meningioma
According to Mayo Clinic, meningioma, the cancer Makenna battled, is a tumor that comes from the meninge, the membranes that are located around the brain and spinal cord.
"Although not technically a brain tumor, it is included in this category because it may compress or squeeze the adjacent brain, nerves and vessels," the clinic explains. "Meningioma is the most common type of tumor that forms in the head."
The majority of meningiomas, which is usually found in women at older ages, often grow at a slow pace, taking many years to grow. Due to the cancer being slow-growing, immediate treatment is not always needed and the meningioma can be monitored as it grows.
Additionally, the cancer usually grows without causing symptoms. However, the cancer can, at times, can have an effect on surrounding brain tissue, nerves, or vessels—leading to a serious disability.
Meningioma Symptoms
Signs and symptoms of a meningioma depend on where in the brain or, rarely, the spine the tumor is located in. Sighs or symptoms may include:
Changes in vision, such as seeing double or blurriness
Headaches, especially those that are worse in the morning
Hearing loss or ringing in the ears
Memory loss
Loss of smell
Seizures
Weakness in your arms or legs
Language difficulty
When to see a doctor
Emergency care is needed if the following is noticed:
Sudden onset of seizures
Sudden changes in vision or memory
Adolescents and Young Adults with Cancer
There are various types of cancer in adolescents and young adults (AYAs), according to the National Cancer Institute (NCI).
Last year, an estimated 87,050 adolescents and young adults (AYAs) between the ages of 15 to 39 were estimated to be diagnosed with cancer in the United States, accounting for approximately 5% of all cancer diagnoses.
"Cancer incidence rates among AYAs have been rising on average 0.3% each year from 2010 to 2019, according to Cancer Stat Facts: Cancer Among Adolescents and Young Adults (AYAs) (Ages 15–39), NCI's Surveillance, Epidemiology, and End Results (SEER) Program," the NCI states.
The most common types of cancers in adolescents and young adults between the ages of 15 and 39 are:
Thyroid cancer
Breast cancer
Melanoma
Testicular cancer
Other common cancers included brain and other central nervous system tumors, cervical cancer, colorectal cancer, leukemia, lymphoma, and sarcomas (including bone cancer and soft tissue sarcoma).
"Because cancer in young adults is rare, it is important to find an oncologist who specializes in treating the type of cancer you have," the NCI advises. "Research is finding that for some types of cancer, young adults may have better outcomes if treated with pediatric, rather than adult, treatment regimens."
Responding to Stress: How to Cope With Complex & Changing Emotions
When people experience a stressful life event, they may react with a variety of different (and quickly changing) emotions. Something which is completely normal.
"The way people respond is very variable," Psychiatrist Dr. Lori Plutchik previously told SurvivorNet. "Very much consistent with how they respond to stresses and challenges in their life in general."
Facing Cancer: How to Turn Stress into Strength
In this video, Dr. Plutchik is speaking mostly about how people react after a cancer diagnosis — which can be a huge range of emotions from fear to anger to determination. However, the conclusion remains the same no matter what stressor someone may be dealing with: your emotions are valid and seeking mental health help may look different for every person.
"People have a range of emotions when they're diagnosed with cancer," Dr. Plutchik explains. "And they can include fear, anger … and these emotions tend to be fluid. They can recede and return based on where someone is in the process. Going through a cancer diagnosis is just the beginning of a complicated, complicated process."
Dr. Plutchik explains that the patient, or person going through the stressful event, should accept that emotions will be fluid. You may feel fine one day and then feel a massive wave of stress the next. It's also important for those you look to for support — whether that's a therapist, friends and family, or both — to understand the fluidity of stress-related emotions.
If a stressful event is affecting how you think and feel, it may be time to seek some sort of mental health treatment. This could mean traditional talk therapy, medication, changing lifestyle habits (like exercise and diet), seeking out a support group, or many other approaches.
Questions to Ask Your Doctor
What can I do if my emotions begin to feel overwhelming?
Are there approaches that don't involve traditional therapy?
What are the potential side effects should I decide to begin medication?
What activities can I do at home if I'm feeling especially stressed?
Are there any support groups you can recommend?
Should I consider seeing a therapist?
What can I do if I'm very stressed before treatment?
RELATED: SN & You Presents Mental Health: Coping With Emotions
Dealing With Cancer Treatment
In the case of Steve Silverstein, he fought stage four melanoma with something of a two-pronged approach: he followed his doctors' treatment plan and he also turned to Eastern medicine.
Traditional Medicine Plus Diet, Acupuncture, and "Happy Pills": How One Survivor Got Through Treatment
In an earlier interview with SurvivorNet, Silverstein said that changing his diet, exercising, getting acupuncture, and seeing a therapist to take care of his mental health all was a huge part in how he coped. Since every person with cancer has a different experience, what worked for Silverstein won't work for everyone. Still, integrative medicine can provide great relief for some people suffering from treatment side effects.
Survivors often tell us that finding the right coping mechanism is a big part of their cancer journey.
As for CC Webster, writing about her experience helped her deal with the emotional rollercoaster of her diagnosis and treatment, while Lauren Chiarello trained for a marathon to cope.
Finding the Support You Need to Heal During Cancer Treatment
Contributing: SurvivorNet Staff
Learn more about SurvivorNet's rigorous medical review process.
---