Sugar Substitutes and Their Possible Cancer Risks
With news of one of the most popular artificial sweeteners "possibly" causing cancer, answers to questions about how to reduce your risk become even more important although possible solutions may be easier said than done.
Aspartame is being scrutinized for its possible cancer risks, and avoiding it will be a challenge. It's used in more than 6,000 products including diet sodas, baked goods, candy, and many other foods and beverages.
The Food and Drug Administration and the European Food Safety Authority have both approved aspartame to be safe for consumption and so far have refused to change their stance. However, undisputedly, the sweetener consumed in excessive amounts can be unsafe.
Biochemist and pediatric nutrition expert Dr. Michael Goran tells SurvivorNet that companies looking for "sugar-free" alternatives may turn to another more potent artificial sweetener since aspartame is considered possibly carcinogenic.
Finding ways to reduce your overall sugar intake and resorting to more natural sugars like fruits can help reduce your risks from artificial sweeteners.
Now that a major global health organization has said that one of the most popular artificial sweeteners, aspartame, may cause cancer, the guidance to help people reduce their risk becomes even more important. We're going to explain the risks associated with aspartame and the challenges behind avoiding it.
For everyone still wondering if aspartame actually causes cancer, there currently is no clear-cut answer which is why leading health organizations say the sweetener used in thousands of food and drink products "possibly" causes cancer.
Read More
Reducing your risk from aspartame boils down to making healthier choices by lowering your sugar intake or finding healthy alternatives with natural sugars like fruit. "We're in the same place with the aspartame regulations, but we can educate our population to say 'no'. When you want something sweet, eat a piece of fruit," is the advice from
Dr. Jennifer Rooke
Assistant Professor of Community Health and Preventative Medicine at Morehouse School of Medicine. Aspartame (α-aspartyl-l-phenylalanine-o-methyl ester) is not the only artificial sweetener on the market, but it is used in more than 6,000 products. It has "200 times" the sweetening potency of sucrose or regular table sugar according to
researchers
studying its potential cancer risks.
Some of the products aspartame is used in include baked goods, powdered drink mixes, candy, dairy products, jams and jellies, toothpaste, puddings, soft drinks, and many other beverages and foods. Diet soda cans typically contain "192 milligrams, or 0.007 ounces" of aspartame according to NBC News.
Find Out If Your Favorite Food or Drink Contains Aspartame
"It's not just aspartame, it's artificial sweeteners in general that have been associated with an increased risk of cancer, a 13% increased risk," Dr. Rooke said.
It's important to note, aspartame has been approved for use by the Food and Drug Administration (FDA) for decades. Other artificial sweeteners the FDA has approved include Acesulfame potassium (Ace-K), sucralose, neotame, Advantame, and saccharin.
On July 14, the World Health Organization (WHO), the International Agency for Research on Cancer (IARC), the Food and Agriculture Organization (FAO), and the Joint Expert Committee on Food Additives (JECFA) "classified aspartame as possibly carcinogenic to humans" if consumed beyond the acceptable daily intake of "0-40 mg/kg body weight." In other words, a person weighing 154 pounds would need to drink 9 to 14 cans of diet soda which contains 200 to 300 mg of aspartame to exceed the acceptable daily intake.
Dr. Michael Goran is a biochemist and pediatric nutrition expert. He's also a professor of pediatrics at The Children's Hospital of Los Angeles, which is affiliated with the Keck School of Medicine at the University of Southern California. He's been studying the impacts of sugar intake on people for decades. He says even if aspartame loses its positioning as a go-to artificial sweetener, other sweeteners can easily take its place.
"Neotame is an alternative artificial sweetener that is similar to aspartame however it is much sweeter," Dr. Goran says.
According to the FDA, neotame is 7,000 to 13,000 times sweeter than regular sugar.
"Because [neotame] is sweeter than aspartame, companies can use smaller amounts. When ingredients in products are in such small amounts, companies can add them to the ingredients list without specifying them in greater detail," Dr. Goran cautioned.
What Does the Research Say on Aspartame and Its Cancer Risk?
Although aspartame is still considered safe to use in moderation, health-related concerns have plagued the product for years.
Currently, the FDA says, "Based on the available scientific evidence, sweeteners authorized by the FDA are safe for the general population under certain conditions for use."
The FDA says the acceptable daily intake of aspartame using a packet commonly found on tabletops to sweeten coffee or tea is 75. Beyond 75 packets, aspartame may be considered unsafe.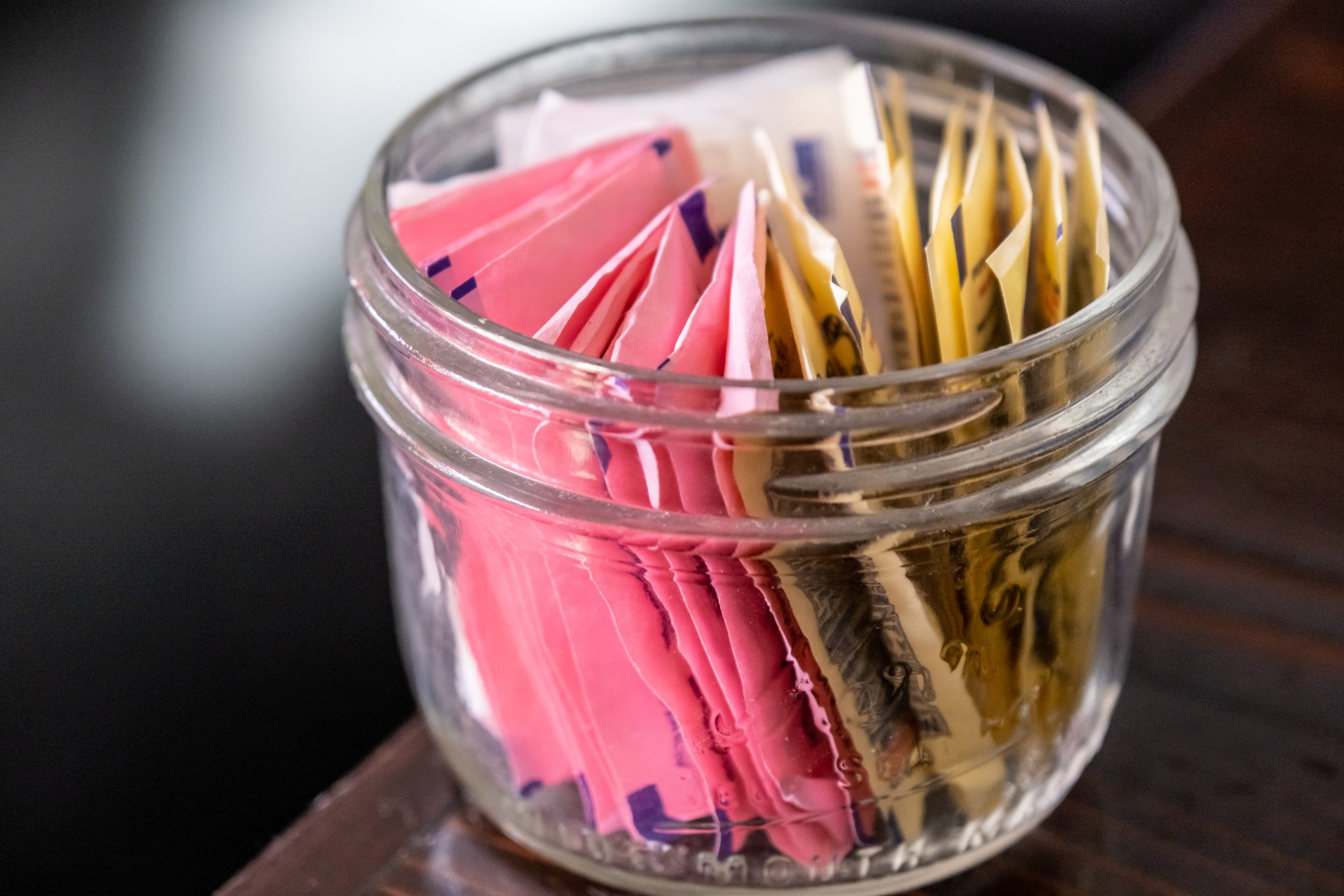 In 2017, researchers Arbind Kumar Choudhary and Yeong Yeh Lee studied the connection between neurophysiological symptoms and aspartame. They said the product had been linked to behavioral and cognitive problems. Some of the neurobehavioral symptoms people experienced due to aspartame included, headaches, seizures, migraines, irritable moods, anxiety, depression, and insomnia.
However, the concerns don't end there. Cancer risks for aspartame increased in the late 1990s when scientists studied the carcinogenic effects of aspartame more closely.
Researchers Morando Soffritti, Fiorella Belpoggi, Eva Tibaldi, Davide Degli Esposti, and Michelina Lauriola studied life-span exposure to low doses of aspartame in rats. They said they found a link to cancer risks amid studies in 2006.
The researchers began by pointing to a flaw in studies conducted by aspartame manufacturers in the 1970s and 1980s. The manufacturers' study exposed lab rats to aspartame and studied them for roughly two years or 110 weeks afterward. For context, a rat's lifespan averages about 3 years.
However, researchers in the 2006 study did not stop evaluating the rats after 110 weeks instead they examined the rats until death. By doing this, they were able to get a more complete understanding of the long-term impacts of aspartame.
The results of their research left them with the conclusion, "APM (aspartame) is a multipotential carcinogenic agent capable of inducing, in our experimental conditions a) a significant, dose-related increased incidence of malignant tumor-bearing animals."
Some of the cancer-related ailments found in the rodents included the blood cancers lymphoma and leukemia.
"On the basis of the present findings, we believe that a review of the current regulations governing the use of aspartame cannot be delayed. This review is particularly urgent with regard to aspartame-containing beverages, which are heavily consumed by children," the researchers declared.
Studies wishing to determine a definite link between aspartame and cancer-using people have not been as definitive. For this reason, the WHO, IARC, FAO, and JECFA only classified aspartame as a "possible" carcinogen.
A 2012 study published in The American Journal of Clinical Nutrition evaluated whether the consumption of aspartame- and sugar-containing soda is associated with the risk of hematopoietic (blood) cancers which include leukemia, lymphoma, and myeloma. The study involved more than 100,000 men and women.
Dr. Rooke reviewed the 2012 study and said, "Aspartame intake in diet soda was associated with non-Hodgkin lymphoma and multiple myeloma in men and leukemia in men and women."
WATCH: SurvivorNetTV presents How Not To Get Cancer Diet, one episode of a 4-part series following cancer prevention and the best steps to take in controlling your diet.
"It's also associated with breast cancer, stomach cancer, colon cancer, liver cancer, rectal cancer, and worst of all we've found that prenatal exposure to aspartame can increase the risk of cancer in children. You see all of these young kids with leukemia, and you wonder, how did they get leukemia, they're so young. It could be because momma drank these sodas and low-calorie foods during pregnancy," Dr. Rooke continued.
With more research and attention focused on artificial sweeteners people can move to making healthier choices.
"So we're in the same place [speaking of aspartame's assumed cancer risk] and I'm very pleased we're beginning to educate the public," Dr. Rooke said.
With Suspected Cancer Risks, Why Is Aspartame So Widely Used?
"Aspartame is in so many products, and there are very strong financial reasons why you wouldn't want to ban it from the market," Dr. Rooke said hinting at the wide variety of aspartame uses.
According to Allied Market Research, the global aspartame market earned "$375.5 million in 2021" and is expected to grow to "$561.7 million by 2031." The report claims "a rise in the number of people suffering from diabetes and obesity, and the surging demand for low-calorie sweeteners in food and beverage products" are the key drivers for aspartame use.
"Companies are trying to reduce sugar content in their foods to respond to public health calls for action. One way to reduce sugar is to use an alternative sweetener that way they can advertise their products as 'sugar-free'," Dr. Goran said.
Dr. Marion Nestle noted to PBS, in the late 1980s, Americans became more conscious about their dieting habits. This gave rise to an increasing number of "low-fat" and "sugar-free" branded products. However, this type of branding often left people seeking sugar alternatives with unintended results.
"Drinking diet sodas and using artificial sweeteners does not actually reduce the risk of obesity. Actually, it may increase their risk because people tend to compensate," explains Dr. Rooke.
"When you know you've had a zero-calorie drink with your meal, you tend to eat more and there's actually research that shows this because 'well, I'm eating zero calories, I can eat more of this cake and whatever else," Dr. Rooke continued.
Is It Possible to Avoid Aspartame and Other Artificial Sweeteners?
Experts SurvivorNet have spoken to encourage people to make healthier choices to reduce their overall risk. This may be easier said than done given artificial sweeteners are in so many products.
If you look at the ingredients list of a food or drink label, sugar can be labeled in many ways.
"They may be listed as sucrose (table sugar), corn sweetener, high-fructose corn syrup, fruit-juice concentrates, nectars, raw sugar, malt syrup, maple syrup, fructose sweeteners, liquid fructose, honey, molasses, anhydrous dextrose, or other words ending in "-ose," the chemical suffix for sugars," the National Institutes of Health explains.
Dr. Goran suggests weaning yourself off sugar by slowly reducing your overall intake. He also believes public health officials should aggressively pursue education campaigns so people can better understand what is in their food and drinks.
"It draws attention to the impact of these chemicals that are added to our food supply without knowing the impact the chemicals will have on how we grow as children, during pregnancy, and in other aspects of our lives," Dr, Goran said.
"We've become accepting of the companies adding these ingredients to our food and drink products. I'm focusing on educating people about consuming less sugar overall," he continued.
Dr. Rooke points to eating more fruit to get your sugary fix in a healthy way.
"The craving for sweets is an evolutionary protective mechanism for us to eat fruit. Mother Nature put fruit on this earth with all of these nutrients for us to eat…Fruits are high in phytonutrients; fruits fight cancer and do not give you cancer. Mother Nature gave us everything we needed and we're just using these products that are artificially sweet, to mimic that taste that we're really craving," Dr. Rooke said.
Tips for Reducing Sugar and the Value of a Healthy Lifestyle
Maintaining good physical health has many benefits and this is especially true for cancer patients.
Some tips to reduce your overall sugar intake include:
Drinking water
Drinking unsweetened tea or coffee instead of sodas, energy drinks, and sugary juices
Consider using vanilla or cinnamon to add flavor without the excess sugar
Adding frozen or dried fruit for a natural sweetener
SurvivorNet experts stress there is no "cancer diet" but proper exercise and a balanced diet can help cancer patients along their journey.
"I'm going to want you to be doing at least two hours a week of some exercise, and walking counts," said Dr. Kenneth Miller from the University of Maryland School of Medicine.
Dr. Miller lists four simple guidelines to help cancer survivors lead a healthy lifestyle.
Exercise at least two hours a weekand walking counts.
Eat a low-fat diet. The Women's Intervention Nutrition study, which looked at early-stage breast cancer patients, found that a low-fat diet was associated with reduced risk for cancer recurrence, particularly in those with estrogen receptor-negative cancers. Other studies have found that foods with a high glycemic index that are digested quickly and cause a spike in blood sugar may lead to tumor growth in lung cancer patients.
Eat a colorful diet with lots of fruits and vegetables. The American Cancer Society recommends aiming for two to three cups of vegetables and fruits each day.
Maintain a healthy weight. Studies have shown that being obese can increase your risk for several types of cancer.
Learn more about SurvivorNet's rigorous medical review process.
---